-- I imported some video files to test and I found that with some of the files the audio is not recognized by PD10. Files imported included .avi (worked fine) and .mov (some worked but others had no audio). All the the .mov files that did not have audio were created with a Casio ZR100.
-- I just upgraded from cyberlink power director 12 to 13 and now all my black magic camera footage ".mov files" wont work in either versions. I've contacted customer support they said the files are no good,but i had them working in 12 before...? Can i convert them to another file type if so what would suit?
Cyberlink PowerDirector is a powerful video editing suite and MOV file format seems one of PowerDirector supported native video formats for import. But the weird thing is that PowerDirector will reject to import some .mov files created by iPhone, GoPro, Canon camera, DJI drone, iMovie, Final Cut Pro, and more. The error message goes like, "an unsupported format", "the file is broken", "protected video content". Or PowerDirector only imports audio from MOV files for you. You can only add the MOV video to the timeline of PowerDirector as an audio track, instead of a video track.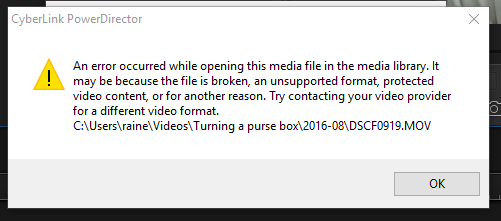 Why some certain MOV video files cannot be imported in PowerDirector?
Reason 1: Your PowerDirector version is tool old to support the MOV files.
Analysis: The supported file formats depend on the version of CyberLink PowerDirector you have installed on your computer. So, if you're using an old version, please upgrade it to the newest version.
Reason 2: Your MOV files are corrupted.
Analysis: You can check whether your MOV file can be recognized and played properly using other programs. If not, repair it using a professional video repair tool.
Reason 3: Some required codec is missing so that the file format is not supported.
Analysis: This is the main cause for "PowerDirector MOV file import error". PowerDirector supports MOV files, but MOV is a multimedia container format which contains various types of data encoded using one of several different codecs. A MOV file can use MPEG-4, MJPEG, H.264, HEVC, GoPro CineForm, or other video codec for compression while PowerDirector only prefers MPEG-4 and H.264 codecs. Therefore, transocding MOV file is the the most effective yet easiest solution recommended by us.
To import MOV files successfully, CyberLink PowerDirector needs to be compatible with the specific codecs used in the MOV files. If not, you'll experience MOV importing error. One possible solution is to download and install certain codec packs, e.g. K-Lite Codec Pack, and sometimes this way will work.
However, installing a codec pack on your video editing computer may permanently mess it up unless you know what you are doing where most people who think they know what they are doing really don't. Just don't do it, there is never a need for it. Only install the one codec that you need from a reputable source. Installing a codec pack is like taking every pill in your medicine cabinet hoping one of them will cure you… one of the might but the rest could kill you!
100% Working Solution to Fix MOV and PowerDirector Incompatible Issues
- Transcode Unrecognized MOV File to a Fully PowerDirector-Compatible Format
To do this, you can try this easy-to-use yet powerful tool - EaseFab Video Converter. It is able to work with various MOV files, no matter what codecs are wrapped in and no matter what devices record. With it, you can easily and fast convert incompatible MOV format/codec to PowerDirector compatible format and codec without quality loss. Besides MOV, you can also throw up any other video formats like MKV, VOB, MP4, AVI, WMV, FLV, etc. into it for batch conversion.
[Tutorial] How to convert MOV to PowerDirector supported codec/format
The below guide takes Video Converter for Windows screenshots for example. Mac version shares the same process.
Step 1. Download and launch EaseFab Video Converter on Windows PC or Mac. Click Add Video to import your MOV video. Dragging and droppping works too. (Note: batch conversion is supported, so you can several mov videos to the program to convert at a time.)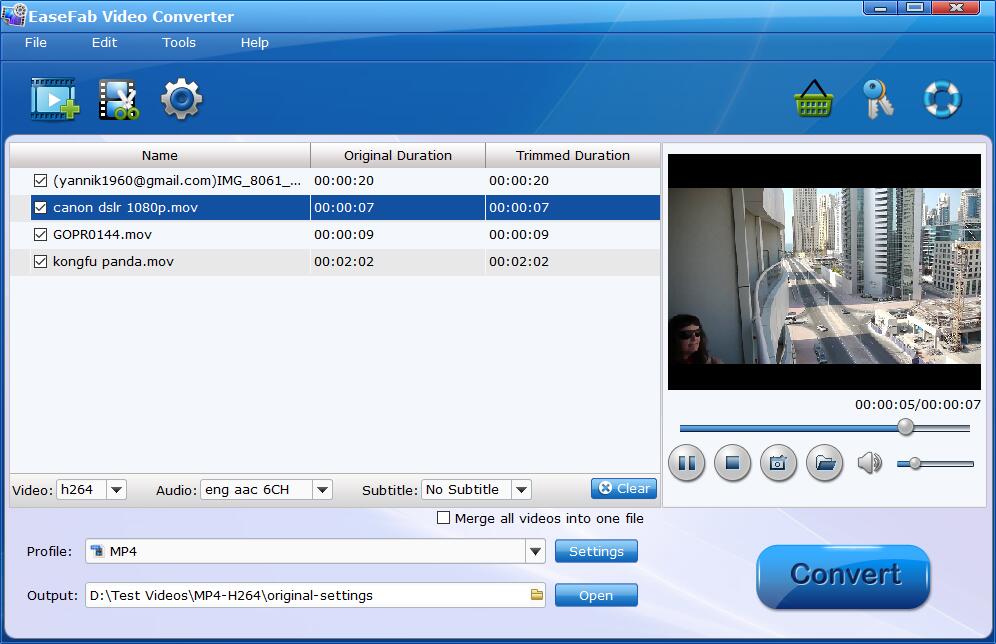 Step 2. Click the Profile bar at the bottom. Choose a format preset that PowerDirector can support. And MP4 (h264+aac) from Common Video category is recommended since the output H.264 MP4 files can preserve the original image quality and seamlessly fit Cyberlink PowerDirector 18/365 OR lower version.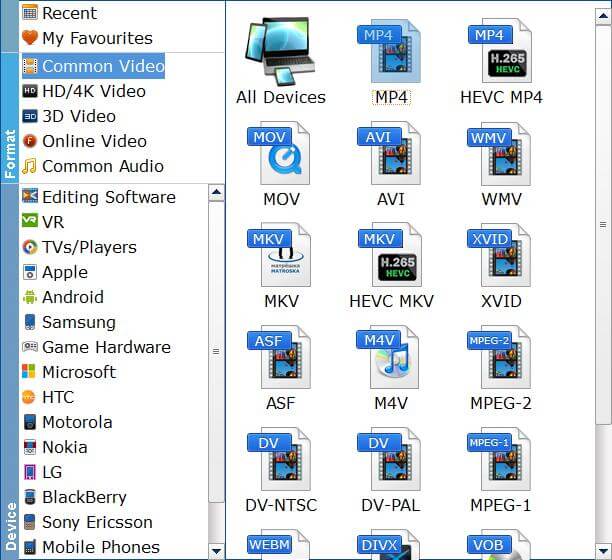 Step 3. Hit Convert and it will begin fast video decoding, conversion and processing your MOV video at one go.
After the conversion, click "Open Folder" icon to locate the result videos. Start up Cyberlink PowerDirector 18/365 OR lower version, follow "Open Folder" > "Import Media Files" to import the converted MOV files without any trouble.