As a film and video non-linear editing system (NLE), Media Composer is the media and entertainment industry's most used video editing software, accelerating high-res, HDR, and HD workflows. Avid makes great effort to support a reasonable number of file types, the following tables has listed the media formats by known industry name and application & device-generated formats. However, sometimes, you may still fail to load certain file formats into Avid due to the incompatible codec, resolution or other issues. Or Avid has no problem to recognize your media files, but you will have to make a compromise between the file size and quality since the media is not an idea editing format for Avid. To fix all these issues, the best and easiest workaround is to transcode your video into DNxHD codec - the best editing codec for Avid Media Composer. With Avid DNxHD, you can create mastering-quality HD media at dramatically reduced file sizes, shattering the barriers to real-time HD productivity. And you'll get its speed benefits whether using local storage or engaged in real-time collaborative workflows. And the best 2 ways to convert video to Avid DNxHD codec are discussed below.
Part 1: How to Convert Video to Avid DNxHD Codec Directly
For all your Avid DNxHD codec encoding needs in the most professional manner, We recommend EaseFab Video Converter (available for Mac and Windows users). This expert Avid DNxHD converter program supports Windows10/8/7/Vista/XP/2003 and Mac system as well. Almost all types of file formats are supported by the software including HD, SD, Full HD and Ultra 4K HD. With it, you can easily transcode incompatible video such as MP4, MTS, MXF, H.265/HEVC, MKV, MOV, etc. to Avid Media Composer best favorable DNxHD codec without quality loss for fast and fluid workflow. Besides DNxHD, the program also offers other professinal encoders like Apple Intermediate Codec, Apple ProRes, MPEG-2, etc. - ensuring maximum editing quality and efficiency when working with iMovie, Final Cut Pro, Adobe Premiere and more.
Below I will take the Mac version of Avid DNxHD Codec converter for example to show you how to encode video to DNxHD codec on Mac OS X (macOS Mojave included). The process in Windows is almost the same.
Transcoding Video to Avid DNxHD Codec on Mac
Step 1. Add video files
Click "Add Video" button or drag and drop to add video files from your computer to the program. You can add many files and convert them at one time.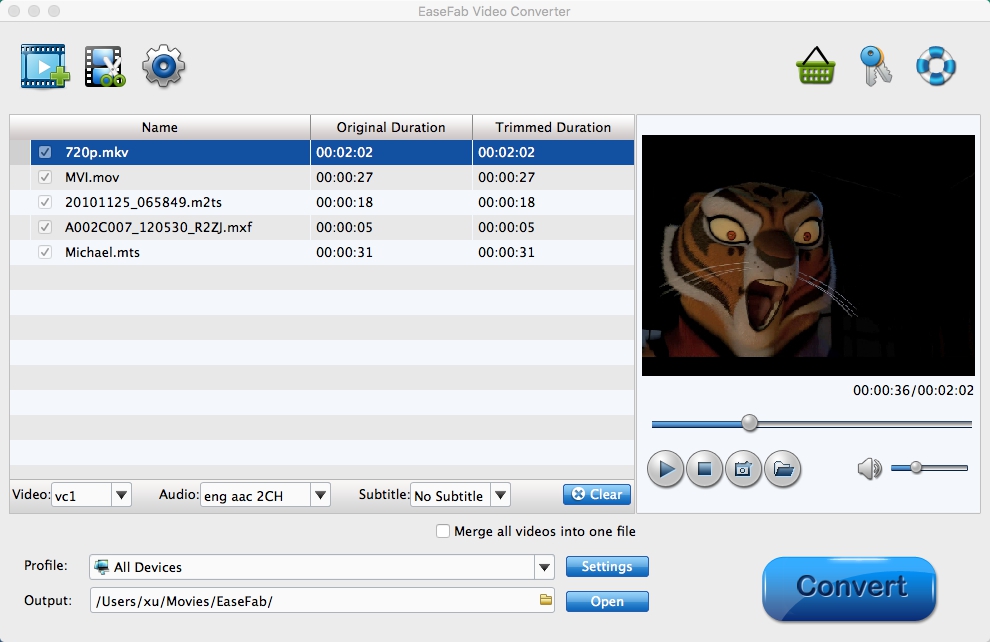 Step 2. Select DNxHD as the output format
You can directly choose the DNxHD profile from "Editing Software" catelog for Avid Media Composer which has been supplied by the Avid DNxHD encoder. The settings fit seamlessly all versions of Avid Media Composer. Note that DNxHD is just a codec, the video encoded with DNxHD will be wrapped in a MOV container.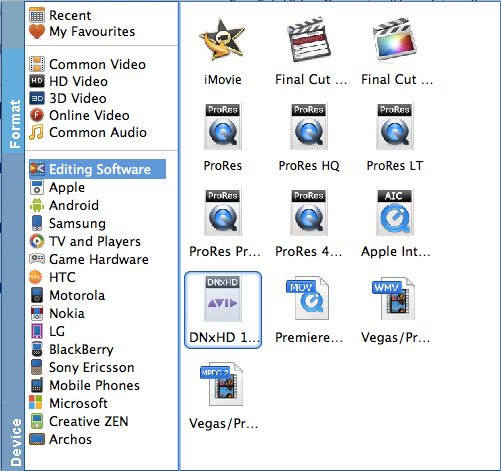 Step 3. Set advanced settings (Optional)
If you are critical about the output quality, you can adjust the parameters about the videos. As is true of video, audio settings is also important in adding a premium to the video quality. Just click "Setting" by the side of "Profile" and you are ready to tweak. In principle, the larger input values, the better output quality, but the corresponding larger file size.
Step 4. Start converting to DNxHD
As soon as all the above settings are completed, you can press "Convert" button to start conversion. After conversion is done, simply click "Open" button to find generated DNxHD codec encoded MOV files. Afterwards, you can transfer them into Avid Media Composer for smooth editing without any problem.
Part 2: How to Transcode Video to Avid DNxHD Codec Free
There are several ways to do this, but before you start, make sure you have downloaded and installed both MPEG Streamclip and the Avid DNxHD Codecs.
Open MPEG StreamClip and either drag the video you want to transcode onto the empty window or use the Open Files option in the File menu.
Choose Export to QuickTime from the file menu…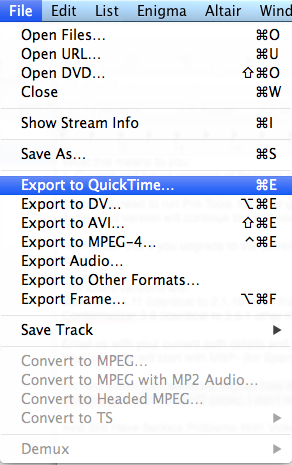 Select the AVID DNxHD Codec from the Compression drop down menu…
Thanks to Sounddroid for pointing out this crucial step which I missed that would explain my huge file size. Click on the Options button and choose the most appropriate setting for you. You are choosing from 1080 or 720, the frame rate, and level of compression. Sounddroid suggests…
People in post will generally want to use 1080p / 24 / 36Mbit / 8-bit, or 1080p / 23.98 / 36Mbit / 8-bit, depending on the project settings.
That would make sense for film work but for TV post you are likely to want either 25/50 for PAL or 23.976/59.94 for NTSC countries.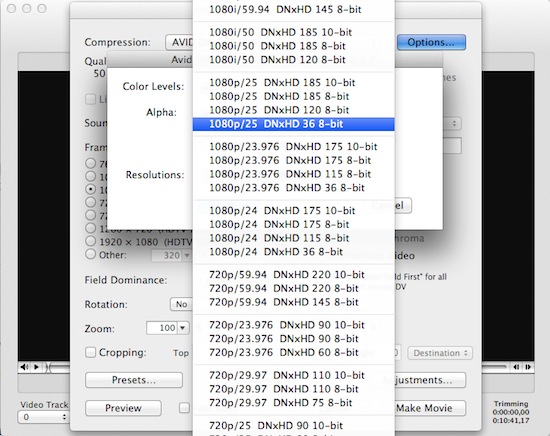 Then check the rest of the settings. I tend to leave the Frame Size on the (unscaled) setting so the movie isn't resized. The other thing I also do is to deselect Interlaced Scaling and select Deinterlace Video especially as I am displaying the video on an LCD screen. I have got so fed up with seeing interlacing artifacts that I end to doing it every time now to be safe.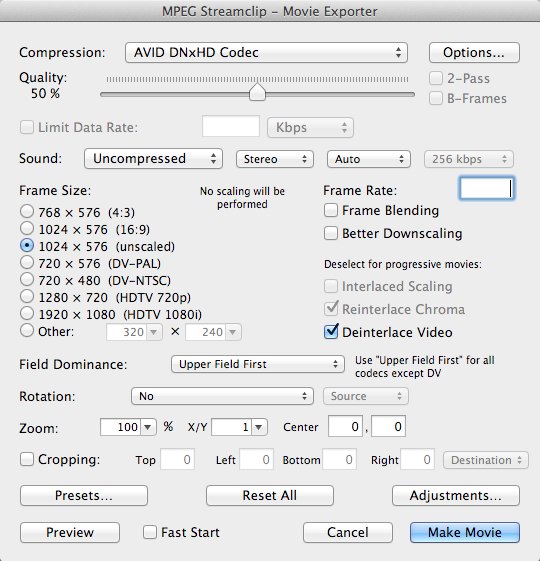 Once you are happy with the settings, click on the Make Movie button and determine where on your system you want to save the transcoded video and hit Save.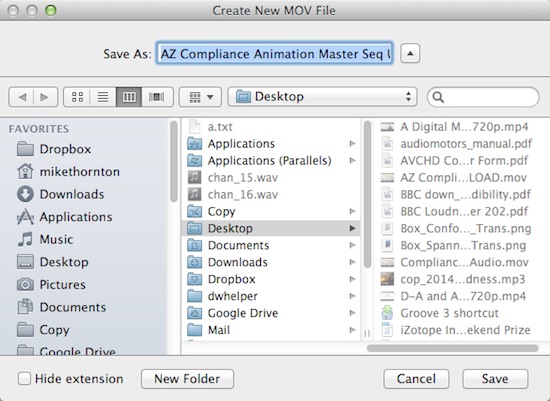 Now wait for MPEG Streamclip to transcode the video and then you are ready to import the Avid DNxHD version into Pro Tools in the normal way. Job done.
Editor's Note: As the software applies the QuickTime technology, it's by default that you can upload and play any QuickTime supported file formats as well. However, that might not always be the case. Your MPEG Streamclip might not work and prompt up messages such as "won't read or open files" or "unrecognized file format". And lots of MPEG Streamclip users have recently discovered it couldn't get the files converted, and the malfunction occurred after they all upgraded to the system Mac OS X 10.14 macOS Mojave, Yosemite or Mavericks. For these cases, a great MPEG Streamclip alternative (e.g. EaseFab Video Converter recommended in this article) is the best choice for you.