Home
>
Resources
>
Top 2 Best Avid DNxHD Codec Converter
Posted by Matthew Watt - Sep 09, 2021 | Contact Author

Top 2 Transcoders to Encode Video to High-Quality Avid DNxHD Codec
When it comes to selecting the best video format for post-production like editing and rendering, Apple's ProRes and Avid's DNxHD Codec are excellent choices since the compression is minimal so the quality remains very high, especially if you're editing the files in something like Final Cut Pro X, Adobe Premiere Pro, Avid Media Composer, DaVinci Resolve, etc. In another article, we've shared a good ProRes converter for Windows, and in this article we will introduce two best transcoders that can help you encode videos to uncompressed Avid's DNxHD codec without any hassle. Keep on reading for details.

Get to Know DNxHD Codec and What's So Good About DNxHD
DNxHD, short for Digital Nonlinear Extensible High Definition, is a lossy high-definition video post-production codec developed by Avid for multi-generation compositing with reduced storage and bandwidth requirements. It is an implementation of SMPTE VC-3 standard.
What's good is that Avid's DNxHD codec doesn't compress the video as much. It trades storage space and bitrate for quality and ease of processing. It typically need ten times as much storage. That's a lot, but hard drives are tending towards being free, so it hardly matters these days.
In fact, both ProRes and DNxHD (sometimes called "intermediate" or "production" codecs) sit in a kind of "sweet spot" between the humongous data rates of uncompressed video, and the egregious processing demands of Long Gop video. It's worth stressing that the main reason for ProRes and DNxHD's increased quality is that they are not long-GOP codecs
Once you've converted, your edits will fly. These codecs are so efficient that you can play multiple streams with a fraction of the effort you need for a single stream of H.264 - based video. As an example, on my Macbook Air, playing any HD Long-Gop clip will cause the fan to come on at full power within seconds, but with ProRes or DNxHD, I can play a clip - in much higher quality - with no sign of the fan.
Top 2 Best Avid DNxHD Codec Transcoders
The catch is that not all transcoders can encode to DNxHD or other "professional" codecs. And the choices are further narrowed down because you need a transcoder that is coming with its own codecs rather than just relying on those built into the operating system. Currently, there are two good transcoders that be used as an Avid DNxHD converter. One is EaseFab Video Converter, another option is MPEG Streamclip.
Below I will introduce the top 2 DNxHD transcoders in details. Also I will show you how to encode your video files to Avid DNxHD codec with them step by step.
Method 1: Convert Any Video to Avid DNxHD Codec With EaseFab Video Converter
- Easier-to-use, Faster and More Efficient
The world of paid video transcoding apps is quite a mess. Some are very good, but some are downright dodgy. If you don't want to be held back by slow and complicated processing and you're looking for the best option to transcode any video to Avid DNxHD codec or other professional codecs, EaseFab Video Converter for Mac will be your best choice. The expert DNxHD converter program is available for macOS Catalina or lower and it has a Windows version compatible with Windows 10 and lower.
The program is very easy to use and it comes with two optimized DNxHD codec presets. With it, you can convert almost any video files including but not limited to MP4, MTS, MXF, H.265/HEVC, MKV, MOV, VOB etc. to DNxHD codec in 3 simple cliks. The result DNxHD codec ensures the maximum editing quality and efficiency when working with Avid Media Composer, DaVinci Resolve and more. Besides DNxHD, you can also encode to professional codecs like ProRes, Apple Intermediate Codec for for fast and fluid workflow.
Apart from being a universal converter that supports more than 400+ file formats at the time of this writing, EaseFab is extremely lightweight and can render the files 30 times faster than other post-production tools. With the ability to apply effects, add watermarks, and include subtitles to the videos, EaseFab Video Converter can be considered a one-stop-shop for all your media-related tasks to come up with industry-standard outputs on Windows and Mac.
3 Simple Steps to Convert Video to Avid DNxHD Codec with EaseFab Video Converter
The step-by-step guide is almost the same on Mac and Windows. Here we will take EaseFab Video Converter for Mac as example to show you how to transcode video to DNxHD codec on Mac.
Step 1. Add source video files
Click Add Video button or drag and drop to add video files from your Mac to the program. You can add many files and convert them at one time.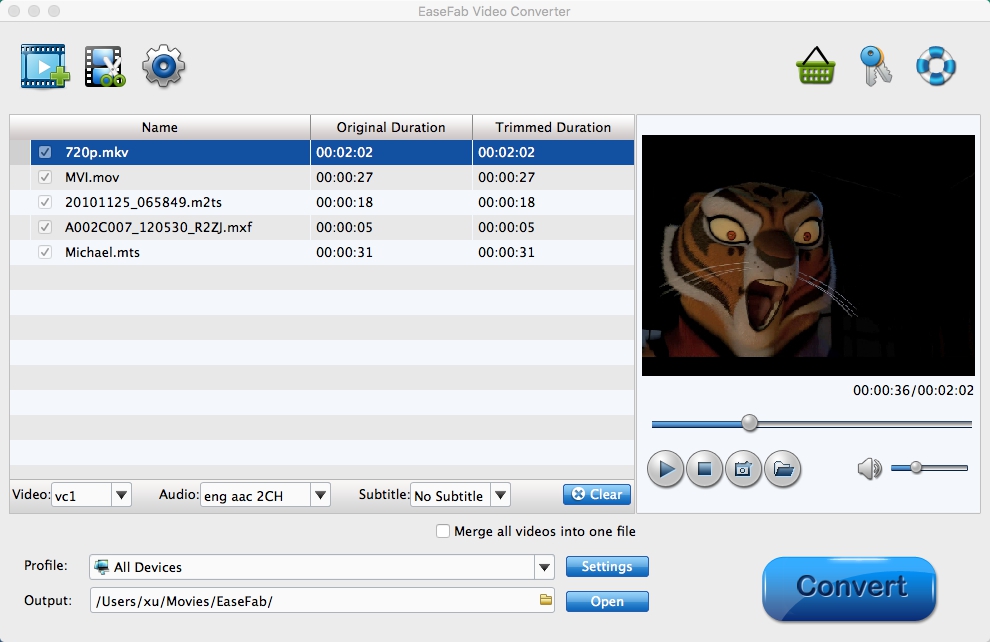 Step 2. Select DNxHD as output
The Profile tray locates in the buttom of the window. From Editing Software you can select DNxHD 1080p or DNxHD 720p as the output file. Both of the profiles can generate files with best image quality and better editing performance for smooth editing in Avid MC, DaVinci Resolve, etc.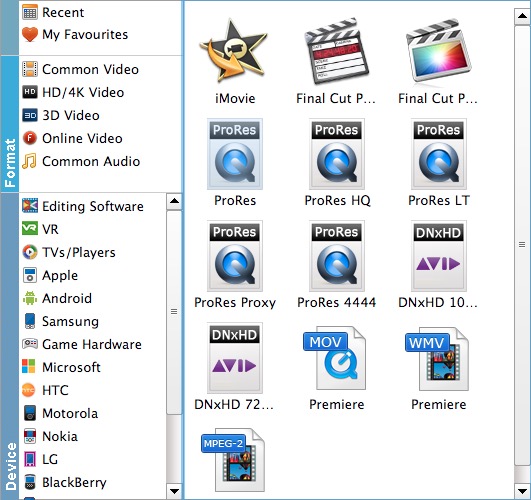 Tips: If you are critical about the output quality, you can adjust the parameters about the videos. As is true of video, audio settings is also important in adding a premium to the video quality. Just click Setting by the side of Profile and you are ready to tweak. In principle, the larger input values, the better output quality, but the corresponding larger file size.
Step 3. Start the conversion
As soon as all the above settings are completed, you can press Convert button to start conversion. After conversion is done, simply click Open button to find generated DNxHD codec encoded videos which are ready for post-production like editing and rendering without any trouble.
Method 2: How to Transcode Video to Avid DNxHD Codec Free with MPEG Streamclip
MPEG Streamclip, as the name of this software, says that this software is able to convert your videos in various formats. MPEG, VOB, PS, M2P, MOD, VRO, DAT, MOV, DV, and some other audio-video formats are supported by this software. It can play these all audio-video format files in the software interface itself. This software also supports encoding videos to Avid DNxHD codec. There are several ways to do this, but before you start, make sure you have downloaded and installed both MPEG Streamclip and the Avid DNxHD Codecs.
Open MPEG StreamClip and either drag the video you want to transcode onto the empty window or use the Open Files option in the File menu.
Choose Export to QuickTime from the file menu…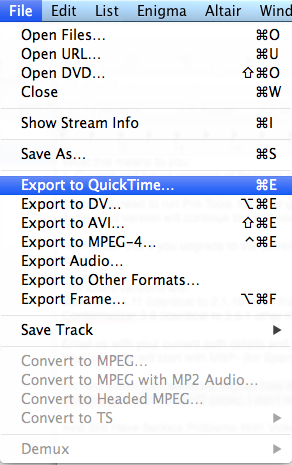 Select the AVID DNxHD Codec from the Compression drop down menu…
Thanks to Sounddroid for pointing out this crucial step which I missed that would explain my huge file size. Click on the Options button and choose the most appropriate setting for you. You are choosing from 1080 or 720, the frame rate, and level of compression. Sounddroid suggests…
People in post will generally want to use 1080p / 24 / 36Mbit / 8-bit, or 1080p / 23.98 / 36Mbit / 8-bit, depending on the project settings.
That would make sense for film work but for TV post you are likely to want either 25/50 for PAL or 23.976/59.94 for NTSC countries.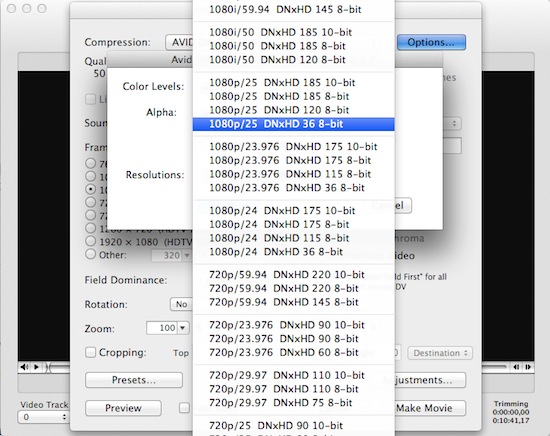 Then check the rest of the settings. I tend to leave the Frame Size on the (unscaled) setting so the movie isn't resized. The other thing I also do is to deselect Interlaced Scaling and select Deinterlace Video especially as I am displaying the video on an LCD screen. I have got so fed up with seeing interlacing artifacts that I end to doing it every time now to be safe.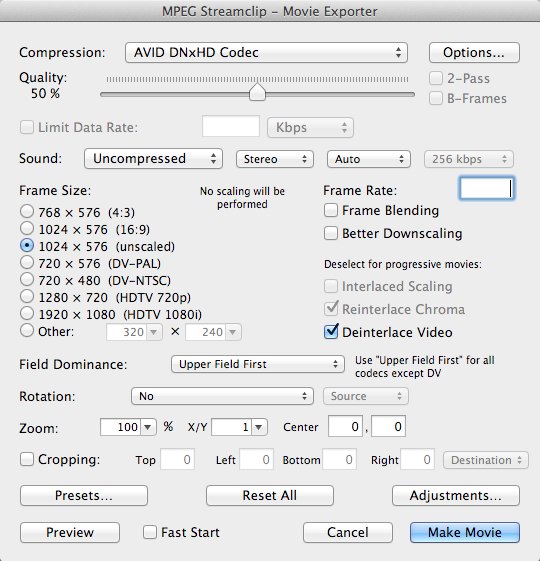 Once you are happy with the settings, click on the Make Movie button and determine where on your system you want to save the transcoded video and hit Save.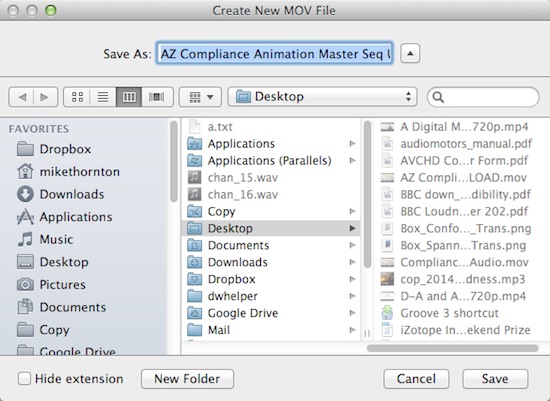 Now wait for MPEG Streamclip to transcode the video and then you are ready to import the Avid DNxHD version into Pro Tools in the normal way. Job done.
Final Words:
As the software applies the QuickTime technology, it's by default that you can upload and play any QuickTime supported file formats as well. However, that might not always be the case. Your MPEG Streamclip might not work and prompt up messages such as "won't read or open files" or "unrecognized file format". And lots of MPEG Streamclip users have recently discovered it couldn't get the files converted, and the malfunction occurred after they all upgraded to the system Mac OS X 10.15 macOS Catalina or macOS Mojave. For these cases, a great MPEG Streamclip alternative (e.g. EaseFab Video Converter recommended in this article) is an excellent choice for you.
Other Useful How-to Guides & Tips
This article will have a full review of DNxHD vs H264 and it will also help you to convert H.264 to DNxHD codec for fast import and smooth editing in Avid Media Composer, DaVinci Resolve, Adobe Premiere, etc.
A step by step guide aims to help Avid users solve the issue of failing to import MP4 files to Avid Media Composer for editing.
Copyright © 2023 EaseFab Software Corporation. All Rights Reserved.