A file with the M3U8 file extension is a UTF-8 Encoded Audio Playlist file. They are plain text files that can be used by both audio and video players to describe where media files are located. VLC, Apple's iTunes, Windows Media Player, and Songbird are just a few examples of programs that can open and use M3U8 files. If you're looking to convert M3U8 to MP4, or to MP3, or to any other media format, you first need to understand that an M3U8 file is a plain text file - nothing more and nothing less. This means it just contains text, nothing that can actually "play" like how an MP4 or MP3 file can play in a media player.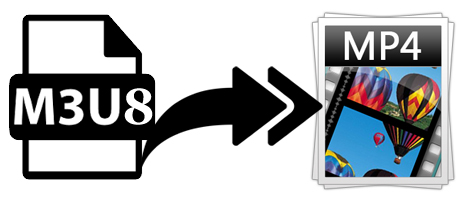 In fact, there is no such a M3U8 converter on the market. Then what if you want to convert an M3U8 file to an MP4 file? Fortunately, there are still some media players that act as M3U8 file converter to extract MP4 files from M38U files. Here I will take VLC Media Player as an example to tell you how to change ,m3u8 file to .mp4 file step by step.
How to convert an M3U8 file to an MP4 with VLC for Free
Step 1: Download and install the VLC for Windows or Mac version from the official site that suit your computer OS.
Step 2: Run VLC, and then click on "Media" and select "Convert / Save", after that a "Open Media" window will pop up and click the "file" tab and then click "add" button to load the file you want to convert.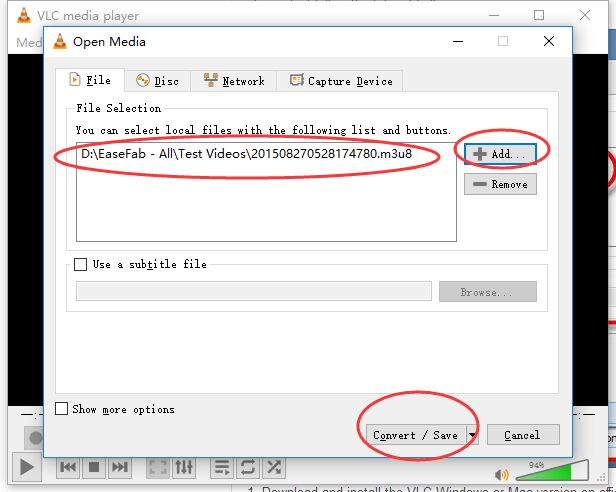 Step 3: Click on the "Convert/Save" button when you are done. Finally select the destination folder, give a desired file name and select the desired video profile. The default output is an MP4 file with H.264 codec.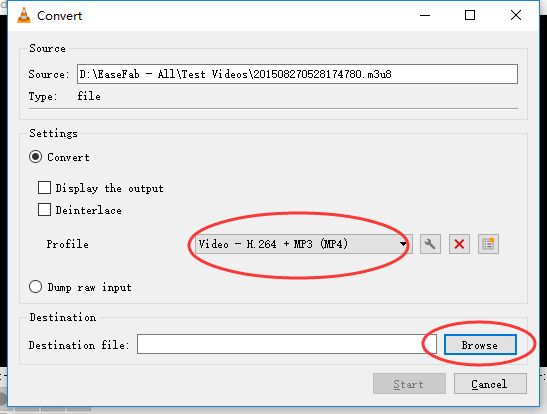 Step 4: Once all settings are done, you can press the "start" button to begin the m3u8 to mp4 conversion.
Best VLC Alternative for M3U8 to MP4 Conversion
Although VLC is shipped with all the necessary codecs, you still may have some troubles while converting videos like unsupported video codec, slow conversion process, etc. One of the solution is to try installing a codec pack; alternatively you can turn to a professional video converting tool like EaseFab Video Converter (available for Windows and Mac users).
Being tested with more than 10,000 video files, Brorsoft Video Converter is assured of a stable, easy-to-use yet fast video converting tool for you. With it, you can fast convert a wide range of UHD 4K, HD and SD videos as well as audios in any popular format like MKV, MP4, MOV, AVI, WMV, FLV, XAVC, MTS, MXF, 3GP, VOB, AC3, MP3... with ultra-fast speed and zero quality loss.
Besides, EaseFab Video Converter supports 150+ presets for popular devices like the iPhone, iPad, Android devices, Windows-based tablets and game console, etc. With it, you can watch any media files on your mobile devices on the go.
Far more than a video conversion program, EaseFab Video Converter also comes with a built-in video editor, with which, you can personalize and retouch your videos in clicks. You can: trim video into smaller segments; brand your video by embedding a watermark; add subtitles to MKV, AVI, MP4 in .srt or .sst format; Remove unwanted objects from video and more.