Beyond movies and TV, Plex also provides easy playback of your entire music collection, home movies, and pictures, as well as other internet content. If you some 1080P or 4K UHD Blu-ray movies and want to put them into some format so you can share them into Plex, just read on this article. I will share the tips and tricks for copying and streaming 1080p/4K Blu-rays to Plex Media Server.

First, a quick note: we know that there is still a lot of legal ambiguity around ripping content that you have legally purchased. At Audioholics, we believe that you should be able to watch purchased media on your system regardless of whether it's coming from a standalone Blu-ray player or a media center frontend. Actually, it's not as difficult as you imagine. To get 1080P and UHD 4K Blu-rays on Plex, you'll need a common BD drive or UHD 4K Blu-ray drive installed in your computer and a third-party Blu-ray ripping software.
What Is the Best Format for Ripping Blu-rays to Plex Media Server
Let's first make clear which formats Plex Media Server can accept before getting into the guide of ripping Blu-ray to Plex. Plex's media compatibility and video quality limitations vary by device. The typically native supported codec of Plex is MP4 (H.264+AAC). According to our multiple tests, it's recommend you to store your videos in the lowest standard provided below to yield the best playback result for ripping common 1080P Blu-rays to Plex streaming:
• Container: MP4
• Video codec: H.264
• Resolution: 1920×1080 or smaller
• Audio track: Stereo AAC
• Video Framerate: 30fps
4K UHD videos matching the requirements below can be directly played on some 4K devices recognized by Plex app:
• Container: MP4
• Video codec: HEVC (H.265)
• Resolution: 3840×2160 or smaller
• Audio track: Stereo AAC
• Video Framerate: 30fps
Tips: hardware and speed of the internet may also influence streaming across devices.
4K/1080p videos or other videos not conforming to the above parameters will usually need to be either directly streamed or transcoded. Many devices have additional Direct Play video, music, 4K supports like MKV (H.264, HEVC/H.265), MP4 (H.265), AVI, ASF, M2TS/TS (H.264, HEVC/H.265), MOV, WMV, 4K H.264, 4K HEVC (H.265), VP9, 3GP, FLV, OGG, WAV, AAC, AC3, etc.
Why Handbrake and MakeMKV are not the best software for ripping Blu-ray to Plex?
As for ripping Blu-rays for Plex, MakeMKV just extracts the video and audio from Blu-ray to a huge MKV file, that explains why it is fast and why the output file is very large and hardly to playback thru Plex. Handbrake is excellent for ripping standard Def DVDs, but it cannot decrypt the Blu-ray discs (See How to rip Blu-ray using Handbrake). You can also use MakeMKV to make MKV from your Blu-ray discs and then use Handbrake to transcode MKV to MP4. But the process is to too slow. Worse still, it runs sluggish and often crashes in the middle of process.
What Tool Is the Best Program to Rip 1080P/4K Blu-rays for Plex?
EaseFab Blu-ray Ripper is the bee's knees. It's a 100% clean and secure Blu-ray ripper for Windows 10/8/7 and Mac which can rip 2D/3D 1080P and 4K UHD Blu-rays to Plex Media Server compatible MP4 format at ultrafast speed while keeping the excellent video/audio quality. Plex doesn't support DVD dics, ISO image and VIDEO_TS folder. You can also use EaseFab Blu-ray Ripper to convert DVD, ISO and VIDEO_TS to Plex compatible format.
It can also convert Blu-ray to MKV, MPEG, HEVC/H.265, WMV, MOV, FLV, MP3, iPhone, Apple TV, Android, etc. and supports various types of Blu-ray and DVD discs, homemade & commercial Blu-rays and DVDs. You can freely adjust output video/audio parameters, including change resolution, codec, bit rate, frame rate, aspect ratio, etc. to fit in different devices. The following is a simple tutorial about how to rip Blu-ray for Plex.
Note: Please make sure that all the Blu-ray ripping are just for personal use. The following downloads are for Windows (Windows 10) and Mac (macOS Catalina) users.
3 Simple Steps to Rip 1080P/4K Blu-rays for Plex Media Server
PS: Ripping Blu-ray for Plex with EaseFab Blu-ray Ripper is simple as ABC. After downloding, follow the wizard to install and run the program. Then follow the steps below to convert Blu-ray to Plex comaptible formats in a few clicks! The below guide takes Blu-ray Ripper for Windows (Windows 10) screenshots for example. The way for ripping Blu-rays to Plex on Mac (macOS Catalina included) is almost the same.
Step 1: Load source 1080p or UHD 4K Blu-ray movie
Insert your Blu-ray disc into Blu-ray drive (An UHD Blu-ray dirve is necessary for ripping 4K Blu-ray discs), Launch the program and click the Load Disc button to import the Blu-ray movies. DVD, ISO/IFO files are also supported. You can select subtitles as you want.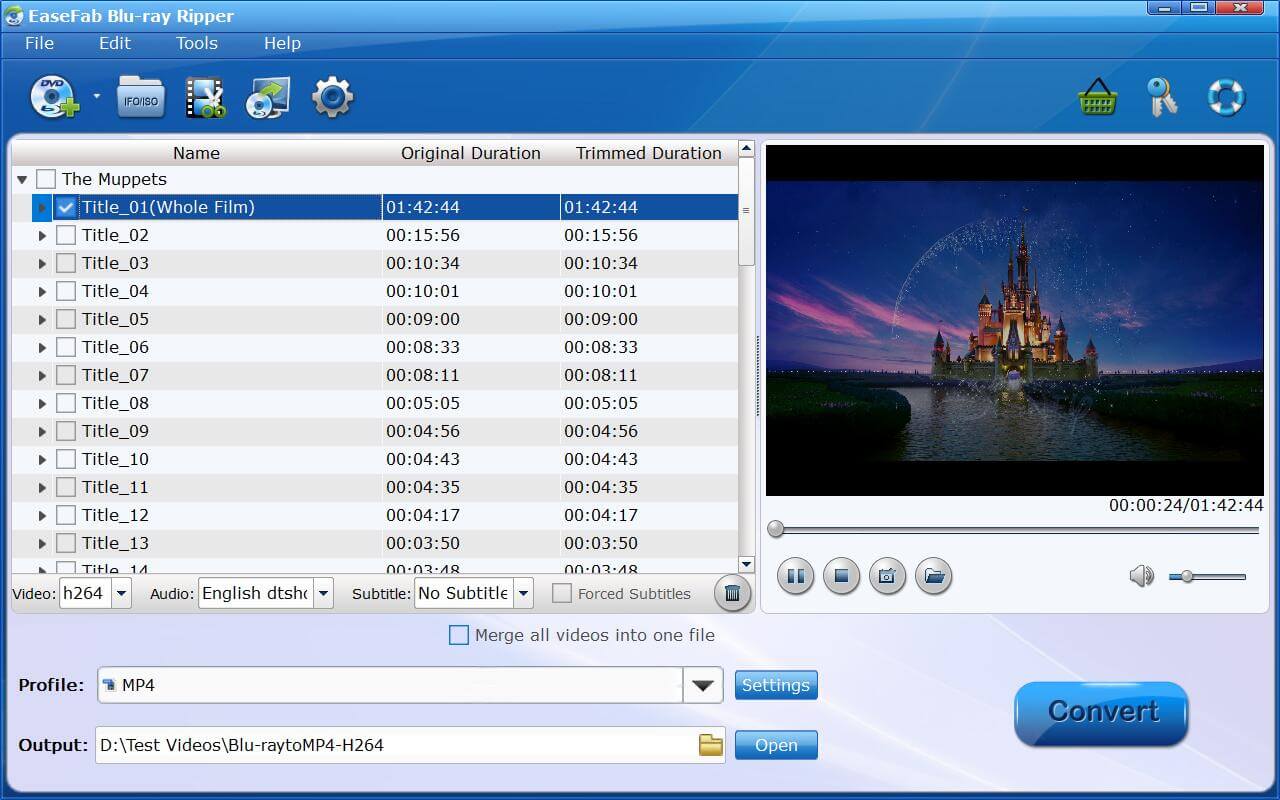 Step 2: Choose MP4 as output file
Click Profile and choose MP4 (H.264) from Common Video, which can be uploaded directly to Plex for smooth playback with excellent quality.
If you want to rip 4K UHD discs to 4K videos for playing on your 4K device via Plex server, you can choose HEVC MP4 as the output file. But please make sure your 4K device can decode and playback 4K HEVC videos. If not, select MP4 (h.264).
Optionally, you can choose preferred audio track, subtitle, output folder, and adjust video audio settings according to your needs.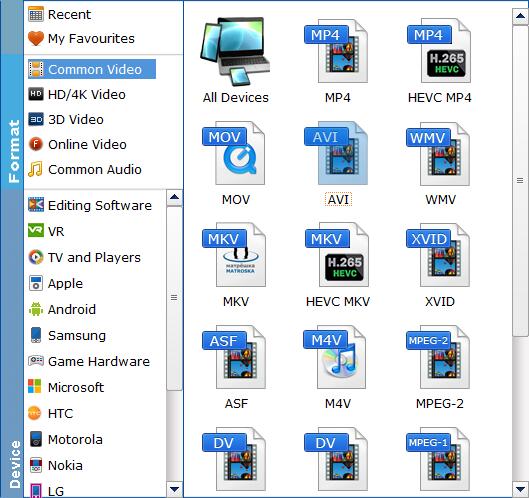 Tips of advanced settings for ripping 1080P/4K Blu-ray to Plex:
With the right settings you can retain the quality of the original Blu-ray while also saving space. This is particularly helpful when streaming over your network, depending on your network quality. Simply click Settings button and you can tweak the settings to your satisfaction and even save it as preset.
1. You're not suggested to adjust the frame rate, if not necessary.
2. Lower the Bitrate to a lower level. For example, adjusting the original 2500 to bitrates of around 1800-2000 is acceptable without noticeable pixellation.
3. Lower the resolution. Typical Blu-ray videos are 1920×1080 (1080p). Adjust the resolution to 1280×720 (720p) won't make any quality difference.
4. To get the best possible output quality and smallest file size, you can also choose to convert Blu-ray to HEVC MP4. It has 50% smaller size at the same quality. Please note that Plex's HEVC playback depends on the device you are playing on. For the most part the server will stream whatever the client is requesting. Of the devices I use, the Xbox One, Plex Media Player, and Plex for Samsung all can play HEVC content and the resolution will depend on the device.
Please note: Adjusting these variables have some effect on the re-encoded video quality. Remember the file size and video quality is based more on bitrate than resolution which means bitrate higher results in big file size, and lower visible quality loss.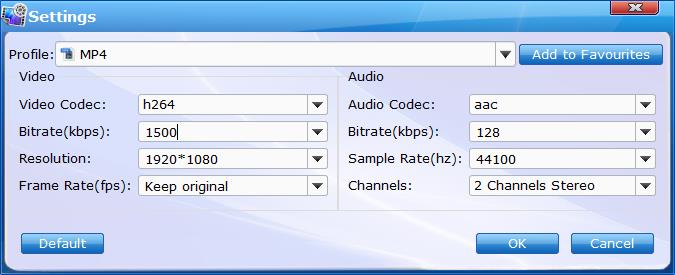 Step 3: Get ripping started
Finally, hit the "Convert" button at the bottom of the main interface to start the conversion. It will automatically convert Blu-ray to Plex Media Server compatible video files.
Once the conversion is finished, click "Open" to quickly find the converted movies. Then, Plex will recognize, catalog, play and stream these ripped Blu-ray digital MP4 video at ease.