As a quite hot file extension, MP4 is widely used for saving media data and can be found in lots of places online or off line, which means, you may download MP4 videos from video sharing sites such as YouTube and Fox, shared some MP4 videos from others, or captured MP4 videos from a GoPro camera. The point here, sometimes you will find it a painful experience to import MP4 files to Adobe Premiere (the lastest Premiere Pro CC included) for movie editing. There're some frequently asked questions quoted as below:
"Q1: Importing MP4 Into Premiere pro CC - I was just wondering, I have footage in a strange format; .mp4, and it wont import into Premiere. Someone asked me if I had all the updates, etc, I do, and still no luck with it... Before I try the reinstall, I was just wondering if anything else can be done about the format."
"Q2: Is there a way I can get MP4's into premiere? It doesn't seem to like them and won't import"
There are the common problems encountered by many Adobe Premiere users. Adobe claimed that Premiere Pro like CS4, CS5, CS6, CC supports MP4 natively. However, when you plan to edit the MP4 file with Premiere Pro, you may be able to do this, but may be unable to. So what's the matter? Well, this could happen because of the different codec in a number of MP4 files as Premiere Pro (even the latest Adobe PP CC) might not support all of these codecs. Thus, there are many video, audio codec problems while importing MP4 video into Premiere Pro for editing. Plus, even the Adobe program can ingest your MP4 files directly, it takes a long time for rendering. The best method to avoid those problems and save time is to convert MP4 to a more editing-friendly format, such as Premiere's MPEG-2 (the most compatible video format for PP).
The article would show you how to change MP4 to Adobe Premiere editing-friendly format step by step with EaseFab Video Converter for Mac. With it, you can effortlessly and losslessly transcode MP4 files for smoothly importing and editing in various non-linear editing systems (NLE), including Adobe Premiere Pro, Premiere Elements, After Effects, Final Cut Pro, iMovie, Final Cut Express, Avid Media Composer and more. If you're using a PC, turn to the Windows version here.
Simple Steps to Convert MP4 for Adobe Premiere Pro
Note: This application supports batch conversion, so you can add more than one file at a time.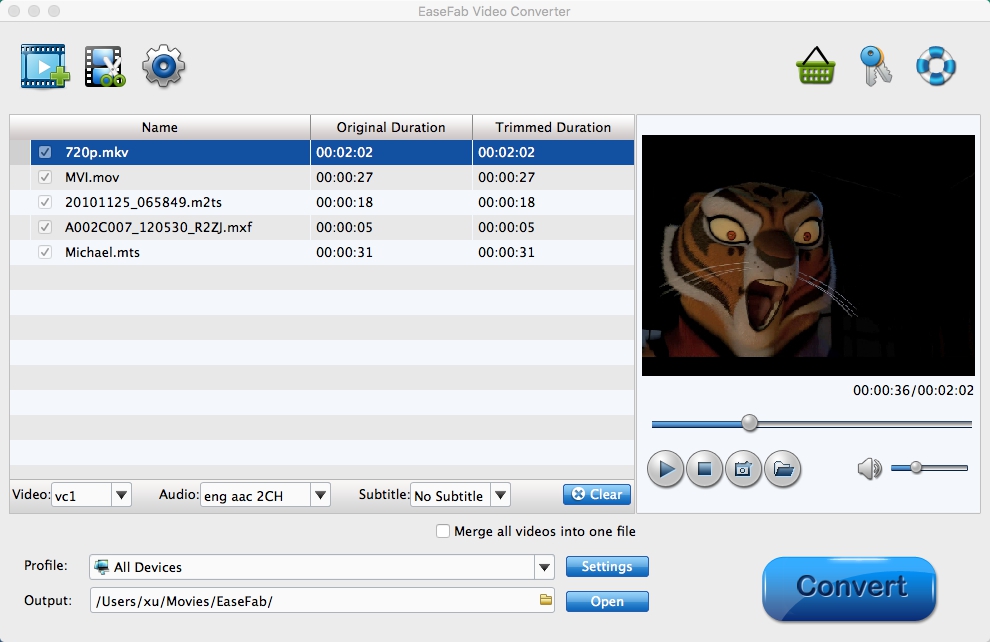 Step 2: Click "Profile" pull down list to select "Vegas/Premiere (MPEG-2)" as the best video format for Premiere Pro. WMV, MOV formats are the good choice as well.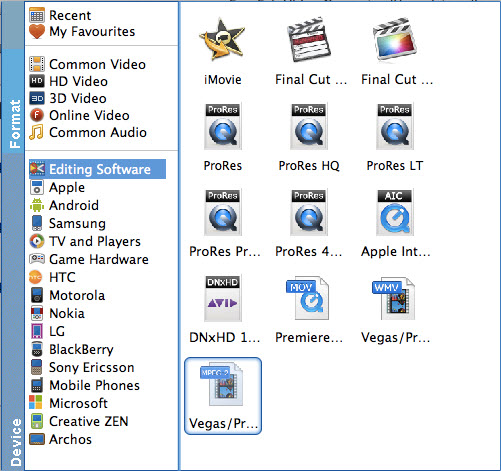 Tip: If you would like to customize the video and audio parameters, you can click "Settings", adjust the parameters as you want, like Video Codec, aspect ratio, bit rate, frame rate, Audio codec, sampling rate, bit rate, channels.
Step 3: After everything is OK, simply click "Convert" button to start transcoding MP4 to MPEG-2 for Premiere Pro.
When the MP4 to Adobe Premiere conversion task is finished, click "Open" button to get the exported files for transferring to Premiere Pro CS5/CS6/CC with easy playback or editing.