As is known to all, Apple links your iPhone with Apple ID. Without your Apple ID, you cannot download Apps from the Apple Online Store and sign in various online systems that Apple offers for many of its products. What's worse, you are not available to back up your iPhone data on iTunes and iCloud if you forget your Apple ID and password. Then what if you need to reset your iPhone without Apple ID for different purposes like forgetting Apple ID, failing to access to the internet, black screen or system broken? Although there is no way to avoid this trouble for good, there is still hope for users to fix this issue by resetting iPhone without entering your Apple ID and password. This is an instructive article on how to factory reset iPhone while forgetting Apple ID password. No Apple ID is not a problem at all.
Note: One more thing that you need to remember is that make sure to keep a backup for your storage of your precious iPhone. The instructed reset may delete all your necessary data. Please do carefully at your own risk.
Something You Gotta Known:
Apple links your iPhone, iPad or iPod touch with your Apple ID. So that when someone steal your phone, the thief should not know your login details to turn off Find My iPhone feature or reset the phone to factory defaults. Find My iPhone is a very important feature of iOS 7 but a bug in iOS 7 let you disable Find My iPhone feature. Apple fixed it in iOS 7.1. Still a user of iPhone finds another bug in iOS 7.1 that allow you to disable Find My iPhone in lot easier way. But the iOS version lower that 7 are easily controlled for Find My iPhone feature. They are more susceptible to jailbroken and have no complexity in resetting without an Apple ID.
How to Reset iPhone without Apple ID
Follow the steps to put your iPhone in DFU mode which allows you to update firmware and iOS without entering your Apple ID. Follow the below instructions steps by steps to enter into DFU mode and reset your iPhone to Factory defaults without Apple ID.
Step 1: Open iTunes on your computer and connect iPhone to the computer with a USB cable.
Step 2: Then turn off the iPhone.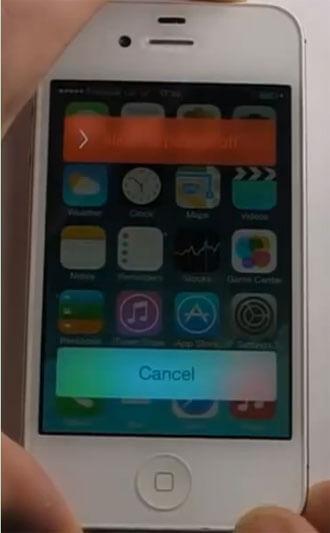 Step 3: Press and hold the Home button for 3 seconds.
Step 4: Then you need to press the Power button and Home button and hold them for 10 seconds. When you see the Apple logo disappears, you can release the Power button.
Step 5: Release the Home button when iTunes detects the iPhone in Recovery mode.

Step 7: Follow the steps on iTunes. Keep your backup before these actions. You can now update your phone or make a simple reset from the following interface.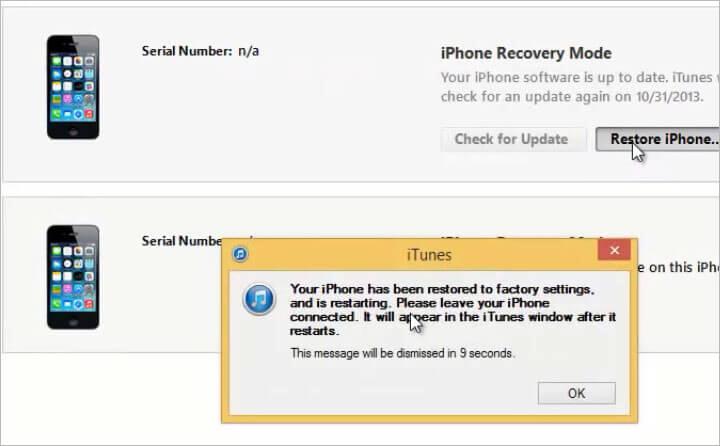 Now you will be notified after the reset and your iPhone will take a restart. You can start to follow the guide to reset your iPhone without Apple ID.
Editor's Note:
After resetting your iPhone, you may want to restore your iPhone. Yeah, you easily restore your iPhone from backup files, like restoring from previous backups in iTunes or iCloud. However, you can't restore part of data or extract any content from iTunes and iCloud backups. But EaseFab iPhone Data Recovery (available for Mac and Windows users) - a professional and easy-to-use iPhone Data recovery tool can help you do it. It enables you to preview and restore the backup file selectively.