Summary: Looking for a free Blu-ray Ripper to rip your Blu-ray discs on macOS Ventura, Monterey, Big Sur, and Lower? Here the five best macOS Blu-ray Rippers are introduced and reviewed to help you rip Blu-ray to MP4, MKV, AVI, MOV, etc. on Mac easily.
Many Mac users are looking for the best free Blu-ray ripper to rip Blu-rays on Mac or to save Blu-rays to Mac. Actually, a Blu-ray ripper could change and facilitate our way of entertainment and open the door to a world of watching Blu-ray movies offline on the go, without replying on the discs and external Blu-ray drives. To be specific, we will be able to play Blu-ray movies on Mac, iPhone, iPad, Apple TV, PC, Android phones and tablets, and any device that supports video playback.
There are a host of macOS Blu-ray ripping tools that can help you in this endeavor. In this article, the top 5 Blu-ray rippers for Macintosh (free options included) are introduced and reviewed to help you get the right program for your purpose.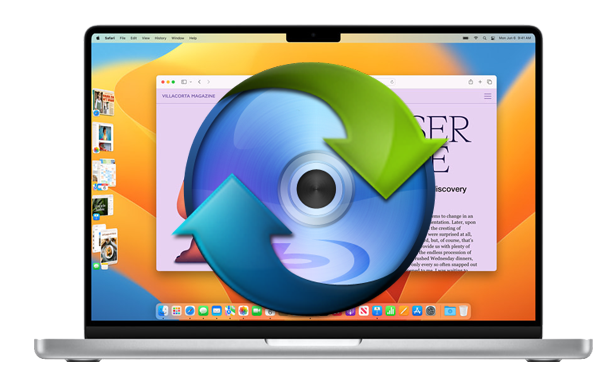 Part 1. How We Picked the Blu-ray Riping Software for Mac?
There are lots of free and paid tools out there that allow you to rip Blu-rays to digital, as well as edit the resulting files on Mac, but they vary greatly in terms of performance, features, and price. When deciding on the best Blu-ray rippers for Mac, we looked for tools that met most of the following criteria.
◉ Intuitive and easy for beginners to handle
◉ Large selection of output formats and conversion choices
◉ High-quality video output and a manageable size
◉ Advanced customization tools
◉ Reasonably priced
◉ Timely customer service (help and support)
Part 2. 2023 Best 5 Blu-ray Ripper for Mac [Free & Paid]
Compare the 5 Best Blu-ray Rippers for macOS

Function / Name

EaseFab LosslessCopy

MakeMKV

Handbrake

Leawo

VLC

Easy-to-use

★★★★★

★★★★

★★★

★★★

★★★

Copy-protected Blu-ray support

Yes. APS, CSS, ARccOS, CPRM, AACS, BD+, and Cinavia supported.

Yes. AACS, BD+ supported

No.

Yes. AACS, BD+, CSS supported

No. Can Cope with AACS protected discs with plugins.

Ripping speed

Superfast

Fast

Slow

Fair

Very Slow

Output formats

500+

MKV

MP4, MKV, WebM

300+

MP4, WMV, MKV, etc.

Output quality

Blu-ray backup and lossless MKV modes keep original quality. Others can also deliver excellent quality.

Excellent

Fair

Fair

Fair

Editing Features

Yes

No

No

Yes

No
Best choice for ripping, copying and converting copy-protected Blu-rays on Mac
The popular EaseFab LosslessCopy is not only compatible with Windows, but also has a Mac version named EaseFab LosslessCopy for Mac. This tool is the best Blu-ray ripper for Mac OS X 10.6 and later (now up to macOS Ventura and will be updated when new macOS is released). It can easily cope with all types of commercial Blu-rays protected by AACS (Advanced Access Content System), BD+, BD-J (Blu-ray Disc Java), RC (Region Code), etc. on macOS. Besides Blu-rays, it can also handle DVDs protected with CSS, RCE, Sony ArccOS, UOPs, Disney X-project DRM and so on. Even if your discs are scratched, damaged or unplayable, the software is here to offer a solution.
With 500+ bulilt-in formats and devices, you can convert Blu-ray to any popular video formats and devices including but not limited to HEVC, H264, MP4, MKV, MOV, AVI, iPhone, iPad, Android, Apple TV, Xbox and so on. Output video quality is excellent and fast conversion speeds are achieved through a GPU Hardware acceleration feature.
Another killer feature is that LosslessCopy can convert any 2D/3D/UHD 4K Blu-ray into a lossless MKV file which can store multiple video/audio tracks with all meta-information and preserve chapters. And it can do the job in about five minutes. Besides the multi-track MKV, you are able to create MP4, MOV and AVI files that include more than one audio stream to meet the requirements for more media players, mobile devices, etc.
LosslessCopy for Mac also offers movie lovers 2 different modes to backup your discs without any quality loss. You can make an exact 1:1 copy of the entire disc in original file structure with all subtitle tracks and audio streams preserved. Or save 100% intact M2TS main movie from your Blu-ray discs without extras.
You can download a free trial version of this software, but you'll have to pay an annual subscription fee to use it for any video longer than three minutes. Having to pay for Blu-ray ripping and copying software isn't all bad though. It means you don't have to contend with in-app ads and upsells, and you get advanced features you wouldn't find in free programs. Plus, EaseFab LosslessCopy's price tag is fairly low, and we definitely think it's worth it.
If you're using a PC, please free download the Windows version here.
Pros:
+ Very fast rips
+ Loads of profiles besides lossless MKV output
+ Easy-to-use application
+ No annoying ads
+ Contains an editor
+ Excellent customer service
Cons:
- Although the interface is easy to understant, it need to be improved.
Suitable for those who need high-quality MKV output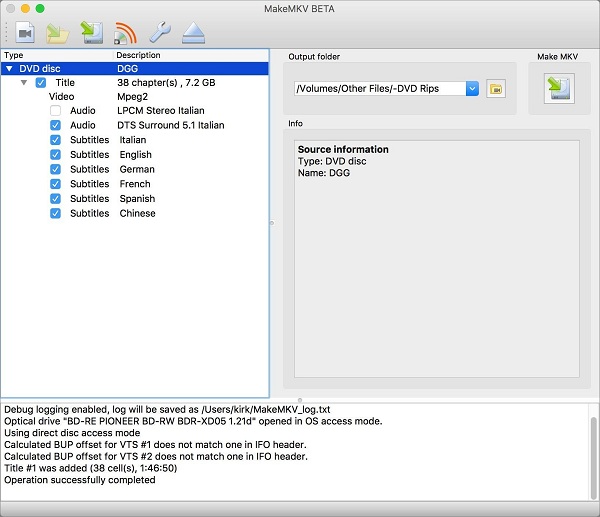 If you have no idea which program you should employ to rip episodes from a Blu-ray on Mac, the MakeMKV will do the job brilliantly. It's a cross-platform and free Mac Blu-ray ripping application that lets you remove the protection on Blu-ray & DVD and convert contents to a nice big MKV file, without compromising the video quality. But it won't feature with many video or audio option for tweaking the quality of the resulting MKV file. One caveat is that you need to ensure there's enough free storage space on the hard drive to save the ripped file. If you want to compress ripped files to make room on your HDD, you should combine it with Handbrake, to get this functionality.
Price: At the time of writing, MakeMKV is in beta and is free. It gets regular updates, and displays a rather blunt message telling you to download the new version before quitting - you can't use an outdated version of the app unless you've paid for a registration key. Once the beta is over, the developers say the DVD ripping functionality will remain free, with a charge of just over $55 to continue using the program's Blu-ray ripping capabilities
Pros:
+ Simple to use
+ Rips Blu-rays
+ FREE for a 30-days limitation in Blu-ray ripping
Cons:
- Lack of personalization in editing and clipping.
- Overall process is slow
- Lacks compression
Suitable for those who need to rip homemade or burned Blu-ray discs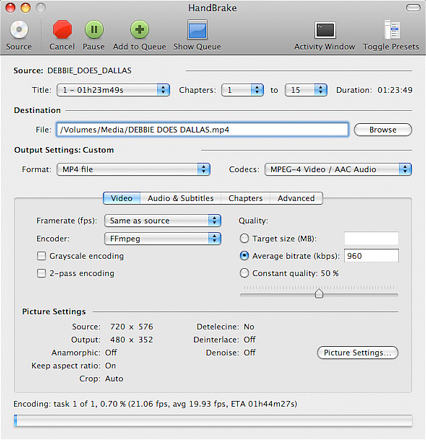 Handbrake is a powerful and open source video transcoding application. You can rip some protected DVDs using Handbrake with a decoder called libdvdcss. And it can also rip unprotected Blu-ray discs and convert them into videos of any format working on your mobile phones, PCs, browsers and game console. While it is not designed with a superficial interface and not specified to newbies, it really caters to those who want to dig into making their own customized videos from Blu-ray.
Pros:
+ Support a large number of output formats.
+ Full features to use for advanced computer users.
+ Support batch conversion and chapter markers.
Cons:
- Unable to rip copyrighted Blu-ray discs.
- Sophisticated for newbies in many detailed parts.
Good for ripping copy-protected Blu-ray discs on Mac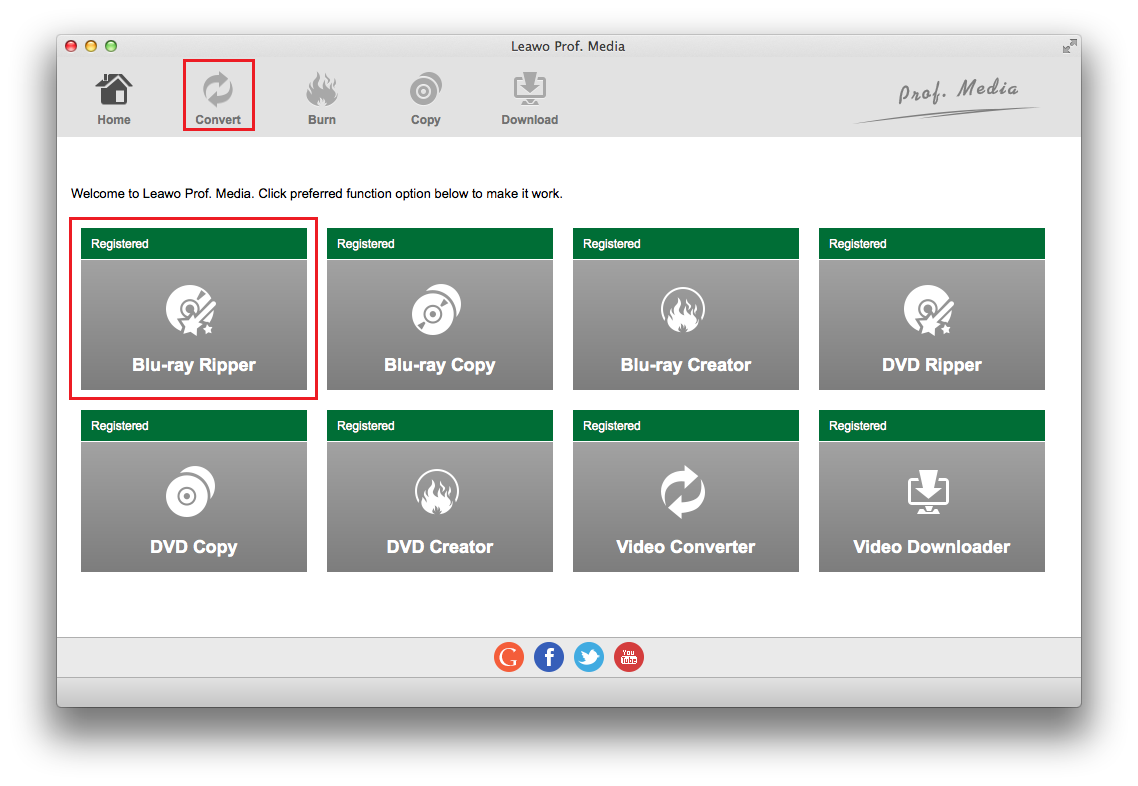 Like the above professional Mac Blu-ray ripping solutions, Leawo Blu-ray Ripper has the same full ripping features to copy Blu-ray disc or the Blu-ray folders into any video formats with no quality loss. Powered by its excellent decryption technology, it easily removes common Blu-ray copy protections and region codes that block the copy of the disc. Multiple additional ripping functions are easy in touch, including subtitle and audio tracks selecting, 2D to 3D converting and practical video editing. It is suitable for Windows users while providing a counterpart for Mac users.
Price: To use the full version on one Mac for one year, you'll pay $44.95 and for lifetime licence, you'll pay $99.95 which is much more expensive than other Mac Blu-ray ripping tools on the market.
Pros:
+ Easy to use in a straightforward program interface.
+ Powerful in removing Blu-ray copy protection: AACS, BD+ and the latest MKB, and ripping CSS-DVD discs easily.
+ Support queuing up ripping lists and load multiple Blu-ray movies at a time.
Cons:
- Unable to recognize ISO file (Windows version) or forced subtitles (if there is).
- Lower conversion speed compared with other professional Blu-ray rippers.
- No backup option for keeping original movie quality.
Not just a Blu-ray ripper for Mac, but VLC can't work with encrypted Blu-rays on it own.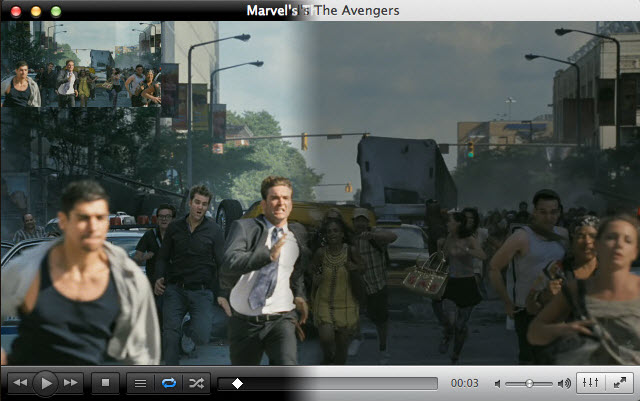 While there are loads of video playback apps, VLC remains one of the most popular and feature-rich media players. VLC Player rightfully earned its reputation for being able to play virtually any video format you want to watch. Although it's commonly considered the go-to for media playback, you can also use VLC to rip a Blu-ray or a DVD.
Choose what you want to be converted, select No disc menus if you don't want menus, point VLC to the disc drive on your computer, then click Convert/Save. Ripping can take quite some time, though. Some users have reported it taking up to two hours.
In fact, not all the Blu-ray discs are supported. VlC can only deal with discs which its library has the corresponding AACS keys. However, for legal reasons, AACS and BD+ DRM libraries and keys still are not shipped. Besides, VLC doesn't have as many controls for choosing exactly the right format or adjusting the quality of your rip to save storage space.
Pros:
+ Provide a dozen of profiles..
+ Also available to play, convert, and download media.
Cons:
- Can't work with most protected Blu-rays..
- Lower conversion speed compared with other professional Blu-ray rippers.
- Lack video editing features.
Part 3. FAQs About Ripping Blu-ray on Mac
1. What's the best free Blu-ray ripper for Mac?
Among all free Blu-ray rippers for Mac, MakeMKV is the best choice. However, it exports files in MKV format only and the output file size may be too large for you. You'll need a third-party tool to reduce file size.
2. How to convert a Blu-ray to MP4 on Mac?
Among the Mac Blu-ray rippers we recommend above, EaseFab LosslessCopy, Handbrake, VLC and Leawo Blu-ray Ripper can help you convert Blu-rays to MP4 on Mac. But if you want to rip commercial Blu-rays to MP4 with best quality-size balance on Mac, LosslessCopy is the best choice for you.
3. How do I rip a Blu-ray with VLC Mac?
● Step 1. Download, install, and open VLC on your Mac. Insert target Blu-ray into Blu-ray drive for later ripping.
● Step 2. Click the File menu item on the top left corner of your Mac screen. Then, click Open Disc...from the drop-down menu. You'll see a window opening with your Blu-ray info.
● Step 3. Click Disable Blu-ray menus.
● Step 4. Check Stream output.
● Step 5. Click Settings and then you'll come to Streaming and Transcoding Options.
● Step 6. Under the options, select File and click Browse to specify a save path and a name for your Blu-ray rip file.
● Step 7. Click Encapsulation Method to choose a desired format.
● Step 8. Set the transcoding options.
● Step 9. Once you have finished the settings, click OK. Then, VLC will start ripping the Blu-ray to your Mac.