Nowadays, it's quite easy for us to watch 3D movies in cinema. But have you ever thought of watching 3D movies at home? Once the preserve of Hollywood studios and Japanese TV makers, 3D is now heading for our home at a price we can afford! If 3D movies and camcorders are still way beyond your budget, fear not; you can easily make 3D videos from regular 2D videos. And to do this, what you need is just a proper video 2D to 3D converter.
In this article, we will share you with one of the best 3D video converters and the step-by-step guide on how to convert 2D video/movie to 3D video/movie. Also we will show you some useful tips on how to watch 3D movies at home.
Part 1. Best 2D to 3D Video Converter Software for Windows/Mac
There are numerous 3D video converter programs in the market. If you're looking for a solid 2D to 3D video converter software, EaseFab Video Converter is highly recommended. As an excellent 3D conversion tool, the program enables you to convert any 2D video format including but limited to MKV, MP4, MOV, AVI, WMV to 3D videos, switch the modes among 3D videos as well as converting 3D videos to 2D videos.
Overall, the 3D video converter is capable of converting the normal video formats to fantastic 3D videos in two types including Anaglyph(Red/Cyan) and Side by Side (SBS) in MP4, MKV, WMV, AVI and YouTube format. The interface of this 3D video converter is essential and natural to utilize, which implies that you can begin using it promptly after introducing the program on your PC. No experts or professionals are needed to convert 2D video to 3D videos. It boasts features of:
● Convert all mainstream formats of recordings to 3D recordings.
● Convert Different types of 3D videos to 2D videos
● Support Anaglyph (Red/Cyan) video as output to watch 3D movie at standard 2D TV
● Edit, merge, cut, enhance personalize your video file.
● High-speed conversion. Indebted to hardware acceleration, EaseFab Video Converter provides buttery smooth process of conversion.
● Convenient operation. Even if a novice can learn to use it in a short time.
Free download the best 2D to 3D Converter on your PC or Mac to have a try:
Part 2. How to Convert 2D Video to 3D Video in 3 Easy Clicks
To begin with, you need to download and install EaseFab Video Converter on your PC or Mac. Here we take the Windows version for example to show you the simple 2D to 3D conversion process.
Step 1. Launch the 3D video converter and then click Add Video button to load the source video files you want to convert to 3D. You can also directly drag and drop your videos into program. Batch conversion is available when you imported multiple videos at once.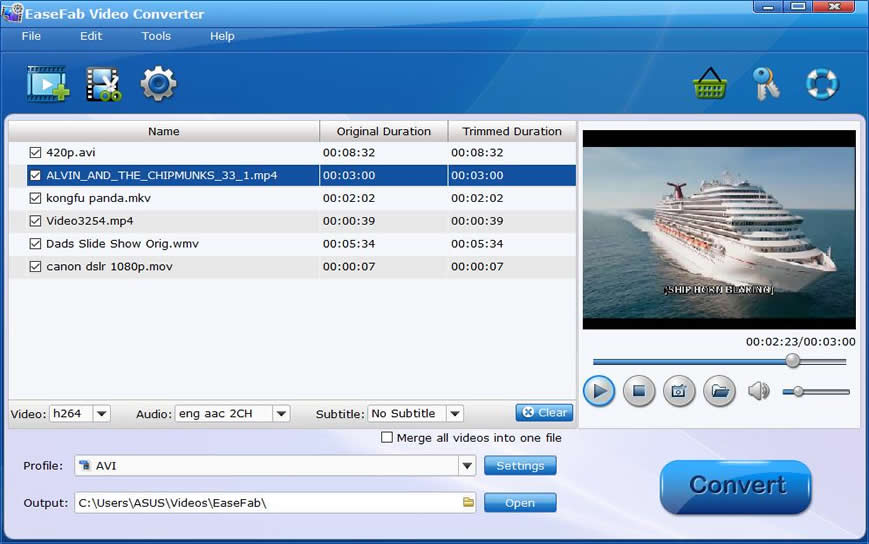 Step 2. Click Format bar and move mouse cursor to 3D Video category. There are two 3D options for you to choose from Anaglyph(Red/Cyan) and Side by Side (SBS). You can choose one 3D video profile according to your needs.
Note: If you already got a pair of red and cyan 3D glasses, you can choose the Red-Blue glasses - Anaglyph(Red/Cyan) 3D options; if you are with other 3D technologies, you can choose the back galesses - SBS 3D options.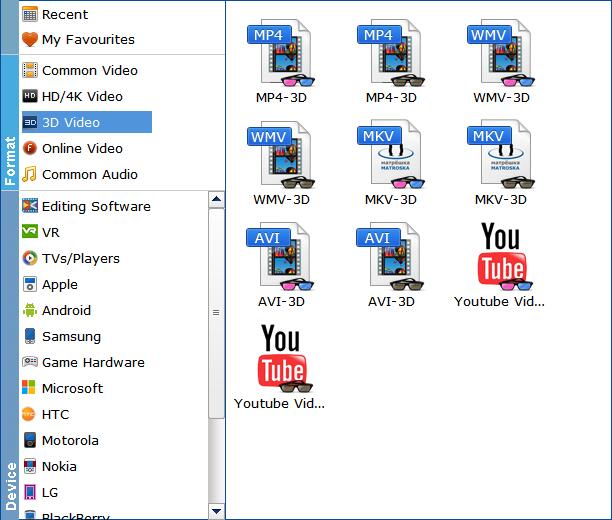 Tip: You can click Settings button to adjust parameters like resolution, bitrate, video/audio codec, frame rate and 3D depth according to your needs.
Step 3. Finally, click the big Convert to start to create 3D videos from your 2D videos. Wait for a while and click "Open output folder" to locate the converted video easily. Now transfer your 3D movies to 3D TV or video projector via USB for playback. Do not forget to turn on your device 3D settings!
Part 3. How to Watch 3D Movies At Home
The three major components required to watch 3D movies at home. To start, you'll need a device capable of playing 3D content, which includes TVs, projectors, or computers with a 3D graphics card. Most importantly, you'll need the 3D glasses, and to set your TV up for the best viewing experience.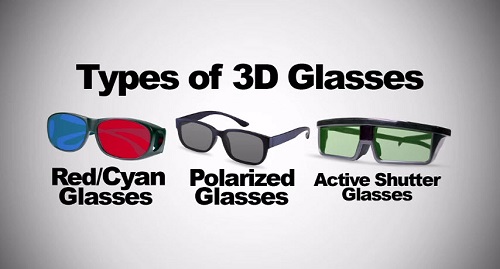 For 3D glasses, there are basically three types: passive galsses- red/cyan galsses & polarized glasses, and active shutter glasses. Polarized glasses are for cinemas and 3D TVs whilst active shutter glasses are designed for specific 3D TVs.
To watch 3D videos on Windows PC with normal display (LCD), a pair of 3D Anaglyph glasses, i.e. the Red/Cyan glasses, is required. You can buy those glasses online from eBay, Amazon or other shopping sites for just a couple of bucks.