Blu-ray has going for it is its higher image resolution and compatibility with standard DVDs. If you own a Blu-ray disc player, then you'll have no problem playing your Blu-ray discs. What if you have a Blu-ray disc and a regular DVD player? Unfornately, you cannot play a Blu-ray disc in a DVD player, athough you can play a DVD in a Blu-ray disc player. So what's the reason? Is there an available way to play a Blu-ray disc on a regular player? Read on for details.
Why DVD Players Can't Play Blu-ray Discs
Completed with high definition of 1080p and stereo surround sound, Blu-ray calls for large storage, which in a way is achieved by blue laser codec. Instead, DVD format is encoded by red laser. Generally, the shorter wavelength of blue laser takes on 5 times greater storage capacity than red laser. The reason that DVD player cannot play Blu-ray disc lies that, the DVD player is specifically designed for DVD's red laser, not for Blu-ray's blue laser. Likewise, the DVD player is available to play CD as it is also implemented red laser.
In other words, the reason that you can't play a Blu-ray Disc on a DVD player is that the discs are embedded with more video and audio information than a DVD player is designed to read.
Easiest Way to Make A DVD Player to Play Blu-ray Discs
If you still purchase and collect DVDs, a DVD player is fine, and if you also own a Blu-ray Disc player, you can still play those DVDs. Since most Blu-ray Disc movies come with a DVD copy, you have both options for playing the same movie on Blu-ray Disc and DVD players.
However, Blu-ray Disc players are very inexpensive these days, so, if you desire to play a Blu-ray Discs in other rooms in the house, getting another Blu-ray player is an affordable option, when you take the added convenience into consideration. If you get a 4K Ultra HD Blu-ray Disc player, although you can't play a 4K Ultra HD disc in either a Blu-ray or DVD player, most Ultra HD disc movies also come with a Blu-ray Disc copy, which softens the blow of jumping to another format.
What if you still want to watch a (UHD 4K) Blu-ray disc on a DVD player? As we all know, DVD player may play various formats: DVD, CD, MPEG-2, Divx AVI. So you can choose to convert and rip Blu-ray to DVD player supported digital video formats like MPEG-2 or DivX AVI. Along with some help from a third-party program like EaseFab LosslessCopy ($35.95 only, available for Windows and Mac users), you can easily get the job done. After the conversion, you can easily enjoy your full HD or 4K UHD movie from a Blu-ray disc on a DVD player with ease.
Now download the right version of LosslessCopy and follow the tutorial below to learn how to convert Blu-ray to DVD player playable formats.
EaseFab LosslessCopy is an intuitive and insanely fast BD/DVD copying and converting tool. It can convert video clips from proprietary encrypted Blu-ray/DVD discs to into MKV files with multiple video/audio tracks with all meta-information and preserve chapters. Additionally LosslessCopy can rip BD/DVD to MP4 and MOV with multiple audio streams. What's more, it can convert BD/DVD from hard discs to virtually any popular video and audio format so that you can freely watch movies on with your favorite player or your favorite devices. All in all, EaseFab LosslessCopy is the best choice to backup, rip and convert BD/DVD discs that you own into free and patents-unencumbered format that can be played everywhere.
How to Convert Blu-ray to DVD Player Compatible Video Formats
Note: When importing a Blu-ray disc, please make sure that your PC has been equipped with an external or internal Blu-ray drive to recognize your Blu-ray disc.
Step 1. Load Blu-ray movies
Insert the Blu-ray disc to the BD drive and then click the Load Disc button to have Blu-ray movies uploaded to EaseFab LosslessCopy. You can also import DVD files, BD/DVD ISO files, IFO files or Blu-ray/DVD folder for conversion.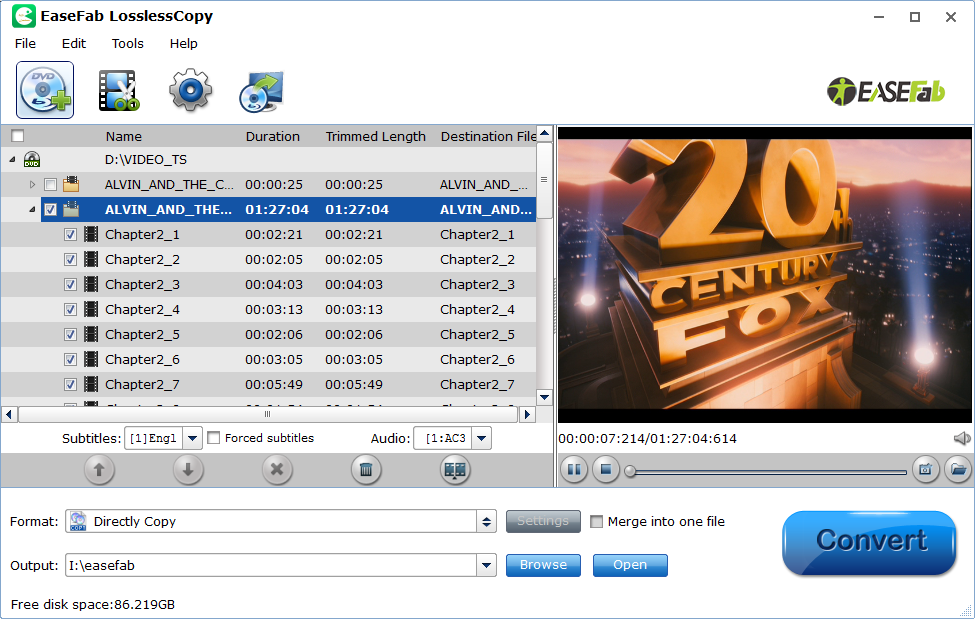 Step 2. Choose VOB or DivX AVI as the output format
Click the format bar to and select "DVD-Video Format - NTSC(*.vob)" or "DVD-Video Format - PAL(*.vob)" (Difference Between NTSC and PAL) from "VOB Format" catelog as the output format. You can also choose "DivX AVI - Audio Video Interleaved(DivX)(*.avi)" from "Common Video" as the output format.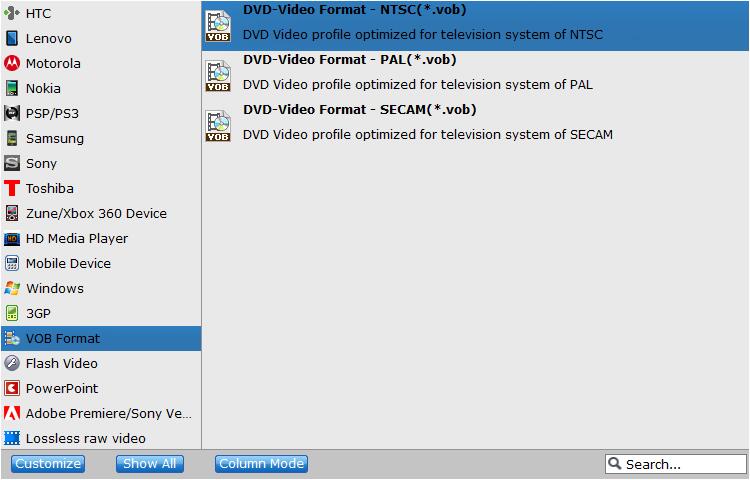 Step 3. Start the conversion
After every step presented above has been performed, press the Convert button and wait until the Blu-ray to VOB process has been completed. You can tick off shut download computer after conversion. Wait for the conversion to be done and click Open ouput folder to get the converted video files.
In this way, you can enjoy a Blu-ray disc on a regular DVD player without problem.
The Bottom Line
If you don't have a Blu-ray Disc player, you don't have to purchase a Blu-ray Disc version of a movie. However, if you have a Blu-ray Disc player in your main room and one or two DVD players in other parts of the house, you will have to buy both the Blu-ray and DVD versions of the movie if you want the full benefits of both formats.
To assist in solving this problem, and as means to make purchasing Blu-ray discs more acceptable to consumers that have both a Blu-ray Disc player and DVD player in the house, studios often include both a Blu-ray Disc and DVD version of a movie in the same package.