Video entertainment is in the transition phase from disc to digital. And TV binge-watchers and movie fans have changed the way they enjoy videos from in-home DVD player & TV combo to on-the-go mobiles. Nowadays many people don't or rarely buy new DVDs. Nowadays many people don't or rarely buy new DVDs. While you may get your movies and TV shows digitally, you probably still have a big collection of old home videos, movies, and TV series on DVDs being stored on shelves, in boxes, or somewhere else in house. Wouldn't it be great to turn your physical DVDs into digital files to watch on mobiles, stream to set-top boxes, store on hard drive, etc.?
Physical DVD discs are indeed not as convenient as digital files. In another aspect, DVD discs takes up too much space and are easily to be broken. Therefore, making digital copies from DVDs can give them a second life. If you don't want to leave your DVDs idle to gather dust and become obsolete and would like to prolong DVD life span, it's time to throw the physical discs away and embrace the digital trend. Here we single out 3 powerful DVD to digital converters (some are free) and illustrate how to rip and digitize your DVD collection with no quality loss and high compatibility with NAS, Plex, TV, hard drive, mobiles, etc.
Click the links below to jump to the part you are most interested in.



Method 1. Convert DVD to HD Digital Copy File with EaseFab DVD Ripper
There are numbers of paid or free programs that claim to digitize and rip DVD discs. If you do not want to be held back by slow processing, various types of disc copy-protection and you want to make full video copy of a DVD disc without limits, EaseFab DVD Ripper is highly recommended. It's a totally clean, fast and user-friendly DVD to digital converter that you're looking for. It allows you to:
◉ Convert DVD to digital copies in almost all mainstream formats, including but not limited to MP4, MKV, AVI, HEVC, M4V, H.264, MOV, etc.
◉ Decrypt DVDs protected by all region codes (1-6), CSS, AACS (2.0), RCE, Sony ArccOS, UOPs, etc., transfer Disney DVDs to digital, copy old DVDs, homemade discs, scratched/damaged DVDs, without DVD not reading, no disc found, DVD analyze failure errors.
◉ Digitize DVD discs for NAS, Plex, TV, phones, tablets, hard drive, PC/Mac, YouTube, iTunes, cloud, etc. with high quality & small size.
◉ Remove ads/trailers, select subtitles/languages, improve quality, adjust settings (resolution, frame rate, 4:3/16:9 aspect ratio, etc.)
◉ Finish conversion at fast speed, owing to the support for the world's advanced Intel and Nvidia CUDA/NVENC hardware acceleration.
Free download EaseFab DVD Ripper Windows or Mac version to convert DVD to digital files:
[Tutorial] How to Convert DVD to Any Digital File with EaseFab DVD Ripper
In this guide we take EaseFab DVD Ripper Windows version as an example. Mac version shares the same steps.
Step 1. Load DVD movies
Insert the DVD disc into your computer's hard disk and launch EaseFab DVD Ripper. Then click "Load DVD" to add the DVD files. As you can see, you can select the titles you want to rip and merge them into one big file. At the bottom, you can select your desired subtitle and audio track.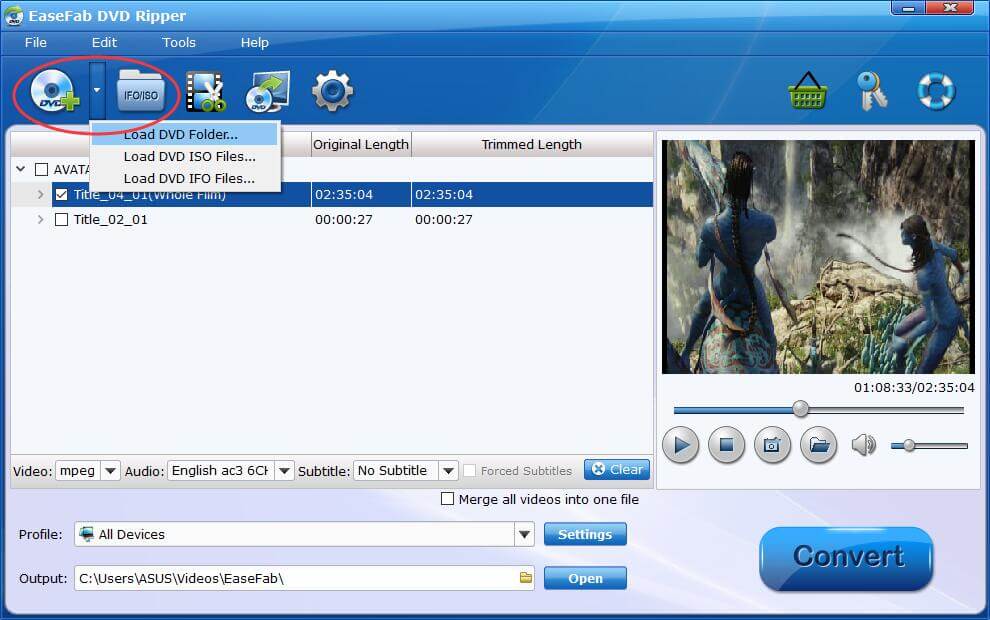 Step 2. Select output format
Then click "Profile" and select the format you prefer. you can see all popular formats devices divided into various categories.
Which is the best format for DVD Disc to Digital?
• To save a digital copy of DVDs on the computer, you can convert DVD disc to MP4, AVI, WMV, MKV (Windows 10 already supported);
• To play DVD movie on Apple TV/iPhone/iPad/Mac and other Apple devices, choose to digitize DVD to MP4, MOV, M4V;
• To watch DVDs on Android/Xbox/PS4, convert DVD to MP4, H.264, 3GP, WebM, MKV;
• To copy DVD disc to digital files on the hard drive or other storage in 1:1 with all intact DVD videos/audios/subtitles, copy DVD to VIDEO_TS folder or DVD to lossless MKV file.
The most commonly-used DVD movie digital format is MP4, as it works well with almost all players, mobiles, NAS, Plex, web sites, cloud services, etc. with good compression and excellent quality. So here we take ripping DVD to MP4 digital video file as an example. Choose MP4 from Common Video Category.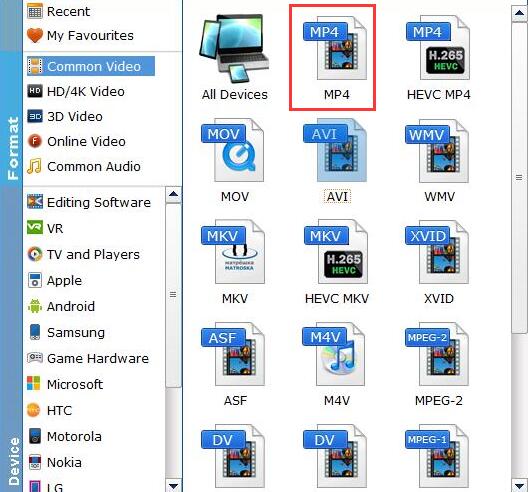 Step 3. Start ripping
The last step is to click Convert button to being ripping your DVD to digital videos. When the conversion finishes, click Open to get the ripped videos and enjoy them anywhere you like.
Before creating a digital copy of DVD movie, you can click the Settings icon to adjust the video/audio settings, for instance, adjust output file bit rate, aspect ratio, frame rate, sample rate, etc.. You can also click Edit to add subtitles, adjust the volume, crop & expand the video to remove black bars, trim the video to rip episode from DVD if the TV series are combined into a single file.
Method 2. Free Convert DVD to Digital MKV/MP4 with Handbrake
Handbrake is a popular free DVD ripper among users running Windows, Mac, and Linux. Handbrake is free to rip CSS and region-locked discs to MP4 and MKV, if with libdvdcss installed. There are advanced options available for precise encoding settings, effects, parameter adjustment, etc, which, though, are something of a learning curve.
※ Note: HandBrake can't handle DVD copy protection schemes on its own. Even with libdvdcss being installed, HandBrake may also fail to rip some strictly encrypted DVDs. In that case you need a more powerful alternative like EaseFab DVD Ripper.
[Tutorial] How to Convert DVD to Digital MKV/MP4 with Handbrake
1. Click Open Source to load the DVD. Note that you can rip unprotected DVDs only.
2. The main title will be selected for non-commercial DVDs. For protected DVDs, you can find the title via VLC and manually select it.
3. Click the Presets drop-down menu and choose the MP4 or MKV format.
4. Click Browse and select a destination folder to save the resulted MP4 file. Then click Start Encode on the above toolbar.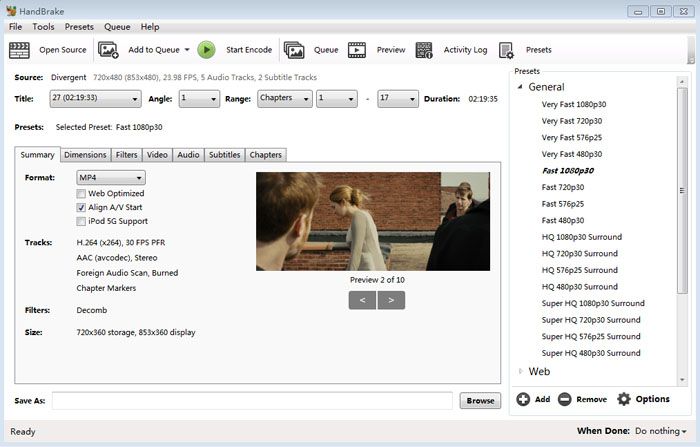 Method 3. Convert DVD to Digital Files Free with VLC
VLC proves itself a solid choice with its simplified interface and powerful DVD decoder feature. Besides a popular media player, it offers an easy way to convert DVD to digital MP4 H.264, H.265, WMV, Webm, and several device profiles. However, it comes with a few trade-offs. You can't decrypt a protected DVD with VLC and you have no control over the conversion - resolution, bitrate, frame rate, deterlacing, aspect ratio, volume and more.
[Tutorial] How to Convert DVD to Digital Files with VLC
1. Open the converter and click Convert/Save under Media. Click the Disc button to load the disc.
2. Once the DVD in the Disc Device is loaded correctly, click the Convert/Save button.
3. In the next page, select MP4 from the Profile dropdown menu. Then click the Start button and convert DVD to MP4.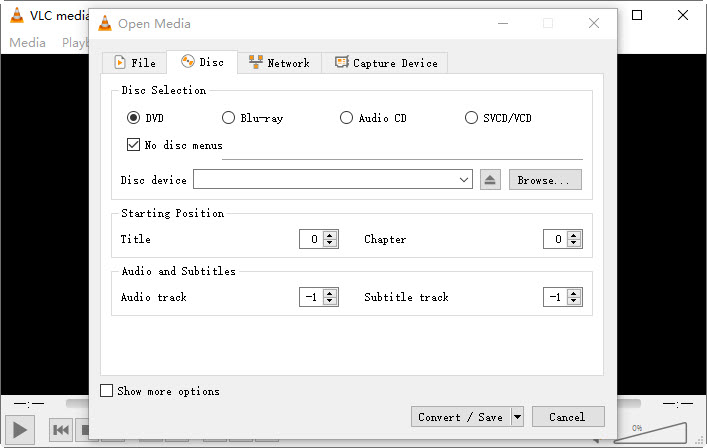 Why EaseFab is the Best DVD Digitizing Software?
When creating DVD digital copies, can users convert old/protected disc to digital files without error, can the digital copies deliver the same pleasant playback and can the DVD to digital transfer done fast are the most concerned factors. That's why DVD ripping software is better than Disc-to-Digital services.
1. Decrypting ability - EaseFab DVD Ripper will digitize almost all DVDs, incl. discs with CSS, RCE, Sony ArccOS, UOPs, Disney X-project DRM, DVD region codes, old DVD collections, family video DVD, scratched discs, etc. So you can digitize any DVDs you throw at it, without being limited to the library like Vudu. Furthermore, it gets monthly upgrades to support the latest DVD encryptions that 95% of the tools on the market fail to handle. You can digitize protected DVDs without errors like Handbrake No valid title found, not showing title, crashes/quit...
2. DVD digitizing speed - Optimized for NVIDIA® CUDA™, AMD®, etc. technologies, EaseFab DVD Ripper ensures accelerated video decoding/encoding on a CUDA-enabled graphics card, leaving more of your CPU available to handle other applications. That means EaseFab DVD Ripper has six-time-faster standard and high-definition video conversion than other others.
3. Output quality - The DVD Backup option is for those who want to 100% quality reserved. For other digital videos, users will get about 98% output quality. This is guaranteed by its DVD copy, high quality engine, and deinterlacing techs. The DVD Ripper is a proven option to not only eliminate any converting problem but also avoid any quality errors like stutters, dropped frame rates, video/audio out of sync, blocky image, etc.
Final Words: Why Not Choose Disc to Digital Services to Digitize your DVD Collections?
There are some disc to digital services like Vudu or Movies Anywhere to convert physical DVD collections to digital files. You just need to get an account > download the app on mobiles/desktop > scan the barcodes > pay for the convert. Sounds good and easy. But there are a few caveats you should know.
1. Can't convert all DVDs into digital. First, only DVDs from partnering studios are compatible with D2D. E.g., you can't convert Disney DVDs to digital files with Vudu. Second, D2D services don't "convert" discs, it provides a digital copy instead if it's in their library. That means you can't convert any homemade DVDs.
2. Another $2-$5 required each disc to video copy. Think if you have a large DVD library of thousands of titles.
3. No control on the output quality. Sometimes there is SD version available only and you can't do anything to improve the quality.
4. No physical ownership. Some services allow you to download the converted DVD video for viewing offline, but you don't really own it. You cancel the membership, you lose the movies.
5. Data Throttling. Online DVD to digital converter services provide digital files via the internet connection, which can be capped soon. 6. Region limitations. The major D2D services are open to the US only. Other regions can't take advantage of them.
7. Intricate errors. The process can be fraught with issues that are difficult to deal with, for example, can't find any titles in the cart, location doesn't match billing address, can't read barcode, operation timeout, etc.
All in all, disc to digital services are good choices for those who would like to digitize relatively small and new DVD collection. If you own a big collection of old and new home videos, movies, and TV series on DVDs, you're recommended to get a desktop DVD ripping program to create high-quality disc to digital copy without extra fee each time, full control on the output video, and freedom to use the digital copies anywhere.