As an archive file of an optical disc, an ISO image file contains all written contents from an optical disc and owns large file size - almost the same file size as original DVD disc. Moreover, ISO is not a popular video format that a few players can play it. To get eaiser access to play and compress the ISO movie size to save much more space, converting ISO to MKV (or MP4, AVI, etc.) is a good idea.
If you want to keep full quality of ISO conversion, MKV is as of now the best choice to keep all the features a DVD especially the Blu-ray disc have including Chapters, subtitles, audio, descriptions, menus, etc. while also provide better compatibility than ISO image. In this article, we'll introduce 3 most popular ISO to MKV converters to help rip DVD ISO to MKV videos without losing quality on Windows and Mac. Just keep on reading to pick one way you prefer.

Way 1. Convert ISO to MKV with EaseFab LosslessCopy
EaseFab LosslessCopy is the best ISO to MKV converter for Windows and Mac. It's available to convert both Blu-ray ISO and DVD ISO to MKV with original quality while keeping all/selected video, audio, subtitles tracks in 5 minutes. Moreover, it can also rip Blu-ray/DVD discs and ISO to MP4, MKV, MPEG2, H.264, H.265, iPhone, iPad, etc. and 350+ output profiles. What's more, it allows you to flexibily select the the subtitle/audio tracks, add subtitles, extract subtitles, crop, trim, and edit the MKV video.
Besides remuxing ISO files to a lossless MKV file, LosslessCopy can also help you convert ISO to MKV with high quality. You can easily adjust resolution, bitrate, codec, etc to produce optimal file size. More copy mode options are also available, including 1:1 clone Blu-ray/DVD to M2TS/MPEG-2 file, backup Blu-ray/DVD with main/full titles.
Tutorial: Convert ISO to MKV with All Tracks Reserved via EaseFab LosslessCopy
Step 1: After you open EaseFab LosslessCopy, click Load Disc button to click "Load IFO/ISO" to browse and add the ISO image files you want to convert. Batch conversion is supported so that you can load multiple ISO files to convert at a time.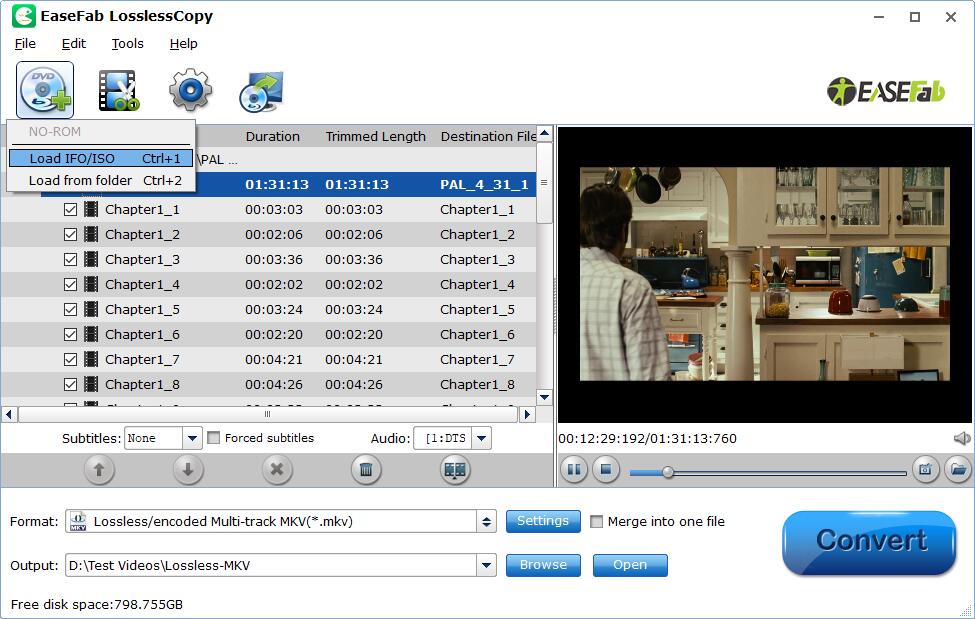 Step 2: Click the Format bar to follow "Multi-track Video" > "Lossless/encoded Multi-track MKV (*.mkv)", which enables you to get the output video with multiple audio tracks and subtitles while keeping lossless video quality.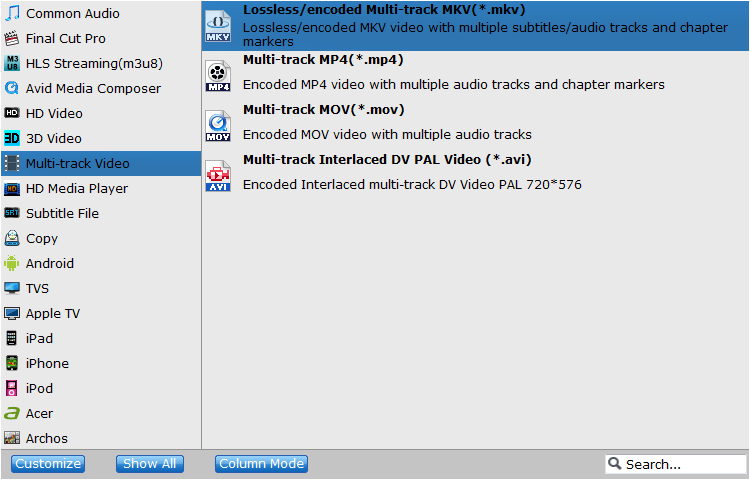 Step 3 (Optional): Click "Settings" to switch to the "Multi-task Settings" interface where you can change video/audio/subtitle settings. For ISO to MKV lossless conversion with all chapter, audio and subtitles, you can keep the default settings without any change.
You can also click the "Audio" tab to check the audio channels you want and uncheck the unwanted. Click the "Subtitle" tab to check the subtitle language you want to keep and uncheck the unwanted ones. As you see in the following screenshot, you can tick off "Encode" option if you want to compress the audio tracks.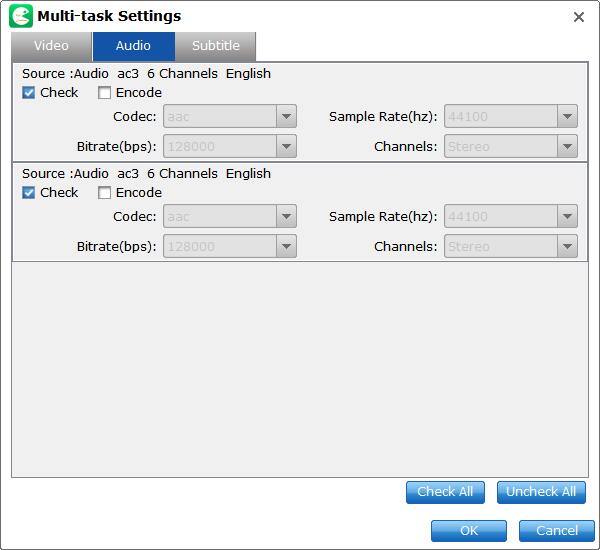 Step 4: Go back to the main UI and click "Convert" to start conversion from ISO to lossless MKV with multiple audio tracks and subtitles preserved.
Tips: If you don't need the lossless quality and want to encode ISO to MKV, MP4, MOV, AVI, etc. digital movies with good quality & size balance, LosslessCopy can also help you get the job done. Back to Step 2, you can easily find HEVC, H.264, MKV, MP4, WMV, MOV, etc. in "Common Video" and "HD Video" category. After selecting these common outputs, you can click "Settings" button customize the parameter settings. Flexible options are offered to further reduce the size of the ripped video.
Way 2. Convert ISO to MKV Free with Handbrake
Handbrake is a free to use open-source video transcoder that allows converting videos to MP4, MKV formats with support to an array of codecs. The program works on multi-platform, including Windows, Mac, and Linux. Additional features include batch scanning and queuing of encodes, VFR and CFR support, live static and video preview, title/chapter, and selection of range, and others. Besides video files, you can also use Handbrake to free convert DVD discs and ISO files to MKV or MP4 with the following steps:
Before starting HandBrake ISO to MKV, please make sure you have installed the latest version of HandBrake. If not, please download it here: HandBrake.fr
Step 1. Run HandBrake and a Source Selection interface will pop up.
Step 2. Click File on the left (Open a single video file) to import your ISO image file or drag and drop the ISO file directly to the interface. HandBrake will scan the DVD ISO titles and load the contents.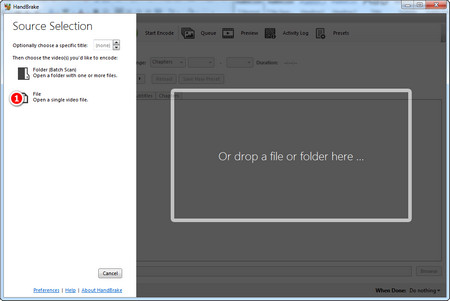 PS: However, one thing to note is that HandBrake CANNOT circumvent copy protection of any kind, it only works with DRM-free discs and ISO files. If you encounter the "Handbrake No valid source or titles found." prompt when importing an ISO file, this means that the ISO file contains copy protection encryption. In this case, you'll need to download libdvdcss - a part of VideoLAN project capable of reading and decrypting ISO image files locked by region codes 1-6 and CSS. Even with libdvdcss being installed, HandBrake only decrypts and rips some certain ISO image files with CSS. To rip any copy protected ISOs freely, you need a more powerful alternative.
Step 2: Once scanned, the ISO files will be added to the interface with its information. Next, choose the title and the preset format or the device as desired. Under the Summary tab, choose an MKV preset as the output format. If needed, audio and video codecs can be customized.
Step 3: At the Save As tab, choose the output directly. Click the green marked Start Encode button to begin the process of ISO to MKV handbrake conversion.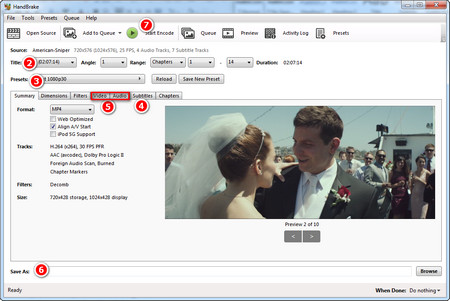 The limitation of Using Handbrake
Handbrake works as a basic ISO to MKV conversion tool with its share of limitations and drawbacks.
• A lot of users get errors like No Valid Source found where there is a problem locating and scanning the ISO file.
• No support for batch conversion of files.
• The editing features are limited as compared to other professional tools.
• The graphical interface of the program is not an easy one to use.
• With a lot of settings and options, the program can become a challenging one for the beginners.
Way 1. Convert ISO to MKV with EaseFab LosslessCopy
MakeMKV can also be used as an ISO to MKV converter. It can also help you convert ISO to MKV with all video and audio tracks, chapters information, and all meta information. It works fast because it doesn't transcode video, just extract. More importantly, it's able to remove copy protections from DVD and Blu-ray discs, so that it's the best solution to free convert ISO to MKV losslessly.
The disadvantage is that it will export a super large MKV file. An lossless MKV file from an ISO image file will take about 4-8 GB. So make sure the hard drive on your computer has enough free space.
Now let's download MakeMKV and learn how to convert ISO to MKV with MakeMKV.
Step 1. Download MakeMKV for your Windows or Mac computer. Then, install and open it.
Step 2. Click "File" -> "Open files" or press "Ctrl + O" to browse and import target ISO file. MakeMKV will take some time to process titles and decrypt data.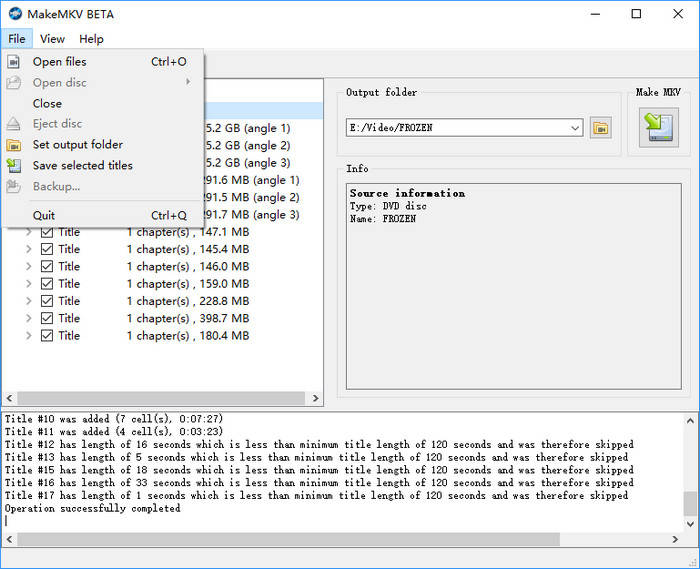 Step 3. When ISO is loaded, you will see titles, video, audio, and subtitle tracks in a tree structure. What you need to do here is to select desired titles and tracks.
Step 4. Set output folder and then click "Make MKV". Then, simply wait for the process to finish.
FAQs about ISO to MKV Conversion
1. Why Convert DVD ISO to MKV videos?
ISO is an image of a disc (Blu-ray, DVD or CD) which contains an identical copy of data found on the optical disc. Therefore, it's large in size and not widely supported. While MKV is a royalty-free format that anyone can use it to contain DVD contents. It is as of now the best choice to keep all the features a DVD especially the Blu-ray disc have including Chapters, subtitles, audio, descriptions, menus, etc. while also provide better compatibility than ISO image. Besides, the same content MKV files are about 10% smaller than DVD files and roughly 40% smaller than Blu-ray files, so a 10GB ISO DVD file can be saved in a 1GB MKV video without quality loss.
2. Can I use VLC to convert ISO to MKV?
Yes. The famous media player VLC offers the ability to convert ISO to MKV and various other formats. Some users may already have it on their computer. So there's a good chance that you don't need to get extra software to convert ISO to MKV.
3. Can I use the above-mentioned tools to convert ISO to MP4?
You can use LosslessCopy and Handbrake to convert ISO images to MP4 videos. But MakeMKV cannot help you get the job done.