Have problems importing AVI video to Final Cut Pro X or FCP 7/6 for editing? This tutorial will show you what're the reasons and what's the simple solution to fix the problem. 2 parts are included:

Part 1: Why Can't People Import AVI Files into Final Cut Pro?
Normally, Final Cut Pro (FCP X included) can recognize some AVI files from cams. There are some instances, however, that importing an .avi file into Final Cut Pro doesn't go successfully. In fact, Final Cut Pro only reads AVI that both the audio and the video were compressed by using a codec that FCP can recognize. If your AVI video files are not imported, it's because of the codec used to create the AVI file is not supported by Final Cut Pro. If you want to edit AVI in FCP, the easy option would be converting the AVI files to a Final Cut Pro compatible format.
There are different possible reasons or situations that make importing an .avi file into Final Cut Pro result into failure. Below are some questions related to these situations:
Q: My AVI plays smoothly in QuickTime, but in FCP, I get audio but no picture.
Q: I imported an AVI file to Final Cut Pro X, and it goes through the copying process, but nothing showes up on screen.
Q: AVI played just fine in QuickTime, but they "grey out" in the import window, so I couldn't import to FCP 7.
Q: I can import my AVI clips into Final Cut Pro, but when I play them, there's an image but no sound.
Part 2: The Simple Solution: Convert AVI to a FCP-Compatible Format
The easy solution is to convert AVI to Final Cut Pro supported format. To do that, you can use EaseFab Video Converter for Mac, which can help you transcode AVI to FCP native editing-friendly format - Apple ProRes without losing any video quality on Mac OS X (Yosemite and Mavericks included). Besides, this software can also convert all regular format including but not limited to iMovie, AVI, MOV, MP4, M4V, MPG, Final Cut Pro, iDVD, Adobe Premiere Pro, Avid Media Composer, Final Cut Express, etc. Click the Download button below to get the program and check out the easy steps to convert and import AVI to Final Cut Pro without any troubles.
Download the Mac AVI to ProRes Converter for FCP:
How to convert and import AVI files to FCP X/7/6
Step 1. Import AVI files to the Mac converter
Download EaseFab Video Converter for Mac and install in your Mac. Launch it when installation complete. Two options provided to get started: drag & drop AVI files to the Mac app directly, or you can click Add Video button to locate the AVI files you want to add.
Batch conversion is available here, so you are allowed to import several files at one time.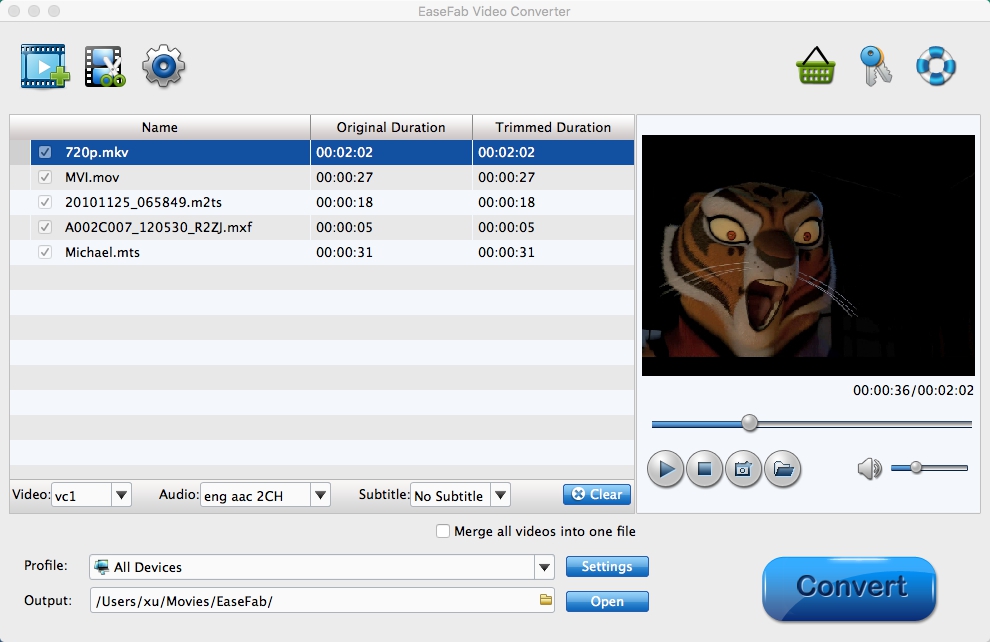 Step 2. Choose Final Cut Pro as output format
Click on the "Editing Software" and you will see options to convert your .avi video for certain video editing software. Since you will be importing the video to Final Cut Pro after the conversion, have Final Cut Pro be your selected output format.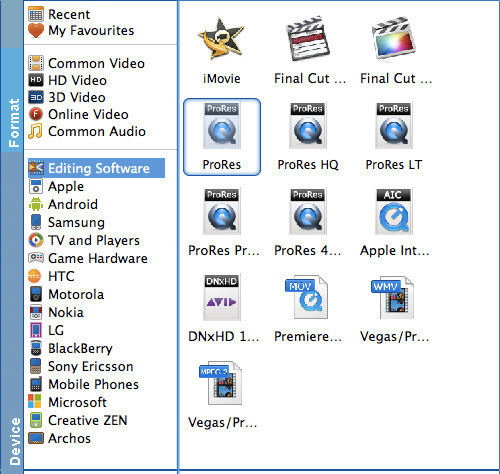 Tips: You can click Settings button to set video resolution(1920X1080/1440X1080/1280x720/720X480), bitrate(from 1Mbps to 20Mbps) , frame rate (24p/30p) as you want.
Step 3. Start converting AVI to Final Cut Pro
Just click on the Convert button that can be found on the menu. Wait for a while and the video converter will do the trick. You will soon have your .avi video into a format that's recognizable and editable by Final Cut Pro - the ProRes encoded .mov format.