If your device or camera is showing an error that the memory card or SD card is locked or writed protected, there are always solutions. Here are 4 proven methods to unlock SD card or memory card.
Many of our digital devices such as mobile phones, cameras, tablets, and music players make use of SD cards, Micro SD cards, CF cards and more momory cards to get an expanded feel of data storage. Similarly, these memory cards can also be connected to computers and laptops with the help of an SD card reader. However, there are some situations you may encounter "memory card locked" or "write-protected" errors like these:
"My canon camera has been popping up with memory card locked when I've checked it several times and nothing works. I've tried a different memory card doesn't work either."
"Recently, I have some problems with my camera card. Every time when I am trying to take pictures using my Sony camera, it shows me "Memory card locked" error message. So how do I unlock a locked memory card without formatting or losing my data?"
In fact, "memory card locked" error occurs quite frequently and it may caused by various reasons. Sometimes, it can be due to the lock switch but unknown reasons exist too. When your momory card locked, you will find that you cannot add new files to the device or edit the existing files on it. If you are faced with the same situation that the SD card is locked or write-protected, we can help you solve this problem. Here we will explain the possible reasons and show you the effective ways to unlock your SD card.
4 Solutions to Unlock the Memory Card
Solution 1. Manually Unlock the SD Card via Lock Switch
As the example of my 32GB Sony SD card shows, it has a yellow switch on the left edge, and it's movable. Make sure that the lock switch is slid up (unlock position).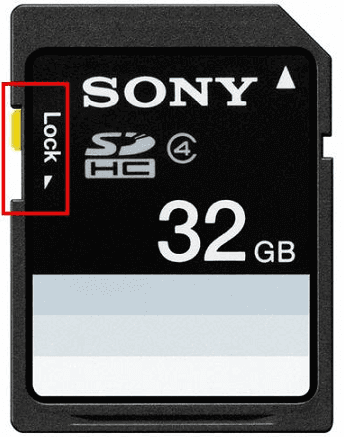 If the lock switch is loose and moves easily between the lock and unlock position, it's likely corrupted. You will need to replace the memory card with a new one.
Solution 2. Unlock SD Card by Removing Write Protection
Write protection on the SD card may also cause "SD card locked" error on your digital camera or mobile phone. Thus, removing write protection could be helpful in some cases. Here you can remove the "read-only" attribute using diskpart on computer.
Step 1. Connect your memory card into your computer via a card reader and run "Command Prompt" as an administrator.
Step 2. Enter diskpart and click "Yes" in the prompt asking for notification.
Step 3. Enter the following command in order:
list volume select volume X (Replace "X" with the number of your write-protected SD card.)
attributes disk clear readonly
When you are done then exit the command prompt and check if the memory card lock error has been fixed.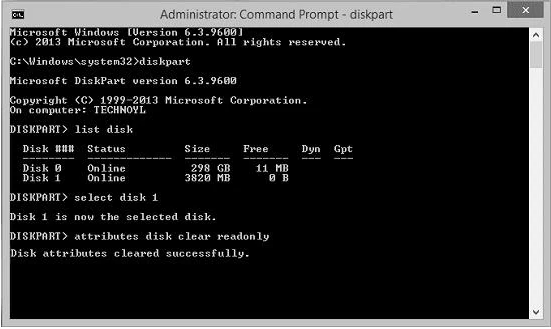 Solution 3. Unlock SD Card with Password
Android smartphone users can unlock the SD card with a password but how will you get the password? Some online service offers you to unlock memory card password online. For this, either you can go to an expert and tell them to unlock your SD card, but they might steal your data too. The better option is to use ES File Explorer, see how.
Step 1. Run ES file Explorer
Install and run "ES file Explorer" on your Android device.
Step 2. Rename the file
Open the "System" folder and find the file "mmcstore". Rename this file with mmstore.txt. This is where you will get the password of your memory card. Enter this password to unlock your memory card when prompted.
Besides using ES File Explorer, you can also unlock SD card with the following steps:
Step 1. Open "Settings" on your Android phone.
Step 2. Go to "Security & privacy" > "More settings".
Step 3. Choose "Unlock SD card" and enter your password when needed.
Solution 4. Force Unlock your Memory Card by Formatting
If you don't remember the password you set when lock your SD card or the tips above fail to fix "memory card locked" error on your storage device, you can only force unlock your memory card by formatting, which will erase all the existing files on your device. Besides, data erased by force unlocking your SD card is difficult to recover.
Bonus Tips: How to Recover Lost Files from Locked Memory Card
Force unlocking the SD card would be likely to erase data, perhaps you have tons of precious memory photos, video recordings, or documents there. Is there any way to regain the loss? Yes, along some help with a third-party SD card data recovery software - EaseFab Data Recovery, you can easily recover the lost data.
EaseFab Data Recovery is developed to recover 1000+ file types from various disk storage devices, no matter they are formatted, partition lost or virus-infected. Once your memory card is locked, trying to unlock the card itself is a challenging move. Unless you make a regular backup of the whole SD card to somewhere else, there is a likelihood that data is in danger. Anyway, you can install EaseFab Data Recovery for free, see how many files will be found after the scan. You don't need to purchase the full version until you find what you want.
Step 1. Connect the SD card, memory card, or CF Card to your computer and launch EaseFab Data Recovery, and then find and select the SD card under "External Drivers". Click "Next" to enter a window that contains different recovery modes. Here you're recommended to select "Quick Recovery" mode, after that, click "Start" to begin the scanning process.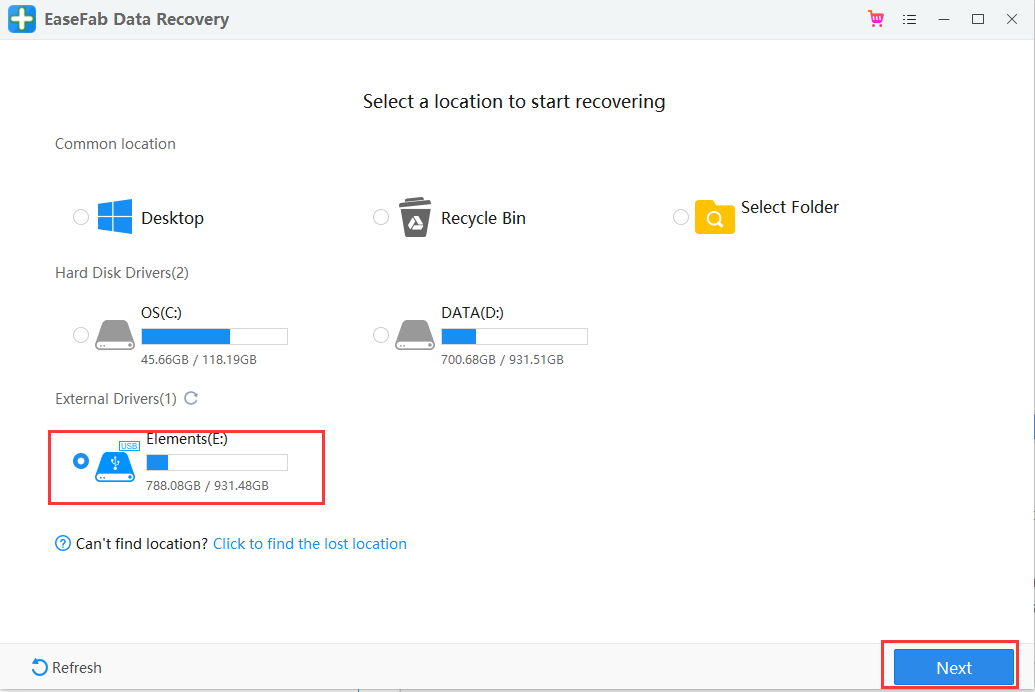 Step 2. The software will start a scan automatically. The scan is powerful enough to find all lost files that even lost file names. When the scanning completes, you can browse your files according to "File Type", "File Path" or "Deleted" methods to locate the deleted or lost files, like photos, documents, videos or emails on the SD card. You can also quickly locate a specific type of file by using the "Filter" feature as well as the "Search" option.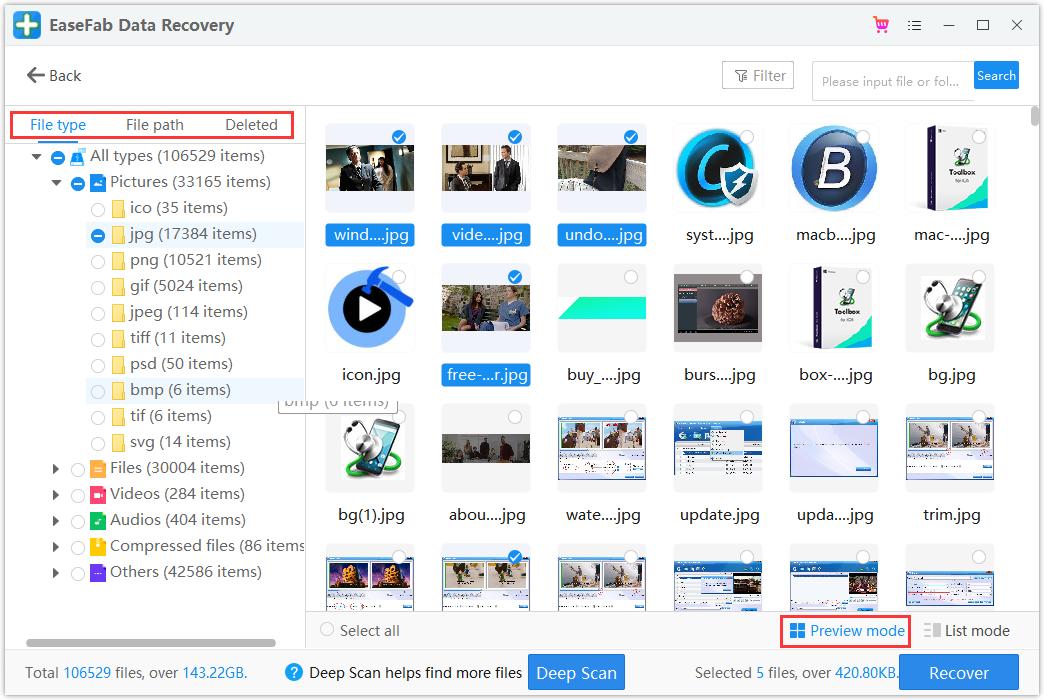 Step 3. You can directly double-click the files to preview the content. After this, you can choose wanted files and click "Recover" to restore them to a secure location on your PC or other external storage devices.
Conclusion:
It is not a tough thing to learn how to unlock a locked memory card. However, to fix a problem like "SD card locked" is always companied with data loss if you forget the password or the switch isn't working. This should remind you of backing up data regularly. You can do back up your SD card by manually copying files to somewhere else, using free backup software or sync the files to the cloud storage.