Talking about online video sharing sites, YouTube needs no introduction. The site has a huge collection of movies, TV shows, music videos, and other content. Indeed, YouTube is a great option or even the first option to upload your videos, allowing people across the globe to watch them. What if you want to share and upload your wedding videographer, travel vlog, or memorable party moments on a DVD to YouTube? In fact, only videos in MP4, MOV, 3GP, MPEG-4, FLV, AVI, WMV, WebM etc. can be accepted by YouTube for uploading. That's why you end up with failure when uploading DVD video clips to YouTube directly. Fortunately, you can easily get the job done by converting DVD to YouTube accepted formats with a DVD ripping software before uploading.

Nowadays, more and more formats are supported by YouTube, like MP4, MOV, MPEG, AVI, WMV, FLV, 3GPP, WebM, ProRes, CineForm, HEVC (h265), but definitely not including DVD or VOB format. And besides video format, there are some other restrictions you should know before uploading DVD to YouTube:
1. You cannot upload commercial DVD or video concerning intellectual property without permission as it is illegal to do so.
2. By default, you're only allowed to upload DVD digital files that're no more than 15 minutes. To upload longer videos, you need to verify your account.
3. The 16:9 aspect ratio is the best ratio for YouTube videos and any other professional video content. If you upload a 4:3 video on YouTube, you will get black bars. So you need to convert DVD video from 4:3 to 16:9.
Best Program to Help Convert DVD to YouTube Supported File Format
There are numbers of paid or free programs that allow you to rip DVD to YouTube accepted file format. Here EaseFab DVD Ripper is top recommended for this task. With it, you can easily and fast convert any DVD disc including copy protected DVDs to YouTube friendly formats/codecs for uploading. Besides that, you can also easily free movies or videos from physical discs to digital video formats for easier playback on mobiles, Plex, NAS, Xbox, computer, hard drive, etc.
What's more, EaseFab DVD Ripper can help edit DVD video for uploading onto YouTube by trimming, cropping, merging, inserting extra subtitles, add watermark or apply effects, etc. And you can adjust video audio parameters like aspect ratio, resolution, frame rate, etc for uploading on YouTube. It's available for Windows 10, 8.1, 8, 7, Vista, XP, etc. And it also comes with a Mac version that can assist you in uploading DVD to YouTube on Mac OS X 10.5 or later, including latest macOS Big Sur.
[Tutorial] How to Convert DVD to YouTube Supported Format/Size/Length?
To begin with, you need to download and install EaseFab DVD Ripper Windows or Mac version on your computer. The guide below takes the Windows version for an example. Mac version has the same process.
Step 1: Load the source DVD.
Insert the DVD disc into your computer's DVD drive or an external USB DVD drive. Launch EaseFab DVD Ripper, click Load DVD to add the DVD files to the program. All loaded files will be displayed on the left item bar. You can also load ISO, Video_TS folder to this program.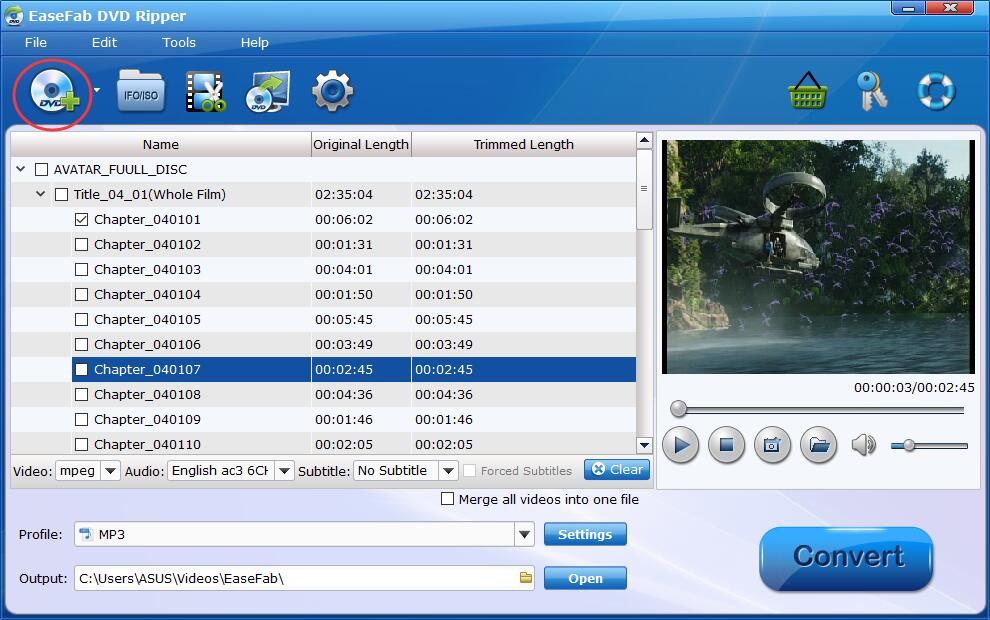 Step 2: Select output profile.
According to YouTube Help Center, a MP4 video format with H.264 video codec and AAC audio codec is the best choice for uploading on YouTube. So here you're recommended to select MP4 (codec: h.264+aac) from Common Video category.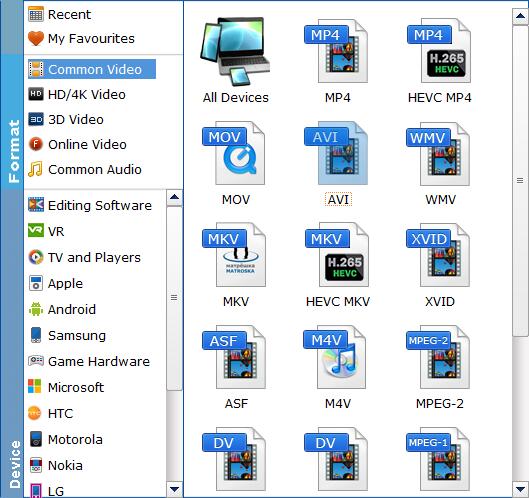 Step 3: Edit DVD video for uploading to YouTube. (Optional)
If you want to trim, crop, add watermark or apply effects to the DVD video, just click Edit button. If you want to set video audio parameters, simply click the "Settings" button.
Note:
● By default, users are allowed to upload videos no longer than 15 minutes. If you want to put longer DVD video on to YouTube, you should verify your account to increase your limit.
● With an up-to-date browser version, you can upload DVD files more than 20GB. And the maximum file size is 128GB and maximum duration is 11 hours.
● YouTube applies 16:9 aspect ratio players. If you are uploading a non-16:9 DVD video, it will be processed and displayed correctly as well, but with pillar boxes (black bars on the left and right) or letter boxes (black bars at the top and bottom) provided by the player. You can use this tool's crop function to get the job done.
Step 4: Start ripping DVD to YouTube.
Click the small Folder button in the Output bar to specify a folder to store ripped DVD video. When all settings are done, you can hit Convert button to get DVD to YouTube conversion started.
How to upload DVD video to YouTube from PC/Mac
Once the conversion completes, then you're ready to upload the ripped DVD video to YouTube with following steps:
1. Open YouTube website and login into YouTube. If you don't have an account, sign up for one before any further or you can use your Google account to login in YouTube.
2. Click the camcorder icon at the upper right side of the screen next to your profile icon and notification bell. Next click Upload video.
3. In the YouTube Studio interface, click the blue Select Files button to select the ripped DVD video you want to upload. Alternatively, you can drag and drop the video file into the popup window and wait for the uploading process to start.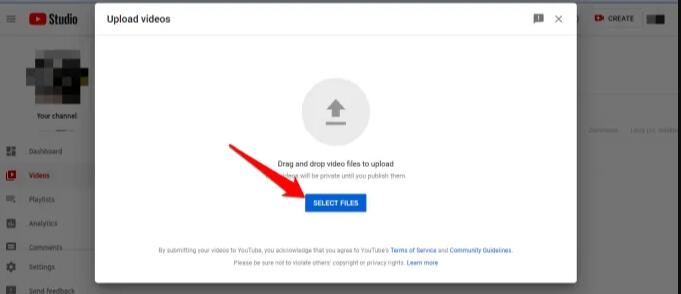 4. Next, fill out the title and description of your video, among other details. If you want your video to rank for specific keywords, this is a good place to enter those keywords based on what your target audience is searching for.
5. You can also add tags, a custom or auto-generated thumbnail, add your video to a YouTube playlist, upload closed captions, and indicate if the video is made for kids or not, among other options.
6. Once your video has finished uploading, you'll see the Finished Processing notification on the bottom of the popup window. Click Next.
7. Add video elements such as cards and an end screen that shows viewers related videos to promote related content, websites, and calls to action.
8. Choose the visibility of your content from four options: Public, Unlisted, Private, or Schedule. Click Save.