Home
>
Resources
>
TV Doesn't Support DTS Audio from MKV, MP4 Files
Posted by Matthew Watt - Sep 07, 2021 | Contact Author

Best Solution to Fix TV Not Playing DTS Audio Issue
It's a great experience to play movies on a big TV screen. However, when you try to play a movie or video with DTS audio on your Samsung/LG/Panasonic/Sony TV, you may encounter TV and DTS no sound problem like these:
"My Samsung 7 TV series cannot play DTS sound from the MKV files. On my 7 series LED tv , all the new MKV files that have DTS, where the TV says audio codec not available bla bla, will those MKV DTS sound be sent out through optical port? to my Samsung HT-WS1 (soundbar) forexample?"
"My tv cant play DTS audio, will sound work if I buy soundbar with DTS support?"
Such occasion happens to many HD TV devices. If you find the video with DTS sound can't be played on your LG, Samsung, Apple TV, or other media players, you had better check whether your TVs or players are compatible with DTS. If your TV or device are not compatible with DTS audio, the best way to fix this issue is to convert the video with DTS audio to a video with AC3 audio.
How to Convert DTS to AC3 Without Video Quality Loss
To convert DTS to AC3, AAC or MP3 audio while keeping the original video quality, EaseFab Video Converter the easiest yet best way for you. It is a professional MKV DTS to AC3 converter. With it, you can convert DTS to AC3/AAC/MP3 just with a few simple clicks. And it gives you the great output effect, without affecting any audio & video quality of your MKV, MP4 and other digital files.
This step-by-step tutorial below will show you how to convert MKV DTS to AC3 on Windows platform. For Mac uers, the process is almost the same, so don't worry if you are using a Mac computer. Check it out.
Step 1. Import the video file with DTS audio to the program
To import your MKV DTS files to this program, you can click the Add Video button to browse your computer and select the target files. Another simple way is to directly drag and drop your MKV DTS files from your computer to this app's window. Note that this app supports batch conversion.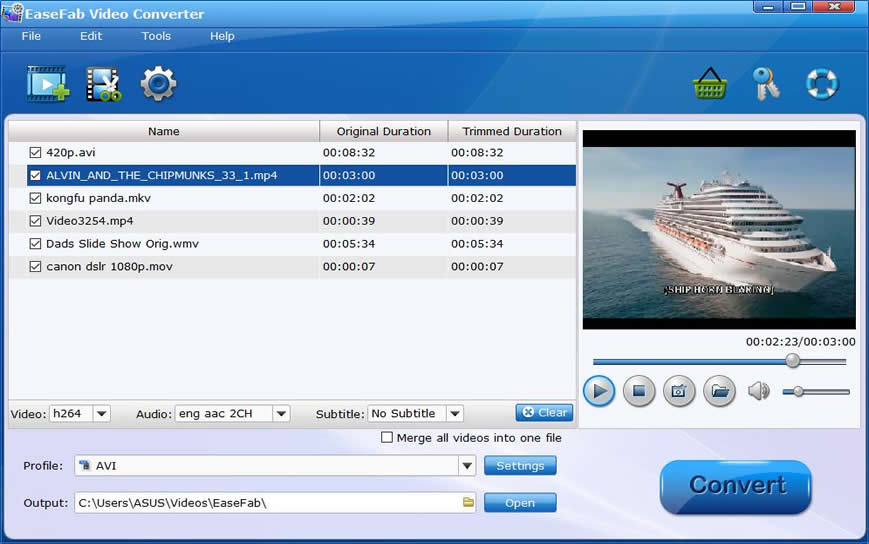 Step 2. Set the output format
Since you just need to change DTS audio to AC3 audio, you can still save your video files in MKV format. Select MKV as the output format but set AC3 as its audio codec. You need to Click "Profile" and select the "MKV" from "Common Video" or "MP4-HD" from "HD/4K" Video catelog as the output format.
After that, click the "Settings" button to customize these settings. You can adjust Audio codec as AC3 and the Channels as 5.1 Chanels. You can also set AAC or MP3 as the audio codec.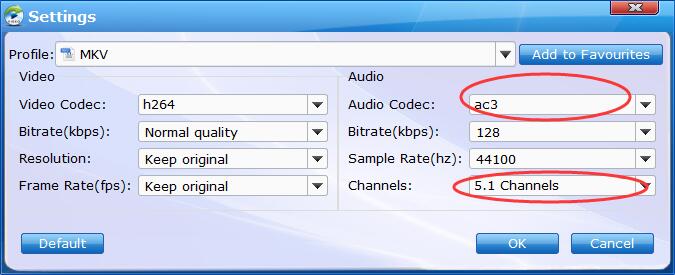 Note: This app directly offers users with an optimized format for Samsung TV, LG TV, Sony TV and Panasonic TV. If you want to play MKV files on these TVs, you're advised to directly select the optimized format for your TV. So, you just go to "TV/Players" instead, and then select your TV type.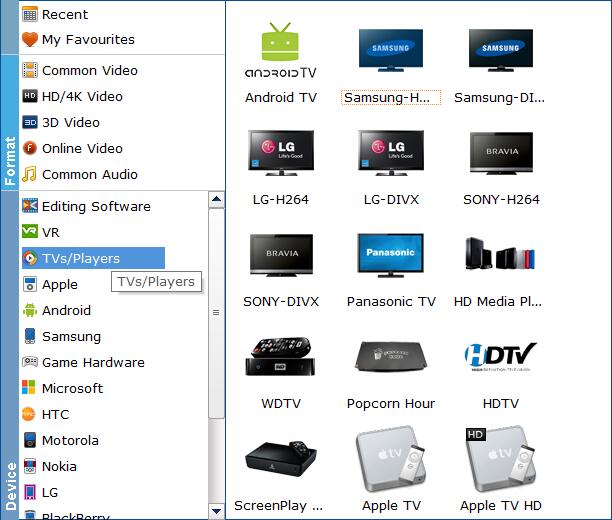 Step 3. Start the DTS to AC3 conversion
Click the Convert button to start converting DTS to AC-3 audio codec in MKV file. EaseFab Video Converter will finish the video conversion in short time. When it's done, you can get the output files by clicking the "Open" button at the bottom of the software. Now, just transfer the files to your TV for playback.
Extended Knowledge: DTS VS AC3
DTS and AC3 are both codecs which are commonly used in different sound systems to produce high quality audio. Both these formats make use of different technologies in order to encode data and to improve the overall quality of the digital file. Both of these formats have their own advantages and disadvantages when it comes to the compatibility and specifications, and a comparison is required to be made in order to understand which one is to be used for what purpose so that the best audio results are obtained.
Comparing Chart Between DTS and AC3 from different aspects:
Aspects

AC3

DTS

What is AC3/DTS

AC3 (Audio Coding) is nothing but Dolby Digital Audio Codec, which we commonly use these days on most of the audio devices. The audio compression for this format is lossy and Dolby Digital is the most commonly used version of this format which can house up to six sound channels together.

DTS is an audio codec which is a part of the Laser Disc, DVD and Blu-Ray specifications, which is a consumer version and used mainly at places where the loud sound is required. This format is used for large music systems and theatrical screenings and it is also a common distribution format for DVDs, for a simple reason that it is compatible with most of the supporting equipment.

History

Originally named as Dolby Stereo Digital till 1994, AC3 was initially called Dolby AC3 surround sound and later came to be known as Dolby Surround digital, which we now call as Dolby Digital.

The work on the development of DTS started in the year 1991, after which it entered the consumer market in 1996. It was suitable for a broad consumer spectrum for multimedia formats and pro audio products. Today DTS is one of the most common audio technology used in DVD players, theatrical screenings, digital media players, high-tech car audio systems and set-top box telecasting as well as Blu-ray discs.

Compatibility

AC3 is compatible with equipment used for HDTV broadcast, DVD playing, Blu-Ray discs, gaming consoles and home theaters.

DTS is used for decoding DVDs and on film prints, especially those which are used for big screen playing like movie theaters and large size projecting purposes.

Quality

When it comes to the sound output quality, both are almost similar to hear but technically, DTS is better, clearer and sharper than AC3. DTS is louder than AC3, without compromising on the sound clarity. AC3 uses Dialog Normalization, because of which the decoder decreases its volume by 4dB.

DTS, on the other hand, does not use any stabilizing, due to which will produce higher and clearer volume.

Pros

Takes up less memory and disk space.
Plays in all DVD setups.
Can achieve amazing sound output on home theater systems.

Better and louder sound quality.
Requires less compression (only 4.1 adaptive).
Can house multi-lingual soundtracks without having to change the film.
Media is less subject to damage even after multiple screening.

Cons

Does not sound good when compared to DTS.
Produces disturbed sound when volume is raised.

Occupies a lot of memory space on the disc.
Needs a compatible DVD player and DTS capable receiver in order to play.
Does not play in all DVD setups.
Other Useful How-to Guides & Tips
This tutorial will guide you through how to convert MKV with DTS audio file to AC3 5.1 sound with a best DTS to AC3 converter.
Can't play some MKV files on Samsung TV? Here you will find the possible reason and an easy solution to help you fix Samsung TV not playing MKV file error.
Copyright © 2023 EaseFab Software Corporation. All Rights Reserved.