TS, short for Transport Stream, n extension defined by MPEG-2 standard. It is usually used for storing video and audio on DVDs, for streaming media online and broadcasting. This media container consists of elementary streams stored in a way that allow quick playback resume and audio/video synchronization after an error in data transfer was encountered. However, the fact is that TS video cannot be played on many media players and portable devices because of its incompatibility. TS to MP4 is the best idea. The converted MP4 file can be played on media player, computer, laptop, tablet, mobile device, gaming system, or HD TV without disc drive.
There are many software tools that can get the task done. And in this article, we will list the top 4 free TS to MP4 converters and one professional TS to MP4 converter to help you transcode TS file to MP4 faster while maintaining the original quality.
Click the links below to jump to the method you are most interested in.
Method 1: Convert TS to MP4 with EaseFab Video Converter
- The Easiest, Fastest and Most Efficient Solution with Lossless Quality
EaseFab Video Converter emerges as our top pick for converting TS file to MP4, because by testing it's the fastest yet easiest one among the best 5 TS to MP4 converters. And the most important point is that it can keep the original quality in the result MP4 files. This software is available for Windows 11, 10, 8.1, 8, 7, etc. and it's also compatible with macOS Monterey and lower. Its features include but are not limited to:
● Convert TS file to MP4 as well as other formats such as MKV, HEVC, AVI, WMV, MOV, M4V, MPG, FLV, etc. with 100% quality reserved.
● Transcode TS video to MP4 for iPhone iPad, Android, HDTV, Xbox, PS5 and more with optimized presets
● Compress TS videos smaller up to 90% file size reduction, by downscaling resolution, changing codec, tweaking bit rate, frame rate, aspect ratio, cropping frame size, or trimming the video length and so on.
● Finish conversion at fast speed. It makes full use of CPU and GPU, accelerating video conversion 30X real-time faster on machines configured with CUDA/NVENC-enabled NVIDIA GPU.
3 Simple Steps to Convert TS file to MP4 with EaseFab
Step 1. Load source TS videos
Install and launch EaseFab Video Converter. And the click Add Video to browse and select target files to import. Or you can simply drag and drop the source TS files into the main screen of the video converter.
Note: batch conversion is supported, so you can load more than one file to save time.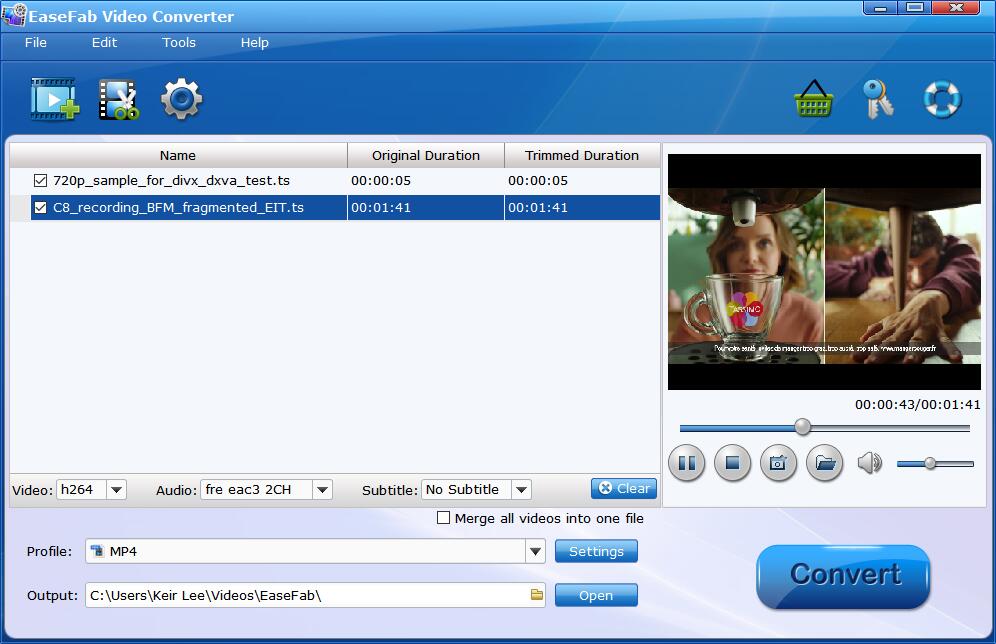 Step 2. Select MP4 as output file.
Click Profile bar and move mouse cursor to the Common Video category and select MP4 (encoded with H.264 codec) as the output file. You can also select HEVC MP4 if your device or player support HEVC playback.
If you want to convert TS files to MP4 for iPhone, Android device, YouTube, web services, you can also find a profile from the corresponding category.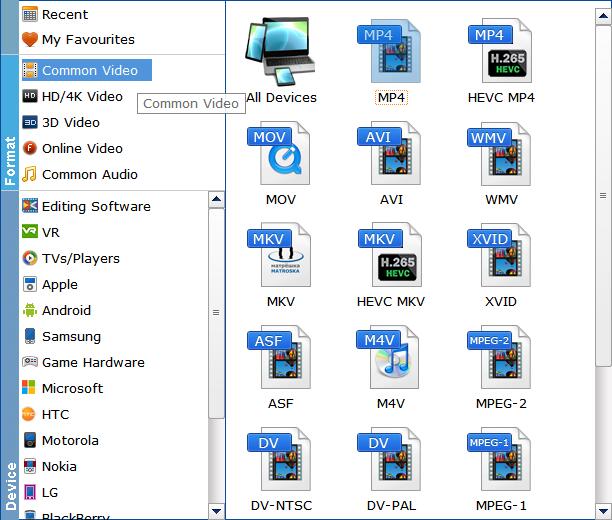 Tips: You can click the Settings button button beside the profile and enter into the parameter settings page. A slew of other variables such the video/audio codecs, pixel dimensions, frame rate, bit rate, audio sampel rate, etc. will help reduce TS file size.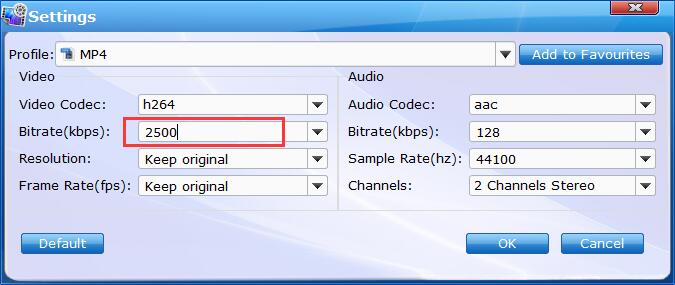 Recommended settings:
1. You're not suggested to adjust the frame rate and aspect ratio, if not necessary.
2. Use the codec H.264 or H.265 and lower the bitrate to a lower level. For example, adjusting the original 2500 to bitrates of around 1800-2000 is acceptable without noticeable pixellation.
3. Resolution - Adjust the resolution won't make any quality difference.
Please note: Adjusting these variables have some effect on the re-encoded video quality. You can go smaller, only at the cost of quality loss. Moreover, the file size and video quality is based more on bitrate than resolution which means bitrate higher results in big file size, and lower visible quality loss.
Step 3. Start conversion.
When you have finished everything, simply click Convert button to perform TS to MP4 conversion in no time.
Method 2: Convert TS to MP4 Free with VLC
VLC is known as a free media player, but it also comes with many hiding features, one of which is file format conversion. Now, let's show you how to convert TS to MP4 with VLC media player.
Step 1. Open VLC, click "Media" tab, and choose "Convert/Save".
Step 2. Then a new panel will pop up. Click "Add" button to select the source TS video files for further conversion to MP4.
Step 3. Click the dropdown arrow beside "Convert/Save", and choose "Convert".
Step 4. Then, you will be directed to Convert window. Under Profile, choose "Video-H.264+MP3 (MP4)". Click "Browse" to select a destination folder and the name for the MP4 output.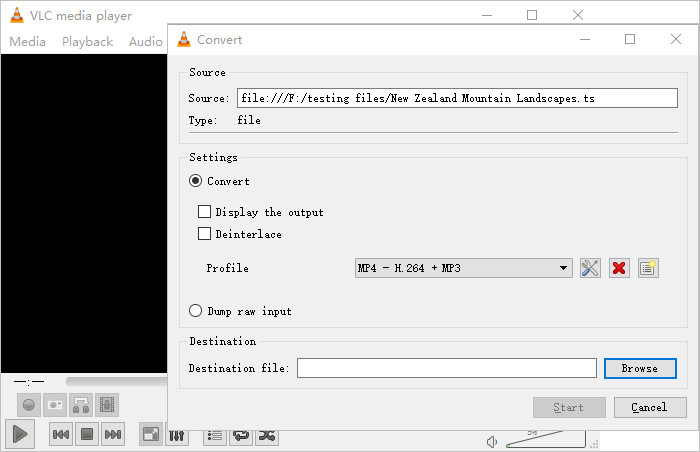 Step 5. When all settings are done, hit "Start" button to begin converting TS to MP4.
Note: Theoretically, it should work, but some people also report that nothing happens after clicking "Start". If you can't fix it, try other methods.
Method 3: Convert TS to MP4 with FFmpeg
FFmpeg is a very powerful command line tool that can transcode video and audio files. You can use it to convert TS to MP4 on Windows, Mac and also Linux machines. Now, let's show you how to carry out this work on Windows.
Steps to Decode Video from TS to MP4 using FFmpeg
Step 1. Download FFmpeg zip file. Then, create a folder named FFmpegTool in C drive. Unzip the file you just downloaded and move all files into FFmpegTool folder.
Step 2. Go to "Run" on your PC, and then enter cmd. Then, you will see a command line window. Next, enter cd\. Now type cd FFmpegTool, which command will permit you to enter into the FFmpegTool folder.
Step 3. Enter cd bin to access the content in the bin folder, and then enter ffmpeg.exe.
Step 4. Enter the command below to convert TS to MP4 using FFmpeg. ffmpeg -i yourvideoname.ts -c:v libx264 outputfilename.mp4
Note: This method is quite different from above mentioned ways and difficult for newbies. For more details about downloading FFmpeg and using FFmpeg to compress video convert videos, edit videos or do other tasks, please refer to http://www.hongkiat.com/blog/ffmpeg-guide/.
Method 4: Convert TS to MP4 Online Free
Online conversion tools are also good options to convert your TS files to MP4 without installing any third party software. The conversion process is almost same, so here we will take Convertio for example to show you how to transcode TS to MP4 online free.
Step 1: On your PC browser open https://convertio.co/ts-mp4/. Click on the Choose Files button to add local TS file. You can also load several TS files to convert.
Step 2: Choose MP4 as the desired output format. Click Settings button to adjust output parameters.
Step 3: Click on the Convert button. The processed file will be available at the interface for download.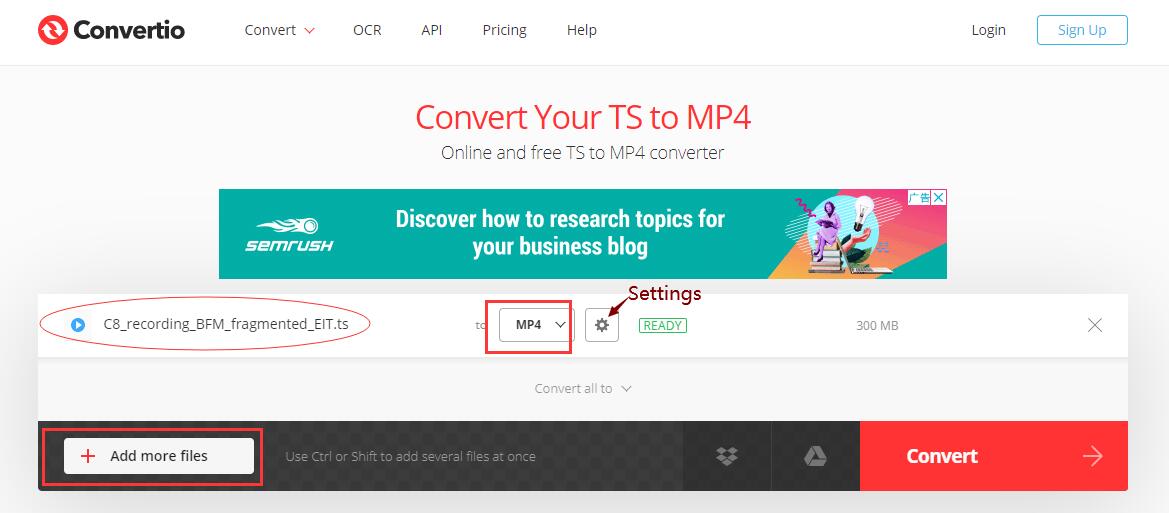 Note: Almost all online converters has limitations on file size. Convertio can convert videos for free at the file size less than 100MB. If you want to convert bigger files, you need to select a premium service.
Method 5: Free Transcode TS to MP4 using Handbrake
HandBrake is an open source video transcoder available for Windows, Mac, and Linux. It allows you to change video in TS and other formats to MP4 and MKV.
Step 1. Add target TS file by clicking "Open Source". It will take some time to load files.
Step 2. Navigate to Output Settings, and choose "MP4" as the output container.
Step 3. Click "Browse" to choose a destination for where you would like the MP4 resulting file to be saved.
Step 4. If you have nothing to modify, click "Start Encode" to begin changing TS to MP4.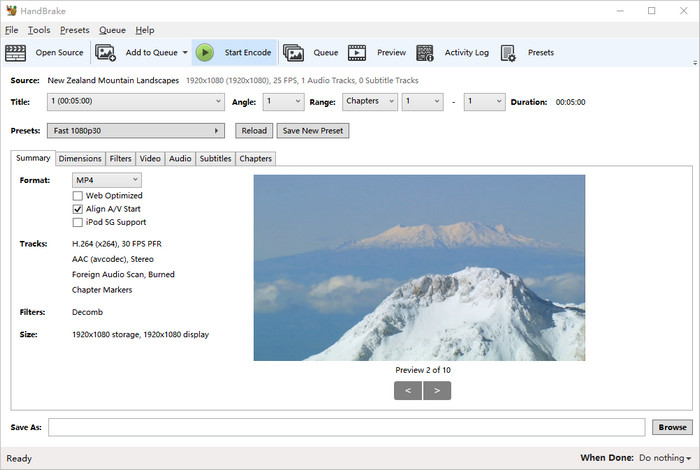 Note: Although this Handbrake is free and clean, it is very difficult to use for beginners and always comes across errors, such as, handbrake freezes while encoding, source file not supported, video audio out of sync.
Final Words:
Here is the top 5 tools for you to finish the TS to MP4 conversion. If you don't want to be held back by slow processing, complicated steps, poor output quality, EaseFab Video Converter is the most trustworthy one.
Being tested with more than 10,000 video files, EaseFab Video Converter is assured of a stable, easy-to-use yet fast video converting tool on Windows and Mac. With the optimized acceleration technology, the super speed video conversion is 30X faster than before and surpasses most regular video converters. What's more, this video file converter ensures zero quality loss. The lossless conversion supports most formats like MP4, MOV, AVI, WMV, and more. Up to 30X faster encoding speed, stable, very simple and easy interface, EaseFab Video Converter leaves other format converting tools in the dust.