Home
>
Resources
>
Fix VLC Player Stutter and Lag When Playing HD MKV Files
Posted by Matthew Watt - Sep 09, 2021 | Contact Author

Fixed - VLC Player Stutter and Lag When Playing HD MKV Files
VLC Player is a widely used player and encoder that supports many video and audio formats. Like other software, VLC users may experience various technical problems. One of the common technical problems you might often experience is VLC MKV playback issue: VLC stuttering or jumping when playing 1080p mkv; the audio(of MKV files) won't work at all; when open VLC, it just loads .mkv forever... Get frustrated? Don't worry. Here are 3 possible solutions to view 1080p/720p MKV with VLC flawlessly without any trouble.

Solution 1: Change Parameters
If the MKV file that is skipping is playing from a local hard drive, choose the "All" settings at the bottom of the dialog to show all of the options, then navigate to Input / Codecs -> Access modules -> File.
The caching value here is set in milliseconds, so setting the value to 1000 will buffer for 1 second (the default is 600, or 0.6 seconds). The problem with setting this option too large is that if you want to manually skip to a new point in the file, there will be a larger lag while the content is buffered again.
Solution 2: Disable hardware decoding
Some users resolve choppy VLC Playback on mkv files by disabling hardware decoding. Normally you would want hardware acceleration of the decoding process, but in some cases, it can conflict with your drivers, and it is worth a try.
Solution 3: Convert MKV Files
If you still can't play MKV files in VLC nicely after trying the solutions above, try converting MKV to another file format and then opening the clip in VLC Media Player. EaseFab Video Converter (Video Converter for Mac) is a great utility for your choice. The program can allow you to convert any other popular video and audio format like MP4, MOV, AVI, WMV, FLV, 3GP, VOB, AC3, MP3... with ultra-fast speed and zero quality loss. Download it and follow the steps below to convert the MKV media files for smooth playback with VLC.
Step 1: Download and run this video converter, directly drag your local MKV files to this program.
Step 2: Click Profile (located below where your files are displayed) and select the format you want from the drop-down list. For example, you can choose AVI from "Common Video" category.
Step 3: Hit the "Convert" button and start converting your MKV files.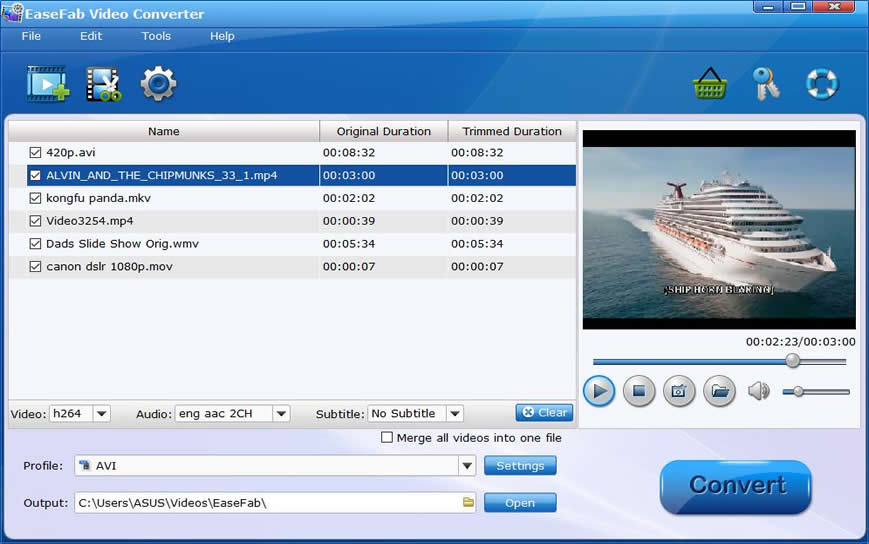 Other Useful How-to Guides & Tips
Can't play MP4 in VLC Media Player? Fortunately, there are always solutions out there that allow us to get MP4 and VLC to play nicely. Read on to find the solutions.
A step-by-step guide on how to rip DVD free with VLC. We also recommend the best VLC alternative for ripping any DVD faster and easier.
Here we shows you how to convert .m3u8 file to .mp4 with VLC in details. And we will also share the top 3 VLC alternatives to help you get the job done.
Failed to play Blu-ray with VLC on Windows and Mac? Take it easy. This page will introduce best solutions for this VLC Blu-ray playback issue.
Copyright © 2023 EaseFab Software Corporation. All Rights Reserved.