Home
>
Resources
> MPG Tips >
Play MPG on iPad
Posted by George Shelley - Sep 09, 2021 | Contact Author

How to Watch MPG (MPEG-1/MPEG-2) Video File on Your iPad
Here are two simple ways to to help you veiw MPG video files on your iPad Air, iPad Mini, iPad Pro, etc. without any trouble.
The iPad's big, high-resolution screen and long battery life make it the perfect gadget for watching TV and movies. While there are many video formats the iPad supports, there are even more that it doesn't support. If you have ever tried to watch a MPG video file on iPad, you have already found some of the iPad's limitations. The iPad natively supports many of the common video formats used today, including H.264, MP4, M4V, MOV, MPEG-4 and M-JPEG. However, the videos formatted in MPG is not in its supported format lists.

Luckily, there are always solutions out there that can help us solve the iPad and MPG, MKV, VOB, AVI, etc. incompatible issues. In this article, we will show you two simple ways to help you watch MPG video on iPad without any trouble. You can choose to convert the file before uploading it to the device. And if you're interested in converting your own video files, there are also plenty of apps that will make most videos like MPG, MKV, AVI, etc. viewable on the device.
Get to know something about MPG file
Files stored in the MPG format are video files embedded with MPEG video data compression specifications and data encoding algorithms, and these MPG video files are appended with the .mpg extension. Specifically, MPEG-1 and MPEG-2 formatting standards are usually incorporated into MPG files, which are digital video data compression specifications and algorithms developed by the Moving Picture Experts Group. These MPG files are normally distributed on the Internet as video downloads, streamed videos and digital video content materials that are embedded unto Web pages.
Click the links below to jump to the method you are most interested in.
Method 1: Convert MPG to MP4 or other iPad-friendly formats
There is a long list of conversion programs and tools available. But if you do not want to compromise on the quality and to look for the best option to transcode MPG to MP4 or other iPad compatible formats, EaseFab Video Converter for Mac is there for you. It's an easy-to-use yet powerful video encoder and decoder that can convert almost any video files including but not limited to MKV, VOB, AVI, WMV, MPG, etc. to iPad-friendly formats with fast encoding speed and zero quality loss.
What's more, the program is equiped with optimized preset for most all models of iPad, iPhone, iPod, Apple TV, Android and other devices. Therefore, if you have issues watching MPG videos or other movies on your device, you can directly select the device profile as the output format with no complex settings. The program also comes with a Windows version which allow you to convert MPG to iPad accepted file formats on Windows (Windows 10 included).
3 Simple Steps to Convert MPG to iPad-Friendly Formats on Mac (macOS Catalina included)
Step 1: Load MPG files.
Open this converter and load the MPG files you want to convert for iPad from your computer, external hard drive, USB drive: Click Add Video button at the top left corner of main interface, and then browse and open target items. If you need to transcode multiple video files, simply choose all of them for batch conversion. It will save you much time and energy.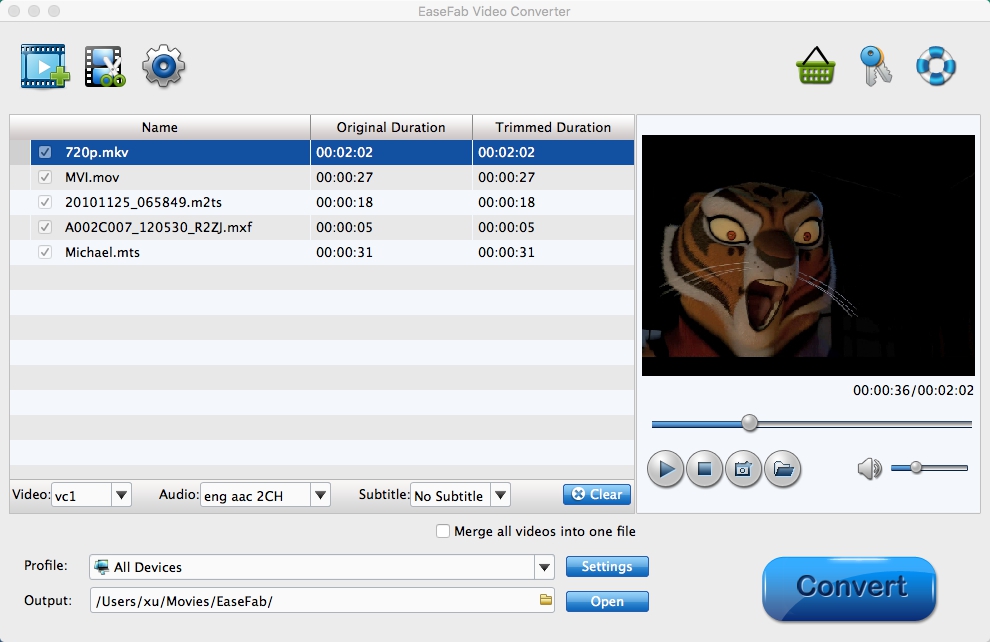 Step 2. Select iPad preset from the format list
Click Profile and move mouse cursor to Apple catelog and then select the desired iPad model on which you want to sync and play MPG files on.
Tips: The default setting works well. Of course, if you want to customize video and audio encoding settings, just click the "Settings" button to customize these settings. Adjusting these variables have some effect on the re-encoded video quality. Remember the file size and video quality is based more on bitrate than resolution which means bitrate higher results in big file size, and lower visible quality loss.
Step 3: Initiate the conversion process
After selecting your desired iPad preset and the destination file you can opt to make changes or settings and if you are OK with the way the format is click the Convert button to initiate the conversion. This might take some time; however, it is important to note that the conversion time depends on the size of the MPG files.
When the conversion completes, you can upload the result MP4 videos directly to your iPad via iTunes and enjoy them without any hassle.
Method 2: Watch MPG video on iPad from Files Application
If you have an MPG file in the iPad Files application that you want to see, surely, you have been able to verify that this app cannot play videos with that extension. But with the help of VLC, a free app, available on the App Store, we can watch any MPG video on iPad from the Files application.
[Guide] How to watch MPG video from Files app on iPad
1. Download VLC from the App Store to the iPad, it is free.
2. Open the Files app on the iPad and navigate to the MPG movie file you want to watch.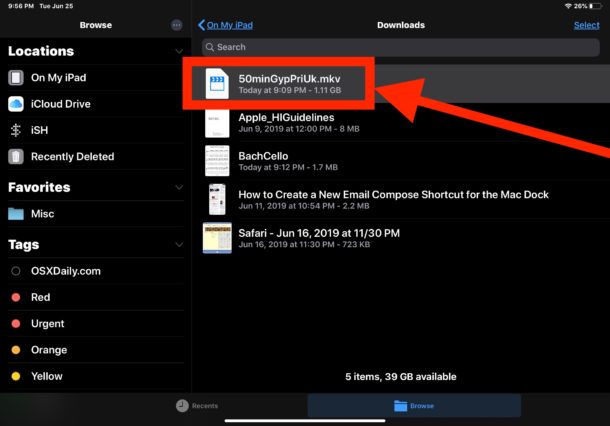 3. Tap on the MPG video and then tap on the Share button, it looks like a box with an arrow flying out of the top
4. Choose Open in VLC to open the MPG movie file into the VLC app.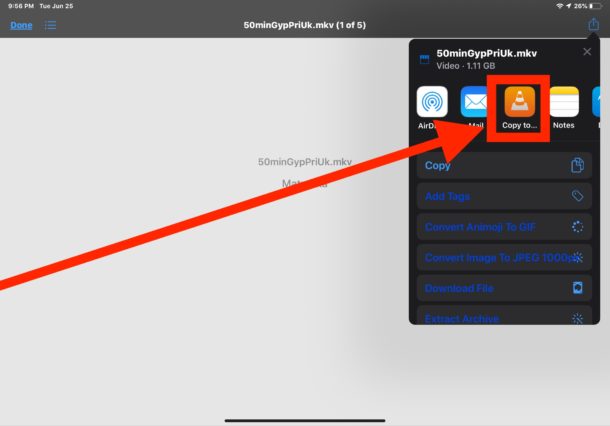 5. Watch your MPG video in VLC, you can play, pause, fast forward, rewind, and perform all other expected video watching capabilities in VLC on iPad.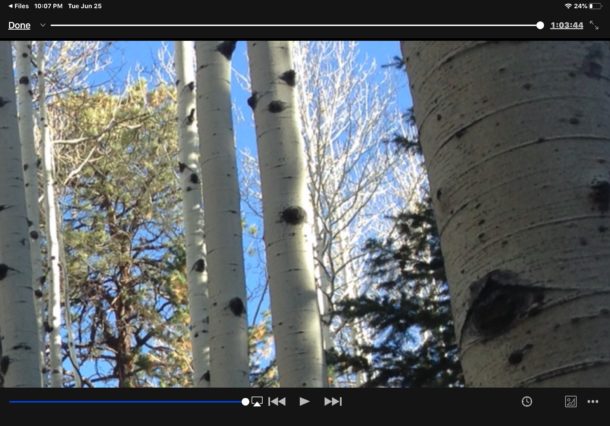 Sometimes you must first choose to Copy to VLC from the Sharing menu, then tap out of the Share sheet, wait a moment or two, and then open the Sharing screen again to choose Open in VLC.
Final Words:
Note that every time you wish to watch the MPG video in VLC you will need to manually choose to do so through the same Sharing menu within Files app. If for some reason this method doesn't work from playing the MPG video file directly from Files app on iPad or iPhone, you may have to convert the MPG files to MP4 or other compatible formats for playback.
Other Useful How-to Guides & Tips
This article teaches you how to convert MPG to Windows Movie Maker for editing, playing or making movies instead of wasting time to finding MPG codec for Windows Movie Maker.
In this article, we will offer you 3 easy ways to help you play MPG files on Mac OS X (macOS Big Sur Included) so that you can enjoy MPG videos on Mac with ease.
In this article, you'll learn two easy ways to play Video_TS folder on your Mac computer.
This article will show you two easy ways to help you to play, open VOB files on Mac OS X (macOS Big Sur) without any trouble.
Copyright © 2023 EaseFab Software Corporation. All Rights Reserved.