Get Started
Notes:
1) We have both Windows version and Mac version for EaseFab LosslessCopy. For the whole guide of EaseFab LosslessCopy, we will mainly introduce the Windows version, and the Mac version has the same functions if there is no special remark.
2) A BD Drive is needed for ripping or copying Blu-ray discs. And please make sure that all the DVD/Blu-ray ripping are just for personal use.
To facilitate your use of EaseFab LosslessCopy, there are 4 main modules available to get started: Install, Register & Update, Basics and User Interface.
Part 1. Download, Install & Uninstall
Step 1
Download the installation package. Choose the right version per your needs.
Step 2
Install EaseFab LosslessCopy.
Double-click the setup file.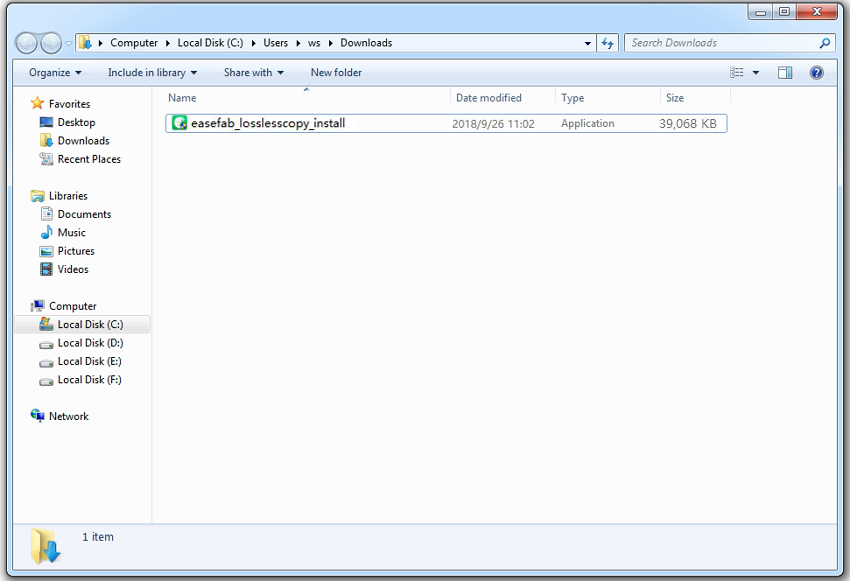 From the pop-up window, click Next to go ahead.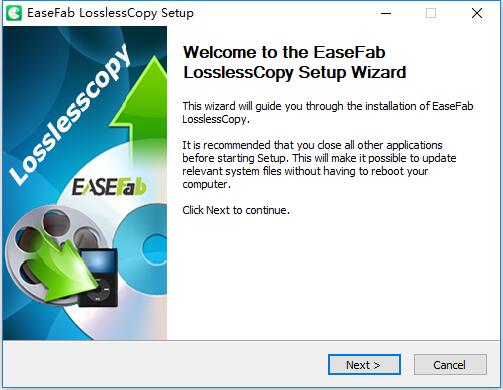 In the coming window, read the end user license agreement carefully and click I Agree to go ahead.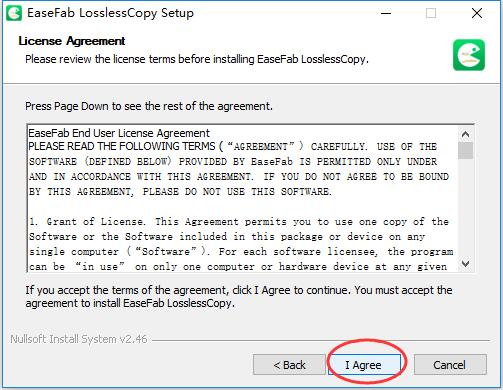 Then, browse the destination folder to save your installation files.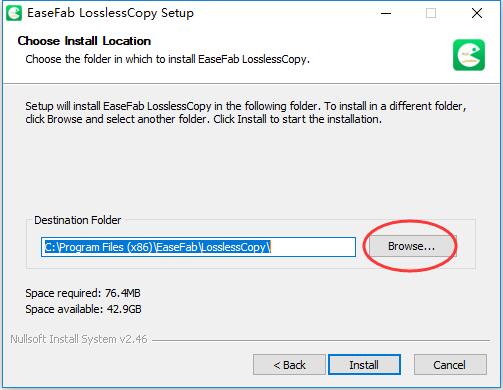 After that, click Install to finish the installation.
Step 3
Launch EaseFab LosslessCopy
It will take seconds to install EaseFab LosslessCopy successfully. A window like below will prompt you that you can click Finish button to open EaseFab Blu-ray Ripper at once.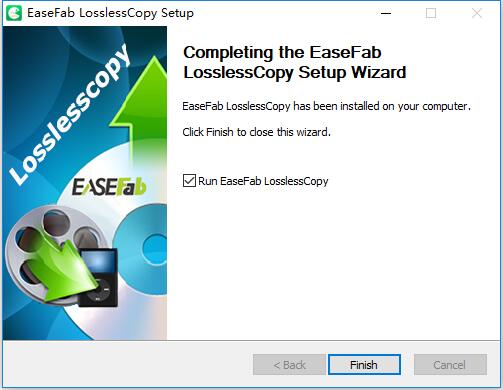 After clicking Finish button, you will enter the main window of EaseFab LosslessCopy shown as below.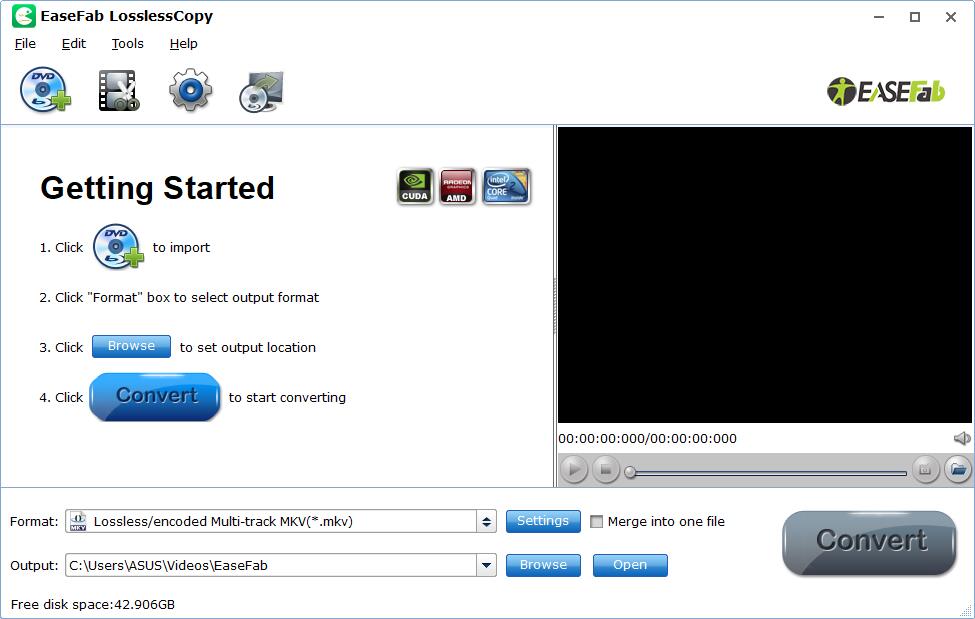 Uninstall EaseFab LosslessCopy
To remove EaseFab LosslessCopy from your computer, please
- Hit Windows Start and go through the following options: All Programs -> EaseFab -> LosslessCopy -> uninstall EaseFab LosslessCopy.
- From Windows Start menu, select to open "Windows Control Panel". Double click "Add or Remove Program", scroll to "EaseFab LosslessCopy", and click Remove.
Part 2. Register & Update
1
Register
With the trial version of EaseFab LosslessCopy, you'll have the following limitations: At most of 3 minutes of every Blu-ray or DVD file will be converted.
If you want to enjoy the full features without any limitation, please simply click Help menu at the upper corner and then click Register to enter the Registration window. Then, copy and paste the licensed E-mail address and the registration code to avoid any typos, then click the Register button to go ahead. Meanwhile, please make sure that the Internet connection is fine while you register EaseFab LosslessCopy.
2
Update
Go to the Menu icon > Help > Update, After that, a Update page will pop up to see if you need to update the program.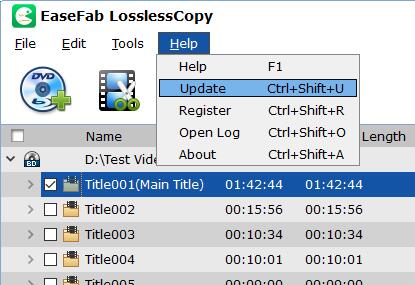 You can change updae setting by clicking Tools > Options Window in the Options Window. As you see, you can select Auto Update, Manual Update or according the days you set.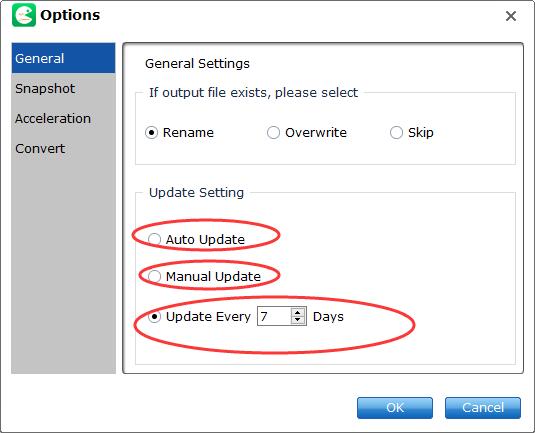 Note:If you're used to using the same version all the time, please choose Manual Update to stop the automatic update. Whenever you need an update, please click Update under Help Menu to make an update manually.
Part 3. Basics
Generall, EaseFab LosslessCopy is developed for people who would like to rip and convert Blu-ray movies and DVDs to MKV container format with multiple audio tracks and subtitles streams included. Besides retaining multiple audio tracks (especially HD audios- Dolby TrueHD 7.1/5.1, DTS-HD Master Audio 7.1/5.1, Dolby Digital 5.1) and multiple subtitles in an MKV video without transcoding and quality loss, EaseFab LosslessCopy is also able to encode the original soundtracks into DTS 5.1 channels, AC3 5.1 channels, AAC 6 channels, PCM 6 channels, etc. with your wanted languages.
It preserves chapter markers in the converted MKV file. All that and more make it possible for you to easily select your needed tracks, subtitles, as well as chapters when watching Blu-ray and DVD movies with your media players.
More than that, you can backup and convert latest Blu-ray and DVD movies to MP4 and MOV container with multiple audio tracks. Also, you are allowed to rip Blu-ray and DVD video files into other format for playback on iOS/Android/Windows Tablets/Phones, HD Media Players (WDTV), for editing within Avid Media Composer, Adobe Premiere, etc., and more.
Key features:
- Keep multiple audio tracks and subtitles in MKV container
- Preserve wanted audio tracks in MOV and MP4 format
- Direct copy titles from Blu-ray and DVD movies
- Keep the chapter structure in a movie title in MKV container
- Provide best video settings for iOS/Android/Windows Tablets/Phones
- Support adding *.srt, *.ass/*.ssa external subtitles
- Edit movie by trimming, cropping, merging, etc.
- Shut down computer after conversion
- Support latest Blu-ray and DVD movies
Kindly Note: If choosing multi-track output formats. you can't edit videos by merging, splitting, trimming, cropping, adding .srt, .ass subtitle files, etc.
Besides that, EaseFab LosslessCopy can be also used as an exciting Blu-ray/DVD copy software to help you backup your Blu-ray and DVDs.
Part 4. User Interface
EaseFab LosslessCopy is a very easy-to-use converter tool. You can get what you want within just a few clicks on the interface. There are four menus in menu bar, namely "File", "Edit", "Tools" and "Help".
File menu:
There are four menus in menu bar, namely "File", "Edit", "Tools" and "Help".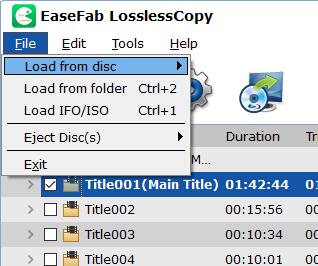 Edit Menu
Edit selected task.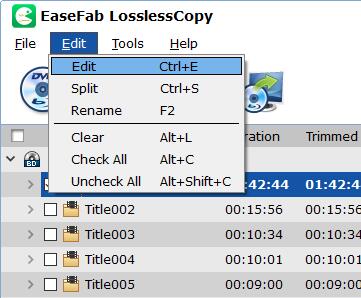 Edit: You can launch Editor by choosing this option. The Editor can also be launched by clicking the

button on main interface.
Split: Click to launch Split Window. This helps split the selected file by number, size, or duration. It can also be launched by clicking

button.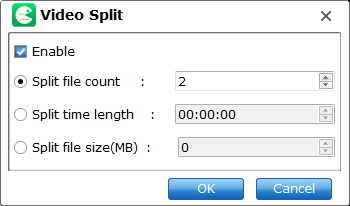 Rename: Click to rename the output file for the selected file.
Tools menu
On this menu, you can change language and skin, customize format list, or launch Options window.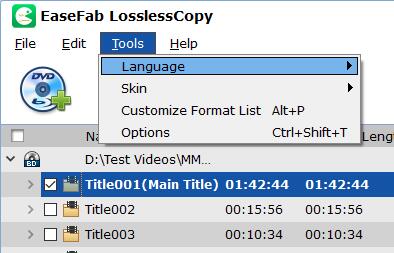 Language: You can choose from English, Japanese, and Simple Chinese.
Skin: Currently, there's only one skin.
Customize Format List: You can launch Profile Manager and choose which output format to show in your format list. By default, all output formats will show in format list. This manager can also be launched by clicking

button at the bottom of Format list. As shown in image below, by checking specific categories on the left column, you can choose which categories or output formats to show on format list.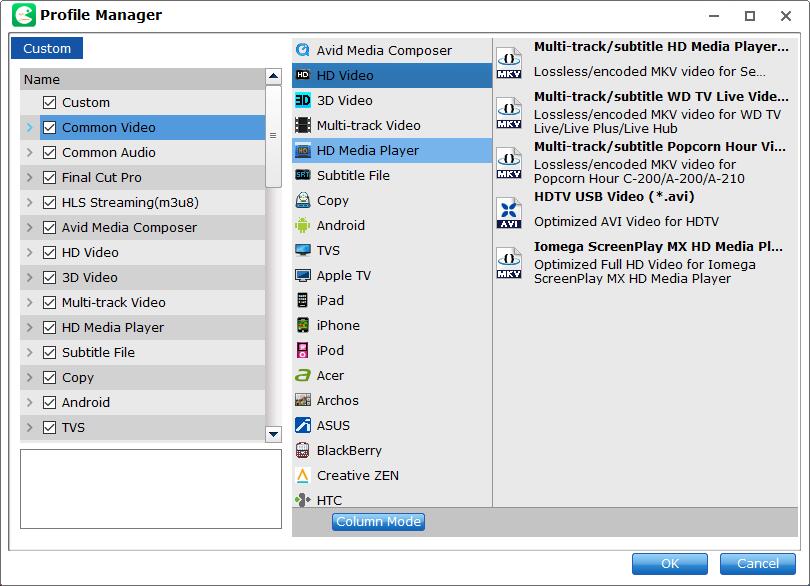 Options: Choosing Options, you can launch Options window. It can also be launched by clicking

button.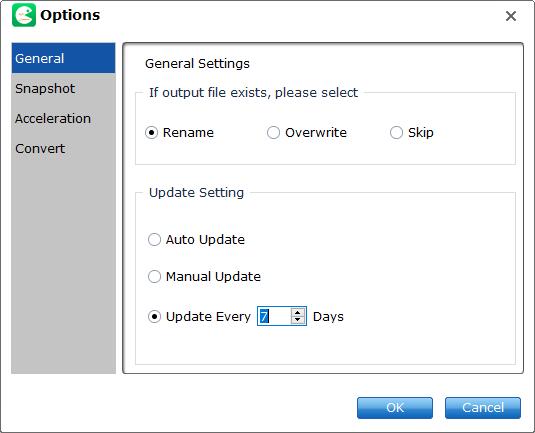 In General tab, you can choose what to do if the output file name already exists and set update frequency.
In Snapshot tab, you can set the output folder to save the pictures and the format of the pictures. You can choose from JPG, PNG, TIFF, and BMP. And you can deinterlace the snapshot.
Under Acceleration tab, you can choose to enable GPU Decode or Encode Acceleration if your computer supports.
In Convert tab, you can set how many cores to use and how many tasks to process while converting.
Help Menu
On this menu, you can find the online user manual, check update, launch register window with purchase link (if you are using a trial version), and find version number and other information about this program.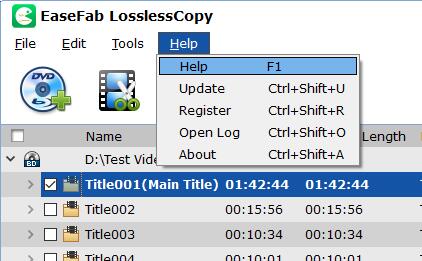 Copy the entire disc
By using Copy the entire disc

feature, you can preserve the Blu-ray/DVD's original file structure without changing anything.