Most Blu-ray can be stored as BDMV and CERTIFICATE folders and. BDMV is a similar file format which is a container format for multiplexing audio and video, such as: the name of the Blu-ray movie, the audio data, the movie object, etc. BDMV files can bring you the in high definition image in video, however, BDMV huge capacity is a big problem, which affect you to share interesting video with friends on main popular apps or website. Moreover, if you wish to enjoy your movies and videos with BDMV folder on portable devices like iPhone, iPad, Android tablets and others, then you will have to change the format from BDMV to MP4, one of the most common and widely accepted formats. This article mainly focuses on how to convert BDMV files to MP4 files without any quality loss on Mac and Windows.
Best BDMV to MP4 Converter for Windows/Mac
There are many software or tools that allow us to convert BDMV files to MP4, MKV, AVI, WMV, MOV, etc. popular video files. If you are seeking for the best video output quality, fastest video conversion speed, and the most formats supported, EaseFab LosslessCopy (available for Windows and Mac users) will be your best choice. It works very well for BDMV folder from avchd camera recorder and Blu-ray movies with .mts/.m2ts file extension. With it, you can convert BDMV to common MP4, HD MP4, 3D MP4 and multi-track MP4 files. Besides MP4, you can also convert BDMV to MKV, MOV, AVI, and more. What's more, it provides optimized preset formats for almost all popular mobile devices to which you can directly convert, and then transfer with USB cable.
Now just download the right version of the BDMV to MP4 Converter according to your computer OS and follow the step--by-step guide to get the job done.
How to Convert BDMV to MP4 Without Quality Loss
Note: The guide below is for Windows users. The way to convert BDMV folder to MP4 on Mac OS X (macOS Mojave included) is almost the same.
Step 1. Load BDMV Folder
Click the Load Disc button and then select/click Load from folder, then you can directly load BDMV folder from hard drive. You can also Load BDMV Folder by clicking the menu icon File > Load from folder or directly press Ctrl + 2. As you see, you can also import Blu-ray, DVD disc, Blu-ray/DVD ISO image, IFO image, etc. files.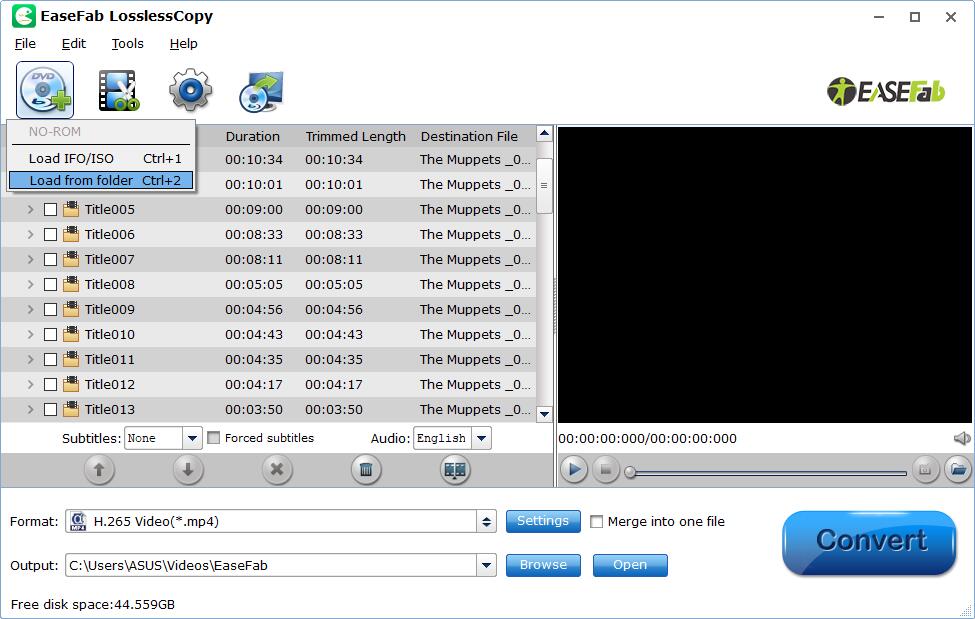 Note: A BDMV file may contain many titles more than the main movie, such as the trailers or commercials. By default, EaseFab LosslessCopy choose the longest title which is usually contains the main movie. And this helps ripping without converting unnecessary titles.
Step 2. Choose MP4 as the output format
Here, this best BDMV converter provides you many choices to convert BDMV to MP4. You can select "H.264 Baseline Profile Video(*.mp4)" from "Common Video", or select "H.264 HD Video(*.mp4)" from "HD Video, or select "MP4 Side-by-Side 3D Video (*.mp4)" from "3D", or select "Multi-track MP4(*.mp4)" from "Multi-track Video" catelog.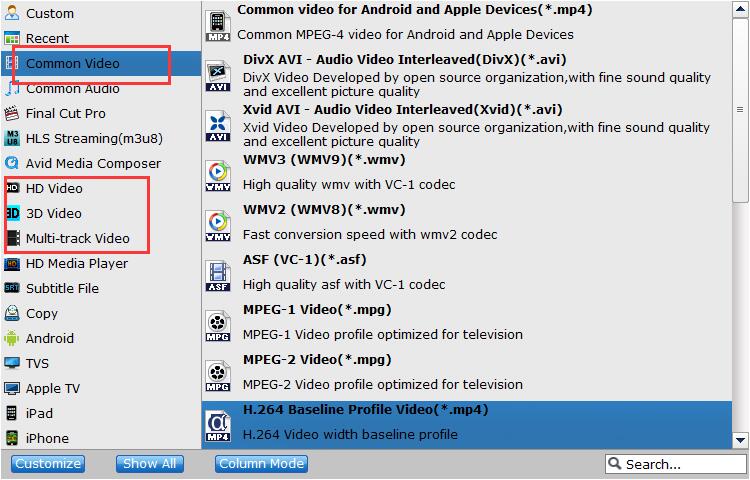 If you want to convert your BDMV file to MP4 for play on portable devices, including iPhone, iPad, iPod, HTC, Samsung Galaxy, Nokia, Sony, PSP, Xbox 360 and more, you can simply browse to find the icon of your device and select it as the output format to get videos with optimized settings. All Idevices output files can be synced to iTunes automatically.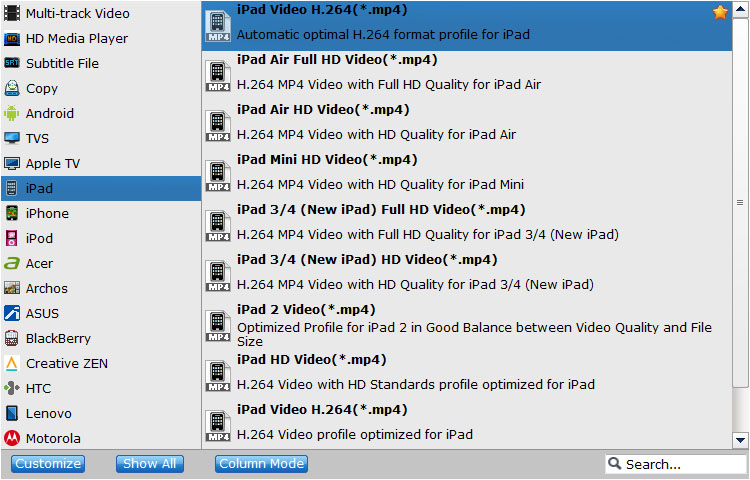 Tips:
1. This BDMV converter also provides powerful editing function, which enables you to edit your files to your own taste before the conversion, such as cropping or trimming, adding effect, adding subtitles, adding watermark, etc.
2. By clicking the Settings button beside Profile, you can adjust the output video/audio resolution, frame rate, bit rate, etc. to customize the output files to get the best quality you want.
Step 3. Start the conversion
Click the button "Convert" to start converting BDMV folder to the MP4 format you want. When the conversion is done, you can click "Open Folder" to open the folder where the output files are saved.
Tip 1: What is a BDMV File?
AVCHD folders (BDMV and CERTIFICATE) with M2TS extension files from HD Camcorders. For Sony HDR-SR11 camcorder, the AVCHD files will have the MTS extension.
Blu-ray disk with BDMV folder and other files with BDMV extension.
Blu-ray movie with BDMV & CERTIFICATE folder, there is one subfolder from the BDMV folder which is the Stream folder and there is a MTS extension file in this subfolder.
Ripped Blu-ray DVD movies, its folder structure is all contained in a BDMV folder structure with M2TS extension files.
Tip 2: How to play BDMV files on Mac
VLC Media Player is a freeware and cross-platform multimedia player which totally supports BDMV folder (.M2TS/.MTS). But it's a pity that VLC doesn't support Blu-ray disc playback and the vlc developer also doesn't offer VLC for android or iOS application. By the way, you had better to install iLife'08 so as to play BDMV (MTS/M2TS) files on Mac.
Supported OS: Mac OS X 10.6 and later; Windows vista, Windows 7, Windows 8, Windows 10;
In fact, most media players open the BDMV files and always gets error message. It can't enable to play BDMV files owing to incompatibility and needs the appropriate codec or plug-in installed for the first.