TiVo is a popular home setup box for recording favorite TV drama programs and movies for later playback. If you have recorded some movies or TV shows, you may want to move some TiVo recordings to different screens such as the handheld smartphone and tablet to kill the time. Converting .TiVo files to MP4 is the best idea since MP4 files is widely supported and can bey played on almost all media player, computer, laptop, tablet, mobile device, gaming system without any trouble. Then, how to turn .TiVo files to MP4 with best results. Check here.

Best Tool to Convert TiVo Files to MP4 without Quality Loss
TiVo is very convenient for users to have the chance to review the shows and movies when they missed them. However, TiVo recordings marked with a red circle slash can usually not be transferred due to the copy protection. Therefore, to convert TiVo files to MP4 videos, you'll need a program that can remove TiVo protections and supports encoding to MP4 files.
There are some free programs out there that can assist you to remove commercials from Tivo recordings, one of them is the Perl program KMTTG, but you may find the process is too complicated or operate. If you need an easier-to-use yet faster program to supports decryption and does quality conversion task, EaseFab Video Converter should definitely stand out as the best solution. The TiVo HD Video Converter will remove DRM automatically while transcoding TiVo shows to MP4 with fast encoding speed and lossless quality. Besides, the program's "Trim" function lets you simply remove commercials from TiVo recordings.
Furthermore, it owns 350+ optimized profiles for converting TiVo recordings to MPEG, HEVC, MKV WMV, FLV, MOV, MP3, iPhone, iPod, Apple TV, HTC, Samsung and PSP while keeping high quality. This software also comes in a Mac version as TiVo HD Video Converter Mac, which can help you convert TiVo files to MP4 under Mac OS X (Catalina included). Just download the program according to your computer OS and follow the guide beow to finish your conversion in just a few clicks.
Simple steps on how to convert TiVo to MP4 easily and fast
Step 1. Load TiVo videos
Start up this program, Drag & drop TiVo videos to the program. Or click Add Videos to import all .tivo files.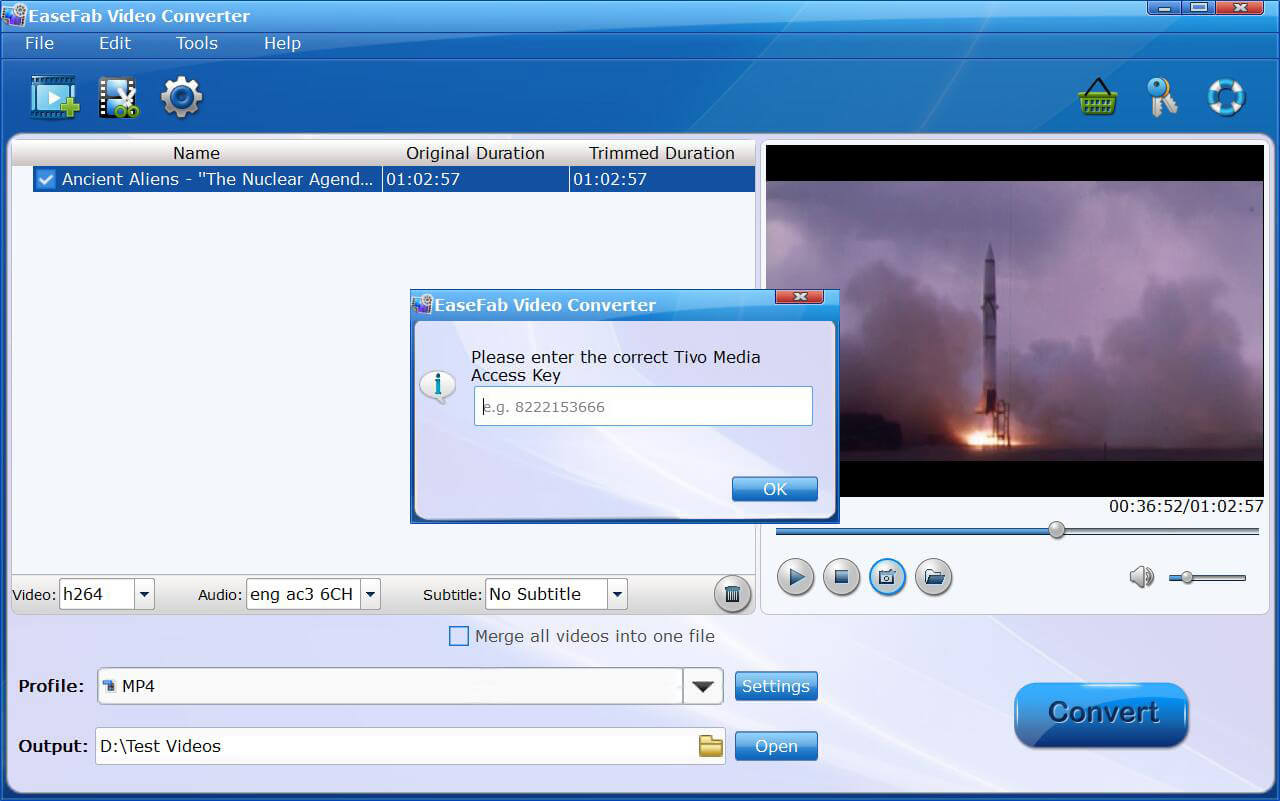 Note: When first loading, The TiVo HD Video Converter will ask you to input your Media Access Key. Simply enter your Media Access Key, and click "OK" to confirm.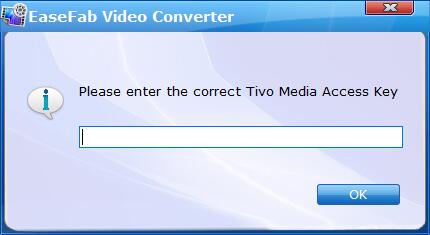 Step 2. Select MP4 as the output file
Then click Profile and select MP4 as the output format. To get the best possible output quality and smallest file size, convert TiVo to HEVC MP4. It has 50% smaller size at the same quality. But please make sure your device can support HEVC/H,265 files.
If you need to convert TiVo files for iPhone, Android device, YouTube, web services, you can also find a profile.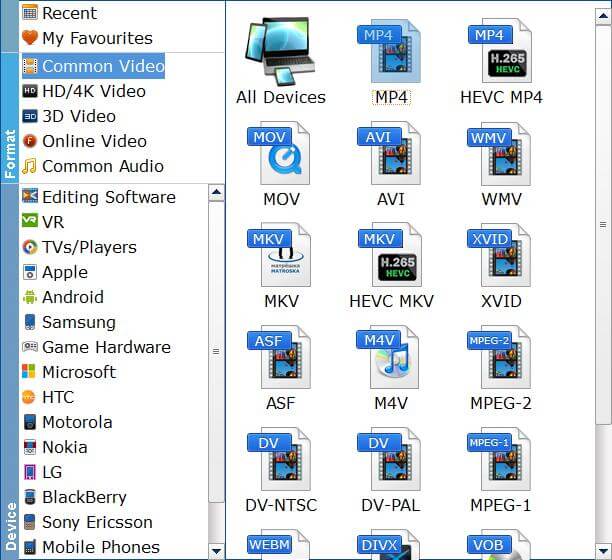 Tips for Encoding TiVo to MP4:
In addition to selecting HEVC MP4 as the output format, flexible options are offered to further reduce the size of the converted MP4 videos. Click the Settings button beside the profile and enter into the Settings window. A slew of other variables such the video/audio codecs, pixel dimensions, frame rate, bit rate, audio sample rate, etc. will help convert a TiVo files from large size to smaller size. Below are some recommended settings:
1. You're not suggested to adjust the frame rate and aspect ratio, if not necessary.
2. Use the codec H.264 or H.265 and lower the bitrate to a lower level. For example, adjusting the original 2500 to bitrates of around 1800-2000 is acceptable without noticeable pixellation.
3. Adjust the resolution won't make any quality difference.
Please note: Adjusting these variables have some effect on the re-encoded video quality. You can go smaller, only at the cost of quality loss. Moreover, the file size and video quality is based more on bitrate than resolution which means bitrate higher results in big file size, and lower visible quality loss.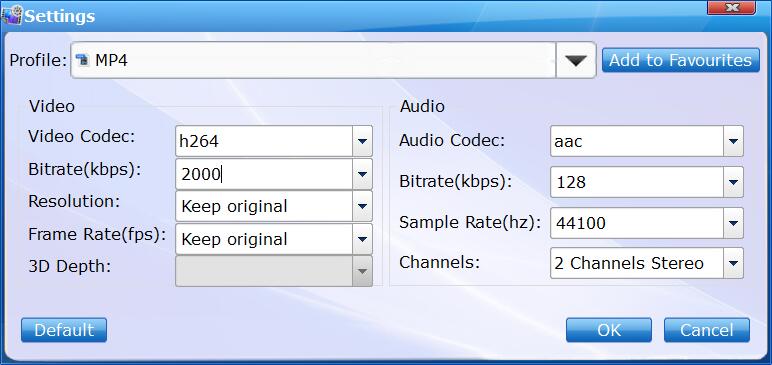 Step 3. Start converting TiVo to MP4
Click Convert button to start TiVo to MP4 video conversion. The conversion process will take a while, and you'll see an encoding progress bar.
Once finished, click the Open button in the main interface and you can locate the encoded TiVo files effortlessly. And then you are able to use these files as you want for your portable devices, PC, media player or video editing programs.