Like any piece of physical technology, DVDs won't last forever, Plastic gets scratched and broken, rendering your discs unable. But you protect your DVD library against destruction by saving DVD disc video to digital files like MKV with lossless video and audio quality. Many people have got the benefits of ripping/converting DVD to lossless MKV video and do have the need:
" How do you convert a DVD to MKV etc without quality loss? I've done it before with unsatisfactory results. I want to slowly put our DVD collection on my home server."
"I am would like to convert my DVD's to lossless version of a MKV file. Is this even possible? If it is can someone point me in the right direction pls? Is there an application that can handle the encryption and lossless conversion all in one?"
Why Choose MKV for Lossless DVD Ripping
MKV stands for "Matroska Video". Matroska is a container file format, capable of holding unlimited number of video, audio and subtitile tracks, along with any metadata. Practically this means that it is possible to put entire movie with multiple sound and subtitle tracks, chapters information and movie thumbnail into single file.
The MKV container or Matroska file format has a number of advantage:
• MKV is open and free. No one holds patents or licenses and anyone can implement it freely. As a result nearly every software player and many hardware devices support it. The best software players out there ( VLC, MPlayer ) have full MKV support and are absolutely free.
• MKV files do not have evil features attached.
- You can play them on any capable hardware. No need for HDCP-certified video card or any "trusted" environment.
- You can copy them to your laptop and watch anytime, even if your laptop lacks DVD or Blu-ray drive, or any drive whatsoever.
- One file is one title. If you don't want to watch dozen trailers before the movie, you don't have to. And fast forward button always works, too.
- There are no restrictions where to play the file. There are no region-based restrictions. You have control over the content you've paid for.
• MKV files are easy to change. Want to remove unneeded audio track from the file? Thought about converting MPEG-2 video into H264 to make the file 5 times smaller? All of it can be easily done with free software.
• MKV files are compact. For exactly the same content MKV files are about 10% smaller than DVD files.
Lossless DVD to MKV Rip using Handbrake, Possible?
No, it's impossible to rip DVD to MKV without quality loss using Handbrake.
Handbrake will always re-encode (compress) the videos so you will lose quality no matter what settings you choose. What you should note is, DVDs are encoded in the lossy and compressed MPEG2 codec for video, and either AC3 or DTS for audio. Whatever you transcode them to will result in additional loss. But you can use Handbrake to transcode the DVD for a good tradeoff between quality and space. For example, transcoding (with proper settings) to HEVC video and 5.1 AAC audio will reduce an 8GB DVD down to around 2GB with no perceptible quality loss.
A lossless rip of the DVD is making a transfer to the HDD and the data is as it was, no encoding or conversion. In other words, to rip DVD losslessly, you can make a backup of DVD to ISO image, MKV, Video_TS Folder, but with the original MPEG2 codec reserved.
EaseFab LosslessCopy - The Best Lossless DVD to MKV Ripper
In fact, there are many DVD ripping tools that can rip DVD to MKV format but few of them can put DVD into a MKV container with lossless quality. But EaseFab's LosslessCopy (available for Windows and Mac users) is such a smart tool which can help you easily achieve your lossless DVD to MKV ripping task, regardless of DVD copy protections. It can convert the video clips from proprietary (and usually encrypted) DVD and Blu-ray disc into a set of MKV files, preserving most information but not changing it in any way. The MKV format can store multiple video/audio tracks (including all the lossless video, 5.1 Channel AC3/DTS Dolby audio, and subtitles) with all meta-information and preserve chapters.
Apart from converting DVD to MKV losslessly, you can also rip DVD to MP4, MOV files with all audio tracks remaining. What's more, you can use the program to convert DVD to HEVC with re-encoded, but merely no quality loss and half file size compared to H.264 codec for enjoying on Android, iOS, smart TVs. The fact that LosslessCopy can be used with both protected and unprotected DVD discs is likely to appeal and in practice the app seems to cope well with all discs. It's good to find a simple conversion tool that does not require the installation of countless extras; everything you need is ready right from the word gopreserves the menu structure of DVD discs so you can maintain the full contents of a disc including film extras.
Simple Steps to Convert DVD to MKV Losslessly using EaseFab LosslessCopy
Now, download the program, install and run it and then follow the below steps to start to rip DVD to MKV file with lossless video and audio quality.
Step 1: Load DVD movies
After you open EaseFab LosslessCopy, click Load Disc button to add the DVD files you want to rip. On the software main interface, there is a viewing window provided for you to preview the DVD files to ensure the files are what you want to rip. You can also take snapshots of the DVD movies when previewing them.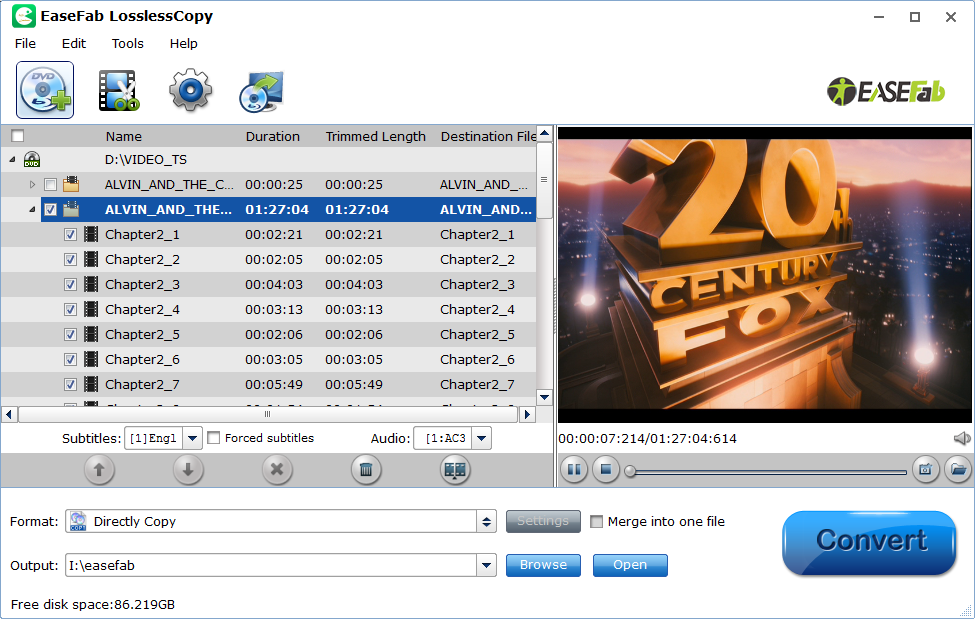 Step 2: Choose multi-track output - Lossless MKV
Click the Format bar to follow "Multi-track Video" > "Lossless/encoded Multi-track MKV (*.mkv)", which enables you to get the output video with multiple audio tracks and subtitles while keeping lossless video quality.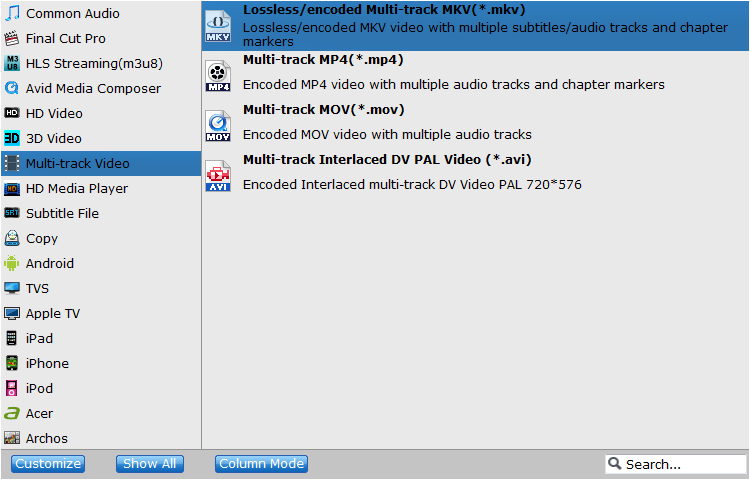 Step 3: Multi-task settings (Optional)
Click "Settings" to switch to the "Multi-task Settings" interface where you can change video/audio/subtitle settings. For DVD to MKV lossless conversion, you can keep the default settings without any change.
You can also click the "Audio" tab to check the audio channels you want and uncheck the unwanted. Click the "Subtitle" tab to check the subtitle language you want to keep and uncheck the unwanted ones. As you see in the following screenshot, you can tick off "Encode" option if you want to compress the audio tracks.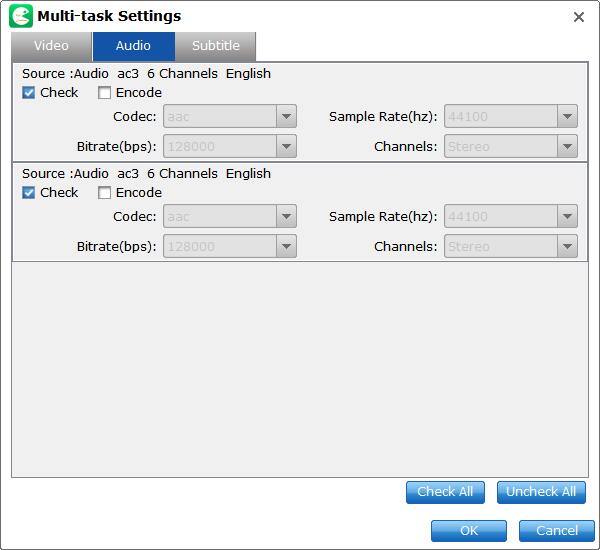 Step 4: Start converting DVD to lossless MKV
Go back to the main UI and click "Convert" to start conversion from DVD to lossless MKV with multiple audio tracks and subtitles preserved.
Want to rip DVD to MKV with good quality-size balance?
The lossless DVD to MKV method can help you keep all the video, audio, subtitle tracks, menus of a DVD without quality loss while provide better compatibility than some other formats like ISO image or DVD folder. Meanwhile the ripped MKV videos is huge. If you want to convert DVD to MKV with good quality-size tradeoff, you can go to How to Rip DVD to MKV with High Quality to learn more details.